VRChat is such a fascinating game to explore, with a massive selection of user-made worlds that showcase the wonderful creativity of the community. I've been on the hunt for the most beautiful VRChat worlds I can find, and I'm highlighting some of my all-time favorites in this article.
Whether you're looking for somewhere beautiful to spend time in VR with your friends, or just want the peace and serenity of some stunning visuals and interesting places, I've picked some beautiful VRChat worlds that are amongst the most stunning things I've seen in VR.
To access any of the VRChat worlds on this list, simply search for the title of the world using the search box in the "Worlds" menu within VRChat.
Aquarius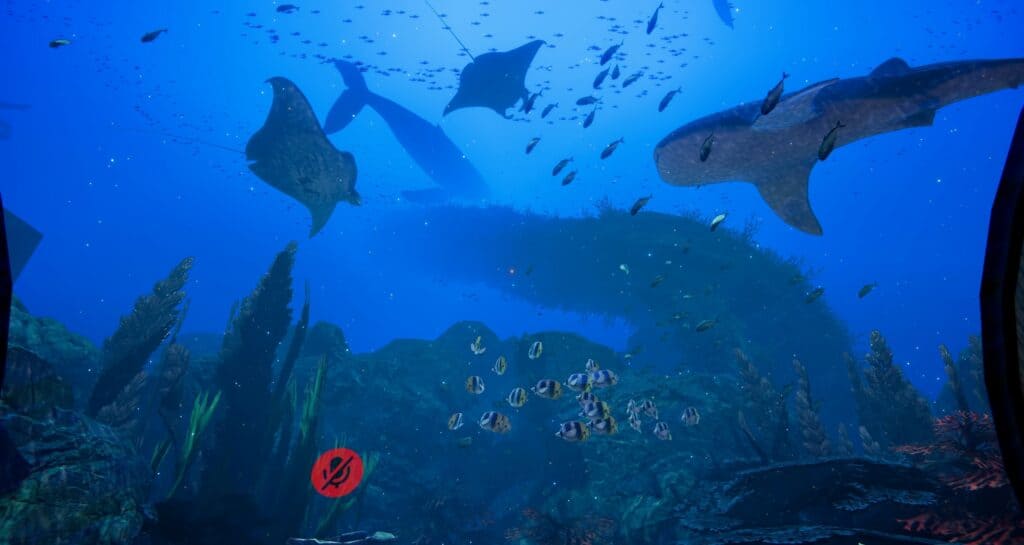 Aquarius is like visiting the most incredible aquarium in the world. You arrive in an entrance hall, which opens into a warmly lit viewing and seating area. The main feature is a huge, floor-to-ceiling window that looks out into an enormous aquarium. The view is simply breathtaking.
You can go right up to the windows and let your view be consumed by the aquatic display, or grab a seat in the sunken seating area. There is even a "Fishpedia" that you can browse through to learn more about the different animals on view.
The dark and peaceful surroundings, coupled with the gentle movements of the aquatic life, not to mention the peaceful music, make Aquarius one of the most relaxing and beautiful VRChat worlds you will find anywhere.
Serenity Cove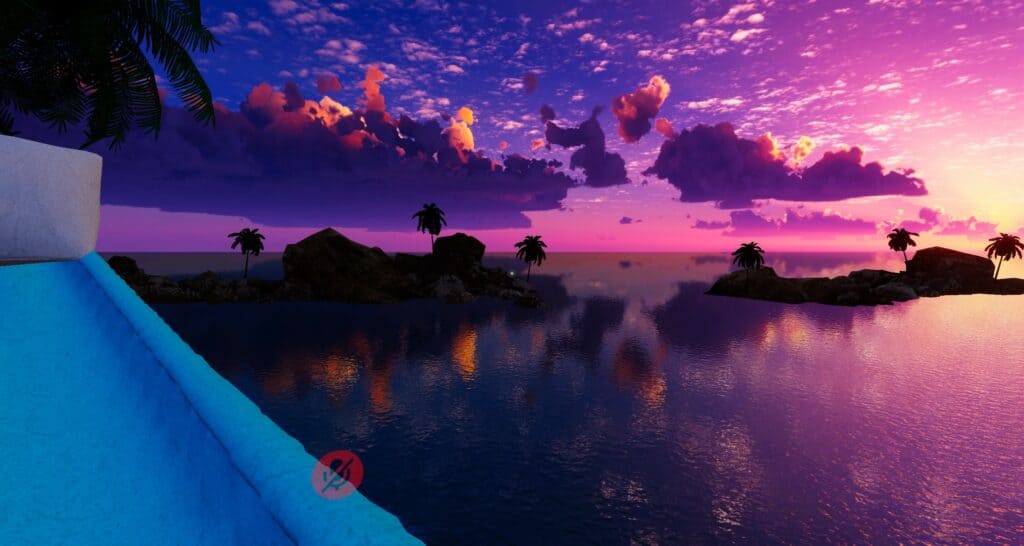 Imagine the perfect beach at sunset and you're pretty close to the experience you will find at Serenity Cove. One of the main features is a warm-neon-lit beach hut where you can relax by the fire pit, watch movies on a large screen, or grab a seat and chat with friends.
You can also head off to a number of relaxing and interesting areas, including an elevated seating area looking out on the ocean, a stunning waterfall, or a series of caverns with illumination provided by a number of glowing crystals. Another overlook lets you relax in a hammock as you gaze out to the ocean.
Once again, the gentle music is perfectly chosen to give you that perfect relaxing vibe that you can only experience at the beach as the sun sets. This beautiful VRChat world is one of my favorites and well done to the creator, Zappaku, and the team who created this world.
Tree House In The Shade
This mind-bending VRChat world allows you to experience a wide variety of beautiful visualizations from the comfort of an elevated treehouse. When you first arrive, it looks a little forlorn, with a bare tree and a simple treehouse being the only features in the middle of a field of gently swaying purple grass.
Don't be put off, as this is one of the most immersive and beautiful VRChat worlds you will experience. Climb the stairs to the treehouse and you will find a large control panel that you can use to completely change the surroundings of the treehouse to a range of jaw-dropping vistas and visualizations.
There's even a nearby jetpack that you can use to fly around the wonderful surroundings and get lost in one of the most mesmerizingly beautiful VRChat worlds.
Vacuous Park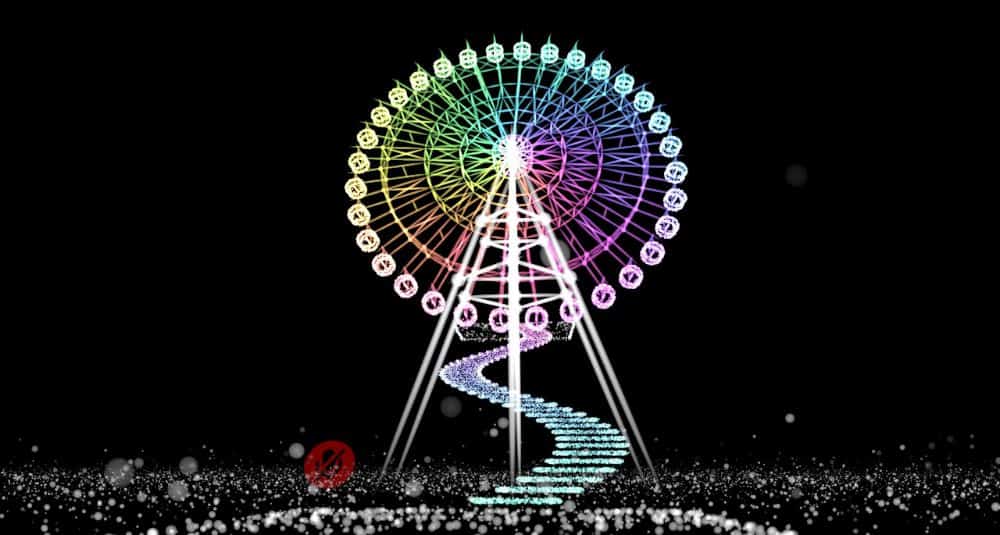 This is quite a simple concept, but Vacuous Park is really stunning. This VRChat world takes the form of a massive, brightly lit Ferris Wheel, made entirely of GPU particles. Climb the stairs and get into one of the pods and the Ferris Wheel will slowly take you higher and higher until you reach the top.
Your view changes as you rise, with increasing quantities of brightly-lit particles and comet-like fireworks circling around you like a million fireflies. I've never seen anything quite like this VRChat world and it's great to just relax and watch the visual delights as you slowly move around the Ferris wheel.
Bamboo Temple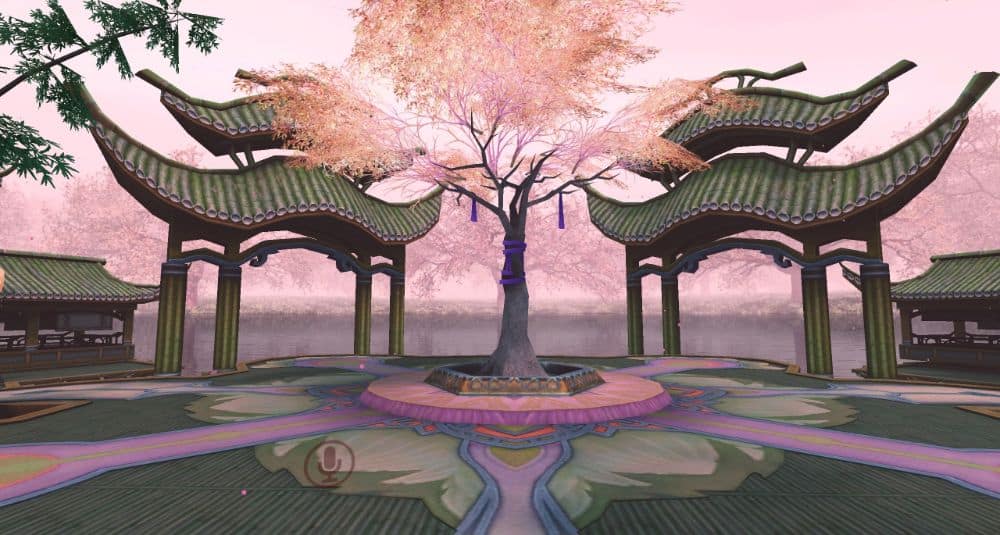 This VRChat world is set in a Japanese temple in the middle of a lake surrounded by trees, on a still and misty morning. You can gaze out at the still water and watch the cherry blossom fall, listening to the gentle sound of birds and insects, and the water as it laps against the shore.
The attention to detail in this exquisitely beautiful VRChat world is so impressive. There are a number of vantage points you can go to to get a different view, or you can just explore all the features of this special place.
Deep Blue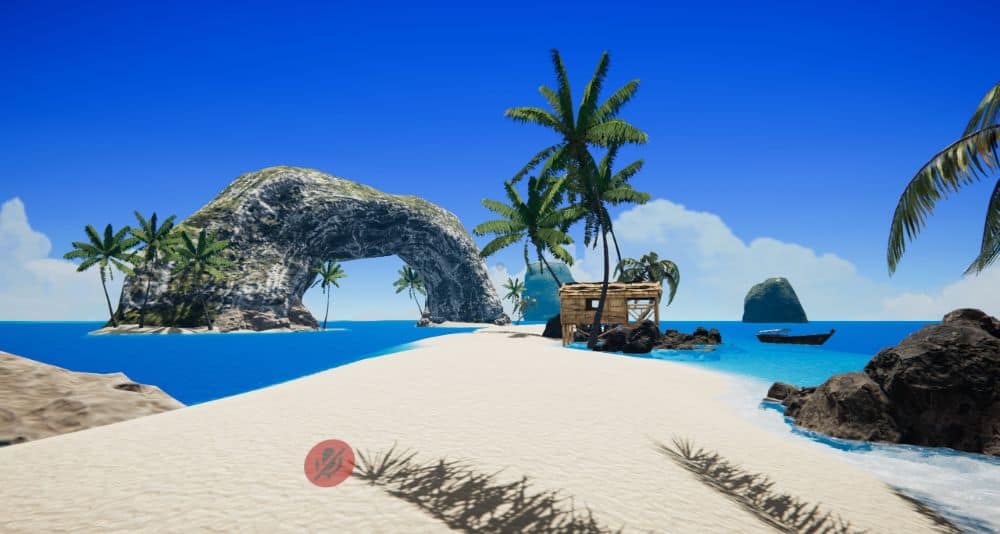 This VRChat world is set on a tiny island in the middle of a tropical ocean. Complete with gently swaying palm trees, huge rocky outcrops, and several beach huts, this is a wonderful VRChat world to explore. As the gentle Ukelele music plays, you can relax on the beach, explore the beach huts, or go for a swim.
One of the most awesome things to do is to take a ride on a sea turtle. This can be arranged by clicking the fishing rod on the pier. Jump on board the sea turtle and you will be taken on an undersea adventure, where you can see a wide range of plant and animal life under the ocean. Schools of fish, giant manta rays, whales, sharks, and gently swaying plant life make this a really beautiful VRChat world.
You can adjust the visual quality and settings to your liking and even adjust the swimming physics. Deep Blue is a really cool VRChat world and is a great way to spend some time relaxing and exploring.
Pandora Night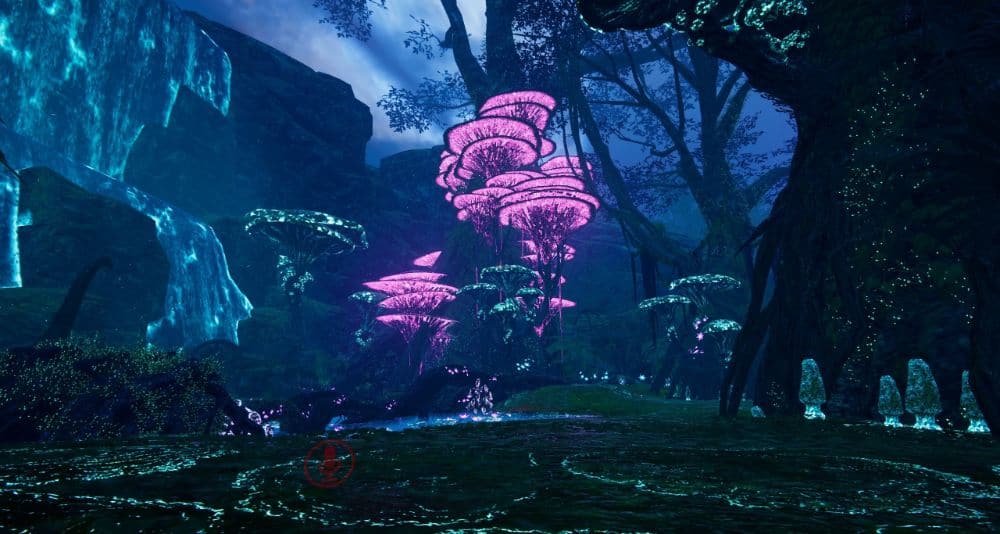 Pandora Night is a beautiful alien world filled with strange plants and huge dinosaur-like creatures. Luminous giant fungi tower overhead, water thunders from an enormous waterfall, and the sounds of a multitude of strange forest animals fill the air. There is a beautiful nearby lake where you can enjoy the glowing water and unusual plant life, as a large pelican-like bird drinks from the lake.
This beautiful VRChat world transported me to another world and I felt the wonder and unease that I would feel if I was really exploring a strange jungle on another planet.
Yayoi Riverbed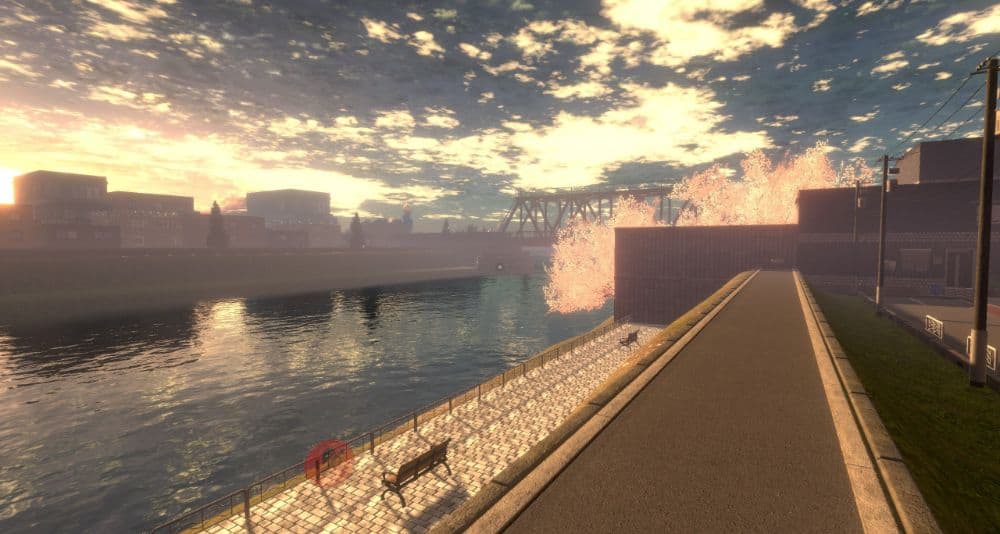 Yayoi Riverbed starts in a warmly lit alleyway as the sun sets. The alley opens out onto a road running along a beautiful river, with a promenade and seating area beyond this. You can explore the street, enjoy the view out over the river, or sit on one of the benches along the riverside promenade.
This urban environment sums up why properties on the banks of rivers in major cities are so desirable. The openness of the river as it moves through the city is really nice, and the beauty of the setting sunlight shimmering on the water is truly spectacular. Yayoi Riverbed provides a chilled urban soundtrack to accompany your visit which perfectly complements the feeling of being by an urban riverside as the sun sets.
Yayoi Summer Nights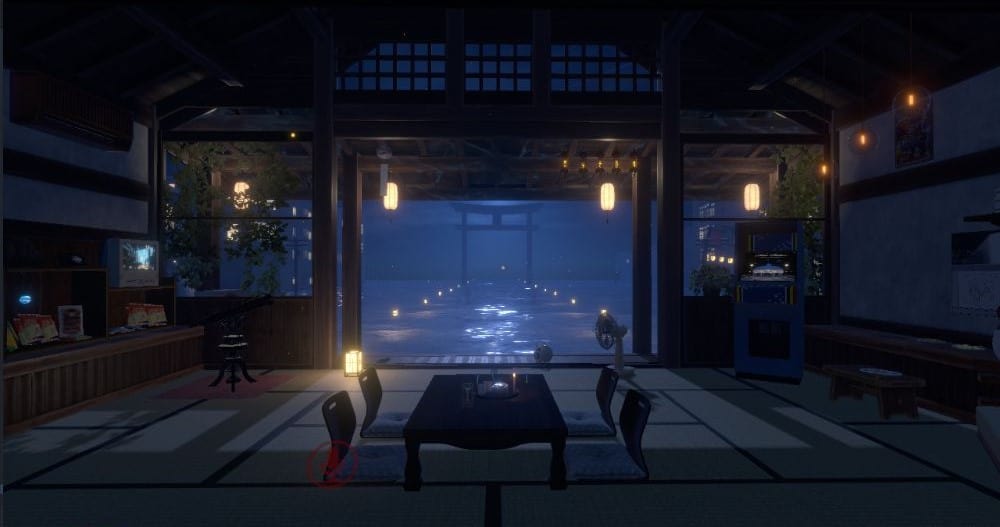 Summer Nights is set in a Japanese house that opens out directly onto the water, with rows of houses lining the sides, and a path of floating lanterns stretching away from the house. The still water and warm lighting evoke a peaceful summer night, and the gentle soundtrack is so relaxing.
The house in Summer Nights is very detailed, with a number of things that you can interact with, including luminous-colored pens that you can have a lot of fun with, as well as ice lollies, a fan, and a water spray, all adding to the feeling of a hot summer night.
Lonely Halls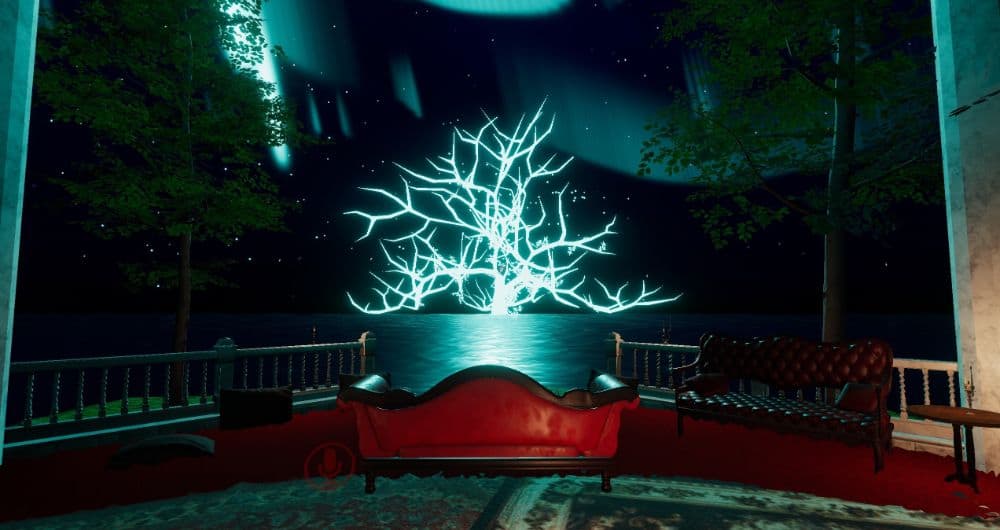 You arrive in Lonely Halls in a massive hallway with a gleaming tiled floor and massive stone columns lining each side. The hallway perfectly frames a stunning view of the ocean at night, where a large, luminous tree rises from the darkness. As you progress down the hall, you come to a beautiful terrace with a breathtaking outlook on the ocean, and you can sit on a sofa and look out on the view while listening to the delicate piano music in the background.
You can also use the nearby door to teleport up to a higher viewing chamber, allowing you to let the ocean and luminous tree fill your view. This is such a relaxing and beautiful VRChat world and really gives me a sense of presence in this beautiful environment.
Oceans Away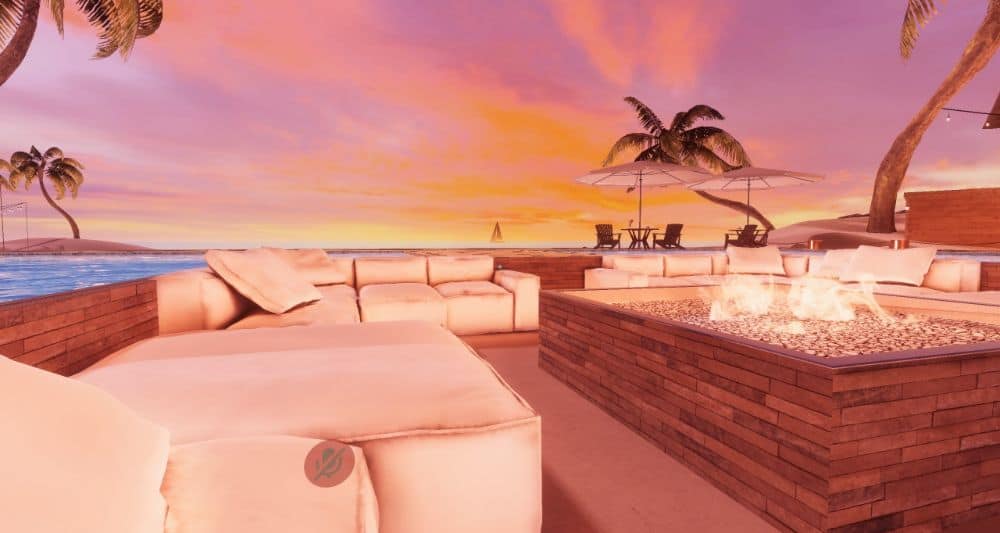 Oceans Away is a wonderful beach location, complete with a recessed seating area, large movie screen, hammocks, and rideable jet skis. This is the perfect place to chill out with some friends in a beautiful environment.
You start in a really luxurious beach hut that opens out onto the perfect oceanfront environment. You can grab a seat and play a game of chess, take a dip in the pool that surrounds the seating area, or just admire the stunning view as the sun goes down in paradise. This is a wonderfully made and very beautiful VRChat world and is definitely one to visit.
Star Wand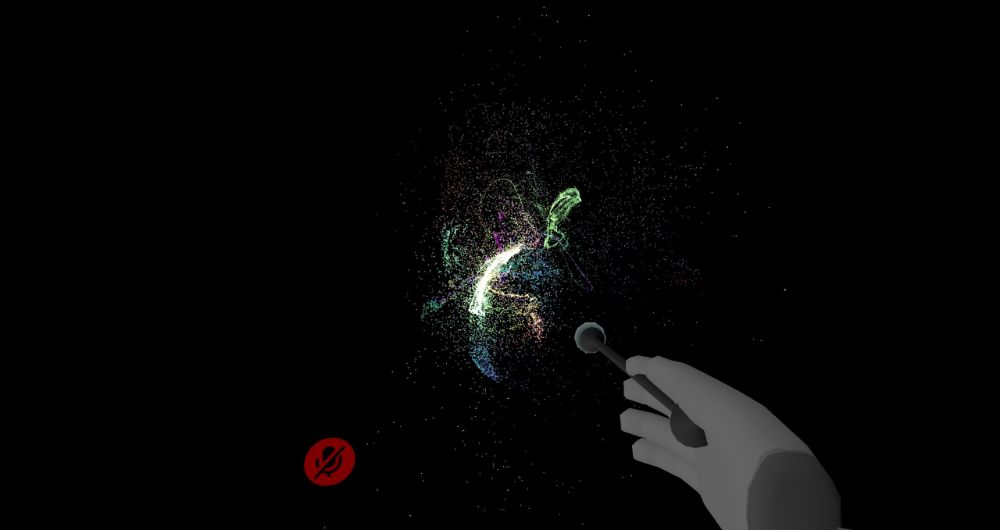 Star Wand doesn't seem too impressive when you first arrive, with just black surroundings and thousands of points of light around you. The magic happens when you lift the Star Wand in front of you. All of a sudden, all those points of light are attracted to your wand and will follow you no matter where you wave it. This allows you to create some amazingly beautiful patterns and shapes in the sky.
Star Wand provides plenty of entertainment, and it's amazing how much you can do with it after a bit of practice and creativity. I keep coming back to Star Wand again and again as it's just such a fun VRChat world to spend time in.
Waves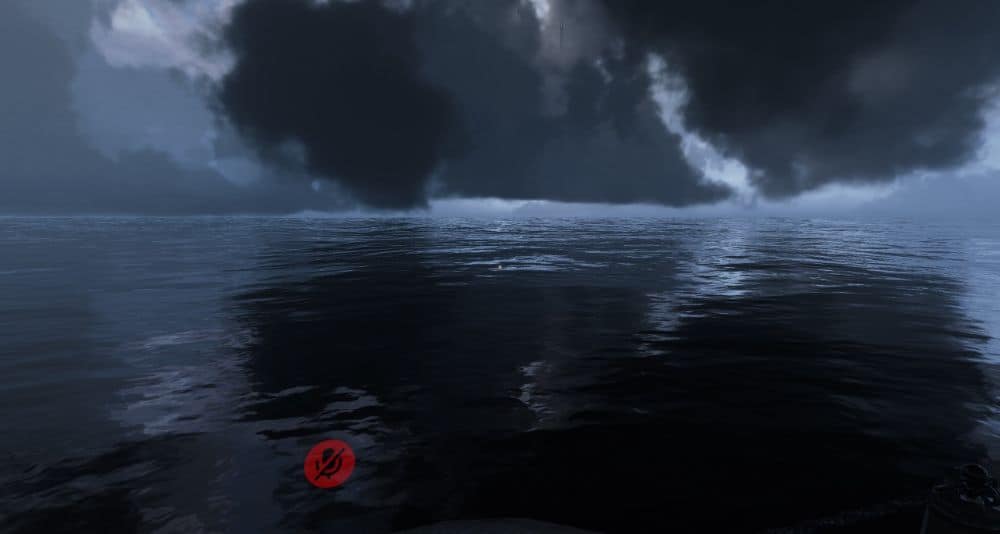 If you like the melancholic beauty of waves on the ocean over cloudy skies, then Waves is for you. It feels like a storm is coming, and the air is heavy. You're out in the middle of the sea on a small platform that looks like a well-worn road, complete with broken concrete and warped railings.
The waves gently roll past and you really get a sense of the power and scale of the ocean as you gaze out to sea. There is a nice soundtrack that accompanies this beautiful VRChat world and the overall effect is a very immersive experience.
Grass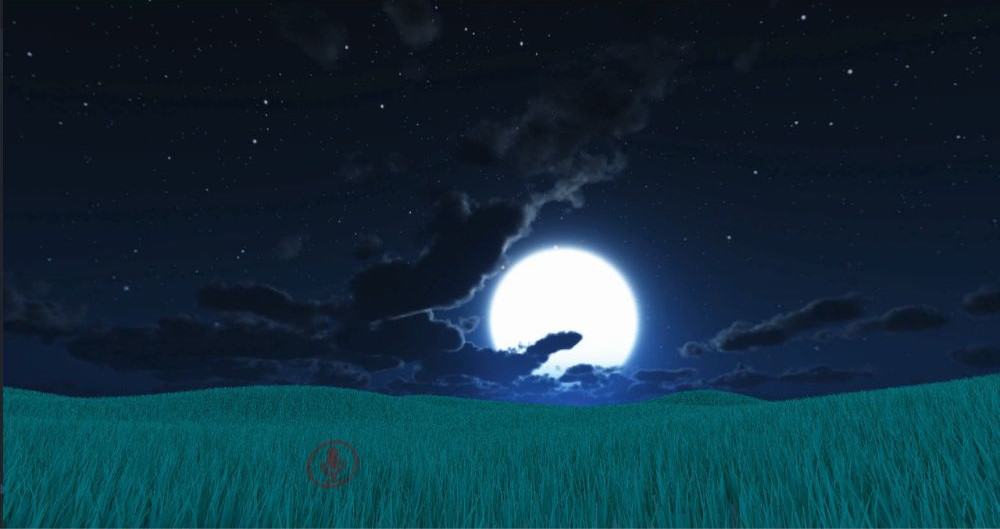 Rolling grassy hills under a moonlit sky are all that is needed to create a really peaceful and beautiful experience in this VRChat world. The star-filled sky is patterned with a few clouds, and the glow of the moon illuminates everything very nicely. Whilst there's not a lot of interaction in this world except for a mirror that you can use to admire your avatar against the stunning backdrop, it is well worth a visit.
Last Word
These are some of my favorite VRChat worlds to visit when I want to relax and enjoy beautiful surroundings, but there are hundreds more beautiful VRChat worlds to explore. Talk to other people in the community, particularly other players in some of the worlds listed above, and no doubt you will get plenty more ideas for some great worlds to visit.
VR Lowdown is a participant in the Amazon Services LLC Associates Program, an affiliate advertising program designed to provide a means for sites to earn advertising fees by advertising and linking to Amazon.com. We also participate in other affiliate programs which compensate us for referring traffic.