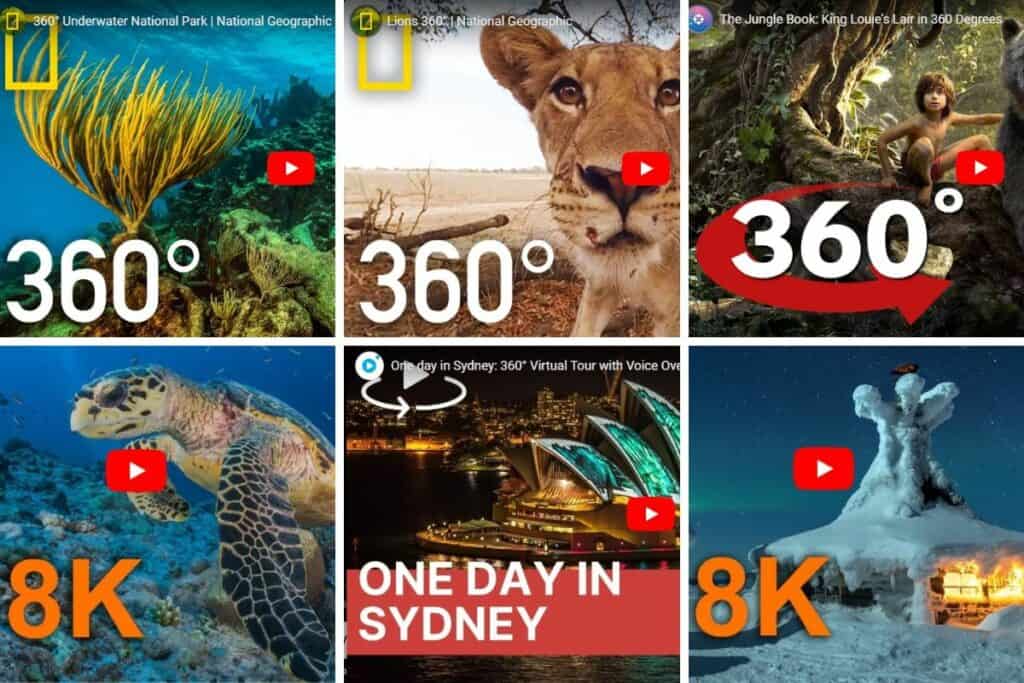 One of the coolest aspects of VR is being able to enjoy incredible 360-degree videos that allow you to enjoy immersive experiences that defy reality and let you step into a world of boundless possibilities. With a VR headset, you'll be transported to places beyond your wildest dreams, whether you're soaring through the sky, wandering the enchanting streets of Europe, or gazing in awe at the cosmic wonders of the universe.
No matter your interests, there's a VR adventure tailored for you, with breathtaking visuals that bridge the gap between education and entertainment. Plan your next vacation by exploring your destination's highlights, or delve into the captivating realms of space and nature to satisfy your curiosity.
With a virtually limitless array of options, you'll never run out of thrilling experiences to dive into. To help you embark on this extraordinary journey, I've curated a selection of the most enthralling travel, science, nature, sport, music, and movie 360-degree VR videos. Prepare to be swept away into a world of awe and wonder!
You can enjoy these VR 360 videos on most VR headsets, including standalone headsets such as Quest 2, PCVR headsets, and even PSVR 2. All you will need is a headset and an internet connection to enjoy these truly awesome VR videos.
360 Degree VR Travel Videos
From across the globe, here are some of the very best VR travel videos that give you breath-taking insights into historic cities, stunning locations, and vibrant metropolises. Remember that this is only a starting point and after you've tried these out, you should check out places you'd like to visit or simply enjoy the sights of your favorite areas.
One Day In Italy
Embark on an exhilarating journey across Italy's enchanting landscape in just under four captivating minutes with "One Day in Italy." This immersive 360-degree VR video, accompanied by the invigorating melodies of Italian music, is an absolute delight for both wanderlust-filled travelers and history aficionados.
Begin your adventure in Rome, where you'll marvel at the city's rich history and awe-inspiring architecture. Explore the legendary Colosseum, both inside and out, and behold the iconic Trevi Fountain and Pantheon. Soak in the stunning panoramas of Rome and immerse yourself in the energy of its bustling streets.
Whisk yourself away to Venice and board a gondola to navigate the city's enchanting web of canals. Pause to admire the architectural splendor of the Rialto Bridge before continuing your journey. Revel in the breathtaking vistas of Florence from various vantage points and stand in the presence of the majestic David statue. And of course, don't miss a visit to the famous Leaning Tower of Pisa!
Your Italian odyssey moves on to Milan, a city that dazzles with its striking buildings and luxurious shopping destinations. The final stop is the romantic city of Verona, where you'll visit the storied Juliet's House. "One Day in Italy" will transport you to the heart of this enthralling country, leaving you longing for more.
Trip To Winter Lapland, Finland
Emerge into the snowy white world of southern Lapland as a guide provides an interesting commentary on each area you visit. Enjoy the fantastic natural scenery of snow-dusted trees and the white roads that snake across the landscape.
Experience some of the activities available here such as sledding, driving a snowmobile up the mountain, or exploring the hundreds of kilometers of ski runs. Jump onto a sled as a team of dogs propels you through the snow-covered spruce forest. You obviously cannot forget about reindeer, and this video has plenty of them. Enjoy feeding these beautiful animals and be treated to one pulling a sled who is very inquisitive of the camera!
Visit the home of Santa Claus and his beautiful village of wooden chalets dusted with fluffy snow. You will explore some of the most iconic places in Lapland over eight minutes and gain an insightful snapshot of the diverse range of stunning landscapes that the country has to offer.
One Day In Sydney
Step into the sun-kissed world of Australia as a guide takes you across some of the most famous locations whilst providing you with interesting and relevant facts about each place. Start at the Sydney Opera House, admiring the architecture and the surrounding port before being taken inside to experience the main hall and the fantastic views the balconies provide.
Explore two of Sydney's most famous and iconic beaches before checking out Circular Quay to explore the architecture and beautiful blue waters. You will also visit the Royal Botanical Gardens and Hyde Park to enjoy the tranquility of nature within this wonderful city.
Discover historic buildings and cobbled streets, mixed with a shopper's dream of retail on Pitt Street. At just under four minutes long, this is a great snapshot of a wide variety of the best that Sydney has to offer, and the high-quality video makes it an enjoyable and fully immersive experience.
New York City – VR 360 Drive
If you are looking for something longer and a bit more slow-paced then this is the perfect VR 360 video for you. Take in all the iconic sites from the Big Apple as a car drives across the city. With the natural sounds of day-to-day life in the background, it really adds to its realistic feel with the beeping of cars and chatting of people everywhere.
The natural traffic flow is a helpful tool as you'll slow down and be able to truly appreciate some of the very best sites on the tour. Iconic yellow cabs are everywhere to be seen as you travel the whole way across the city. At around fourteen minutes long, it is lengthier than some of the other videos but perfect if you want to soak up the city at a slower pace or get a feel for it if you are planning on visiting.
Milford Sound Day Tour
Compounding changing scenery and excellent graphics, this video allows you to explore the wonders of Milford Sound in New Zealand. Prepare to be mesmerized by the dramatic scenery as you embark on a tour that sends you through forests thick with vegetation and cruising across a lake in a boat .
You'll see everything from native wildlife, impressive hanging waterfalls, and the stunning landscape left behind by the glacier's retreat through the river valley. The rich vibrancy of the greenery and changing colors across the different places provides a true sense of awe and wonder.
Despite its short duration, this journey around Milford Sound leaves you with quite the impression and I particularly enjoyed the relaxing backing music which made it feel like you really were floating on the waters of Milford Sound and gazing in awe at the amazing landscape. This is a wonderful example of how 360-degree VR video can help you experience a location without leaving your home.
Science
VR provides a multitude of learning opportunities, but nothing stays with you quite the same way as diving into a to-scale rendering of the universe or watching fascinating experiments unfold. Check out some of the VR 360 videos I have found to be particularly breathtaking.
VR 360 Space Journey
Prepare to be mesmerized by the awe-inspiring vastness of the cosmos in this spectacular VR 360 space journey. Whether you're a space enthusiast or simply curious about the universe, this breathtaking seven-minute odyssey will leave you utterly spellbound. Accompanied by a celestial soundtrack, you'll embark on a voyage that transcends the speed of light, soaring toward the heart of the Milky Way.
Glide above Earth, marveling at the continents sprawling beneath you, and become humbled by the realization of our planet's insignificance in the grand scheme of the cosmos. As you accelerate, witness the stars whizzing past you at astonishing speeds, surrounded by the shimmering glow of celestial bodies in every direction.
The journey continues as you leave the confines of our galaxy, venturing further into the cosmic expanse. Your sense of wonder will only heighten as you witness entire galaxies streaking past you in a dazzling display of lights and colors. The dynamic and ever-changing nature of this 360-degree VR experience makes it a thrilling, action-packed, and utterly captivating adventure through the infinite marvels of space.
Intercellular – An Interbody VR Experience
If medicine or the wonders of the human body is your area of interest, then you will not be disappointed by intercellular, a fascinating journey through the human body. Discover a variety of cells performing different functions, from neurons in the brain to bacteria within the gut and everywhere in between.
Travel alongside a cell and explore the nucleus to reveal DNA, the code that makes us who we are. Not only are the graphics superb but the helpful commentary provides facts that tell you about each section of the body as you pass through it and how they work together in order to function.
It almost feels like you are traveling through an alien world as you squeeze through gaps and soar along blood vessels. It was such an interesting way to think about the human body and gives you an even stronger sense of appreciation of just how complicated all of the systems are.
Miracle Of Life
Immerse yourself in the awe-inspiring moment of conception as you join the valiant expedition of countless sperm cells on their quest to reach the egg. Delve into the inner workings of these cellular marvels as they navigate their almost otherworldly environment, weaving through serpentine connections that showcase the intricate complexity of our cells.
This VR 360 video is a fantastic journey through the process of conception, showing how our first cells grow and we begin the miraculous journey of life. Witness the egg cell growing and beginning to divide into more cells as it starts its steady voyage down into the ovary.
Watch as the beginnings of a new human being begin to slowly take shape, from tiny fingers, kicking feet, and the slowly developing facial features that will make them totally unique to anyone else when they are born. This video is a feast for all the senses and the calming background music and no commentary really just allow you to soak up the fantastic graphics and complicated process of the beginning of life.
Explore Our Solar System In VR
Admire the beauty of distant planets and learn interesting facts about each of them as you are propelled through space. This video has it all, managing to be highly educational but also extremely fun, as you step into a high-speed spacecraft to explore each amazing planet and its moons.
Learn about each planet's rotation, atmosphere, and unique features. As you hyperjump between the planets, it's hard not to imagine yourself being in your favorite sci-fi film with the orb-like spaceship the perfect vessel for your adventures.
One of the most helpful things in this VR video is that all planets and moons are labeled, allowing you to easily get to grips with your surroundings. Also, there is a size comparison of the earth to each planet which is absolutely fascinating. The commentator is wonderful and provides concise facts on each planet that are really interesting but not too difficult to understand, making it suitable for children too.
Expedition Everest – National Geographic
Embark on this virtual reality experience with an international group of biologists, glaciologists, meteorologists, and geographers as they study the effects of climate change in one of the most extreme environments on Earth. This breathtaking expedition begins at 17,300 feet at Base Camp and ends above 27,00 feet, near the summit of Mount Everest.
Join the teams as they collect ice cores, place the world's highest weather station, and gather hundreds of samples along the way. Much like a documentary, you'll hear fascinating information about their search for evidence of climate change and how to monitor it, as they travel through this amazing environment.
If you are even at all interested in conservation or studying the natural world, then this 360-degree VR video will give insights into the research and exploration of scientists. Spectacularly rendered 3D terrain maps allow you to envisage their plans for monitoring the area and the vastness of the mountain ranges.
Nature
The wonders of nature have been increasingly accessible in our everyday lives thanks to the work of photographers and filmmakers producing photos and documentaries that put us closer to the natural world than ever before. VR takes this a step further, allowing you to feel as though you really are there, swimming in the waters of Egypt or sitting amongst a pride of lions.
Underwater Life
Egypt is an interesting destination in many ways, particularly for those interested in history and culture, who can enjoy exploring its ancient civilization. What some people miss is Marsa Alam which is widely considered to be the best place in the country for snorkeling and Scuba Diving.
For over ten minutes, explore these turquoise waters teeming with a huge variety of marine life. Helpful commentary will guide you through the waters, with gentle music adding to the sense of underwater serenity. Swim alongside a green turtle as you discover interesting facts about their lives.
The exceptionally high quality of this VR 360 video makes it as close to the real thing as possible, without having to get wet! After following the turtle on its journey, you'll return to the beauty of the corals and watch as tiny fish dart in and out of the cracks. Check out the incredible camouflage of the blue-spotted stingray as it swims along the light sand. Learn the names of different fish and discover species that are found only in this area.
Angel Falls
This is the first 360-degree VR video of the highest waterfall on Earth – Angel Falls, in the jungles of the Canaima National Park in Venezuela. Not ideal if you are afraid of heights, the fantastic cinematography of this VR video makes this an incredibly realistic journey as you soar up the waterfall through clouds to the top of the mountain.
As you travel, a guide will provide fascinating information about the surrounding area and ecosystem as well as the history of the waterfall. Once you survive the ascent to the top of the mountain, you will be able to admire the green blanket of jungles that surrounds you for miles on end.
You really get a sense of the scale when you come back down and it is simply breathtaking. Exploring the mountains surrounding the waterfall provides information on the climate of the area and its status as a UNESCO World Heritage Site. Hear the fascinating story of its discovery and the plane that was left on the top for over 30 years.
Underwater National Park – National Geographic
Plunge into a Caribbean gem with a National Geographic photographer as you explore Buck Island – America's first protected marine monument. Starting out on a boat cruising across the blue ocean, experience the plunge into the ocean to the bottommost depths.
This spectacular coral reef barely feels real with a diversity of species which means there is always something to see. This VR video is actually incredibly moving as the narrator discusses the need to protect this unique ecosystem and how his photographs can wake people up to try and move the agenda forward.
Watch as he helps sea turtles to hatch and complete their perilous journey into the ocean. Aboard a sea plane, you'll fly overhead to admire the blend of colours from deep greens to every shade of blue.
Lions 360 – National Geographic
Come face to face with a young lion called Gibson and his mother, as they struggle with their pride's alpha male. In a documentary style but with greater immersion, you will follow their story and get super close to some of the world's top predators. Meet other members of the pride, including boisterous young cubs as it moves through different environments.
It is moving to see the group of lions' hardship as they are forced from the pride for their own safety and how they struggle to survive without the safety in numbers. The gentle background music and storytelling style of narration make this an incredibly relaxing VR 360 video to enjoy and an amazing insight into the workings of lions' social hierarchies and lives.
Swimming With Dolphins On The Great Barrier Reef
Although they usually hunt in groups, solitary dolphins can also be seen hunting and this 360-degree VR video lets us witness this rare moment. Prepare to be mesmerized by the dolphin's hunting behaviors and watch out – a fish even tries to eat the camera!
You cannot get any closer to the action than this and it is incredibly soothing to watch the dolphin swim effortlessly through the water and huge shoals of fish in search of its next meal. Even the scuba divers are in awe during this unique experience.
Sports
If sports are your area of interest then VR has you covered. From watching sports events in full immersion to experiencing the thrill of rock climbing or jumping out of helicopters, there's something for everyone, to suit every mood.
NFL 360
If you are an American football fan like me, you have to check out the range of 360-degree VR videos available on Youtube. Although you can't watch full matches, there are some excellent videos that allow you to watch highlights from the pitchside, and give you a behind-the-scenes tour on matchday. Simply looking up '360 NFL videos' will provide you with a whole host of options to choose from, mostly from a few years ago but there are some recent ones too.
It doesn't even matter about the match, it is just super fun to get up close and personal with the players and experience all the different aspects of a game day.
Whilst there are currently only clips available, I can't wait for the day when we will be able to watch live games in 360-degree VR. The technology to allow this is slowly becoming available and I'm sure it won't be too long before we can virtually sit in the stadium, enjoying the game live, almost as if you are there.
360 VR Skydiving Experience
Enjoy this five-minute walkthrough of the entire skydiving experience right from getting all of the kit on and rolling the plane out of the hangar to jumping out with excitement from a crazy height.
The upbeat music adds to the excitement of this VR video as you travel above the clouds and descend from a dizzying height, linking hands as you watch the ocean and land beneath you in a patchwork of colors. Once the parachute is out, make sure to have a good look around you as you slowly come back down to Earth. On the ground, you will get to see the other people landing too.
Red Bull F1 VR
Jump into the driver's seat during the Gamma Racing Day in front of 82,000 spectators as Sebastien Buemi takes the mighty RB8 for a couple of runs on the TT Circuit Assen.
Start out in the cockpit and drive out past cameras and thousands of fans before hitting the racetrack and hurtling around at astonishing speeds that you can almost feel in VR with the roar of the engine filling the air.
You almost feel like leaning yourself as he speeds around tight corners with expert ease. By the end, the race car is kicking up smoke as it completes a perfect circle of wheelies to finish. This is an awesome, adrenaline-pumping VR 360 video that shows off just how much more exhilarating it can be to view sports content in VR.
Free Solo Rock Climbing – National Geographic
Immerse yourself in the experience of free solo climbing Yosemite's famous El Capitan alongside Alex Honnold in this breath-taking video. His journey is truly inspiring and the commentary he gives makes you consider your own life. The dramatic scenery as a backdrop to his climbing is impressive to watch and there is just so much to see.
It is hard not to be totally perplexed by this man climbing a sheer face of rock with no rope or anything, knowing that if something goes wrong, he will die. Being so close to this impressive feat is such a privilege, and you feel so much more connected and involved in the action than you would when watching a 2D video.
Even his discussion of the preparation required to train for such a challenge mentally and physically is simply fascinating. You will finish this VR 360 video being inspired, maybe not to free climb as it is utterly terrifying, but to change your perception of challenges, fear, and how we can overcome these.
Tahiti Surf
Jump on a surfboard with Anthony Walsh and Matahi Drollet in Tahiti as they take you into a fully immersive surfing experience. Enjoy the serenity of the underwater blue as waves break above you and fish dart around the corals. Music sets the tone as you wait for a big wave and ride it as one side curves the whole way down to encase you in the water.
Not only do you get the exhilaration of surfing, but you get to admire the beautiful natural landscape of the beaches that surround the area. Watch a surfer from underneath and then as they cruise over a wave in front of you. It really makes you want to go out and try it for yourself and is a super cool thing to experience in VR.
Music And Movies
Step into your favorite movie scenes or experience musical artists live at concerts in these 360-degree VR videos. Designed to impress, they will leave your heart pumping with excitement as you are transported across the world and even to different worlds!
Ultra Music Festival In Miami
If you have ever wanted to get an authentic view of the Ultra Music Festival in Bayfront Park, Miami, this is the video you will want to check out with a 360-degree VR video and live audio from this event in Florida. Be blown away by performances from artists such as Dash Berlin, Resistance Stage, Live Stage, Afrojack, David Guetta, Swedish House Mafia, and many more.
Enjoy walking through crowds of raving people who are living life to the full with different songs and artists. Set against the blue Miami sky, the atmosphere is just perfect and if you are really feeling into it, you can join in the dancing with the crowds of hundreds of people. Watch the sky transform to night and the rave lights come on to give a totally new atmosphere.
Tomorrowland Immersive VR Experience
Check out all 20 stages live in 360 degrees at Tomorrowland 2019 in this fantastic VR 360 video that includes some iconic songs and artists. Prepare to be blown away by the smoke and light shows not to mention the swarms of happy people bouncing around. There is a mixture of stages during the day and night so you get all the good points of the different types of lighting.
You can even just be impressed by the sheer number of people across the different areas and how cool and well-designed each of the stages is. It gives you a really good sense of what a concert is like if you have never been to one before and want to check out what goes on.
Avatar Movie Scenes In VR
If you are a fan of the Avatar movies then I would definitely recommend this VR 360 video. Painstakingly developed for VR, this video has highly impressive graphics over a range of breathtaking locations. Fly over Hallelujah Mountains in Pandora before descending and coming across Neytiri hiding in the forest.
Climb the vines of the Adjacent Floating Mountain and fly through the Tree of Sound, beautifully lit in deep purples and blues. Dive into the underwater world of Pandora all whilst enjoying a soundtrack that truly makes you feel as though you are in the movie.
The Jungle Book: King Louie's Lair In 360 Degree
If you are a Disney fan, then prepare to step into King Louie's Lair in this 360-degree VR video from the live-action movie 'The Jungle Book.' Through Mowgli's eyes, watch as swarms of monkeys emerge from the depths of the temple. Prepare to be intimidated by King Louie's huge size and chattering subjects and be relieved when Baloo the bear interrupts.
Despite being very short, the great thing about this VR video that makes it worth having a look at is the incredible quality. It truly feels like you are within the movie and is a really cool experience.
The Meg: Submersive VR Experience
This submersive VR experience puts you head-to-head with the largest prehistoric shark ever to exist. Diving in open water, you'll get a visceral view of the ocean depths and an encounter with the Megalodon is inevitable as you see her lurking in the waters nearby.
Not for the faint-hearted, this VR 360 video has the potential to scare the living daylights out of you, especially when you realize that what you thought was the threat, wasn't even half of it. Make sure you don't panic as you will get rescued. Hopefully.
VR Lowdown is a participant in the Amazon Services LLC Associates Program, an affiliate advertising program designed to provide a means for sites to earn advertising fees by advertising and linking to Amazon.com. We also participate in other affiliate programs which compensate us for referring traffic.