Visiting VRChat avatar worlds is the best way to collect new avatars to enable you to customize your look and play as your favorite characters. These VRChat worlds contain collections of avatars that you can change into and keep as favorites. I've picked out some of the best VRChat avatar worlds to showcase the wide selection of quality avatars available.
I've tried to pick VRChat avatar worlds that appeal to a variety of people, to help you find your perfect avatar. There is a good selection of meme, serious, and pop culture VRChat avatars included, and a mix of PC VR and Quest compatible options.
The best way to get to each of these worlds is to search for the name of the world in the search box within VRChat. I'm aware that the search function within VRChat isn't the best, but I've tested to ensure that all these VRChat avatar worlds can be found in this way.
Toga And Ikita Avatars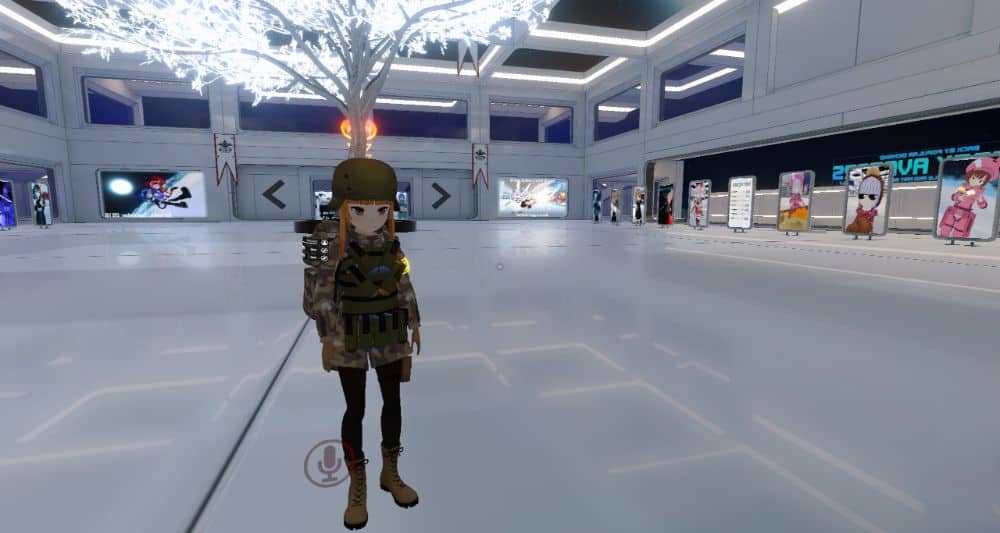 Toga and Ikita Avatar is a hugely impressive VRChat avatar world that has been lovingly made by two excellent avatar creators. It feels bright and airy, with high ceilings and a modern aesthetic. It's a bit like a cross between a spaceport and a really modern shopping mall, with two rows of advertising boards on either side highlighting the avatars on offer.
There are a good number of very well-made female avatars, with fantastic attention to detail and a range of cool animations. Each avatar is well-themed, with cool clothes and accessories. These are absolutely the type of avatars that you would want to use as an online identity within VRChat and some of the best designed and made avatars that I have seen.
It really is a pleasure to spend time in Toga and Ikita's VRChat avatar world, and it seems to be really popular, with loads of other people present every time I visit. I'm really impressed by the creativity and artistic skill required to make this VRChat avatar world and the avatars themselves.
If you're looking for a really professional female avatar, you'll need to look for a long time before finding anything better than those produced by these talented VRChat avatar creators.
Pasta Alfredo Avatars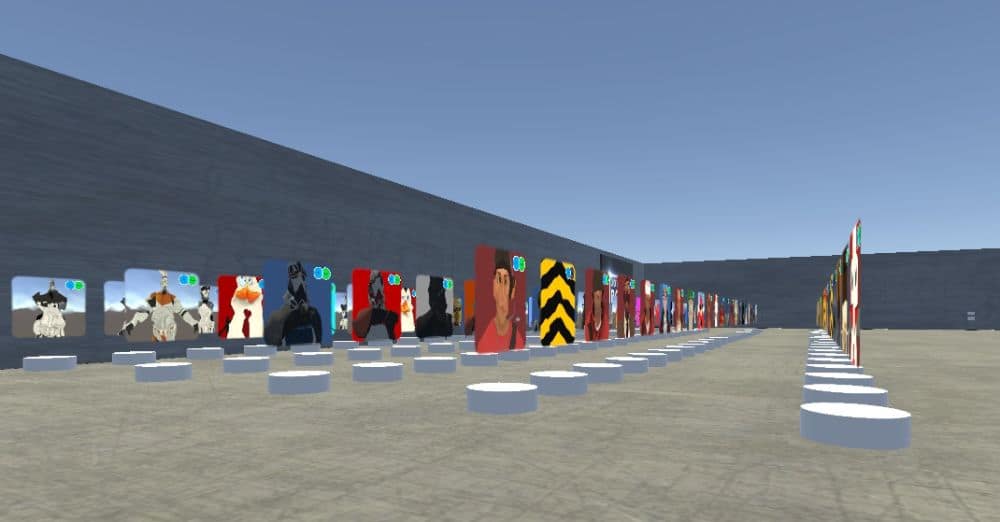 Pasta Alfredo is a brilliant VRChat avatar world you should check out. It has loads of pop-culture avatars and there were loads that I added to my favorites list. The selection includes Star Wars, Penguins of Madagascar, Sonic, Team Fortress 2, Barack Obama, JFK, Kermit the Frog, and many more.
This world has weird, but really catchy background music that made the whole experience really enjoyable. It was fun seeing and chatting with other people as I browsed the avatars, and compared notes about which ones they thought were best.
Mirrors at either end of the room are handy to check your appearance, although they aren't positioned as conveniently as I would like. As I am running up against the limit of favorite avatars I can save, I had to keep running back and forth to change avatars and then check my appearance.
This is a world to visit if you want to play as a character, but not if you are looking for a more generic avatar to represent your real-world self in the game.
Mids AVA World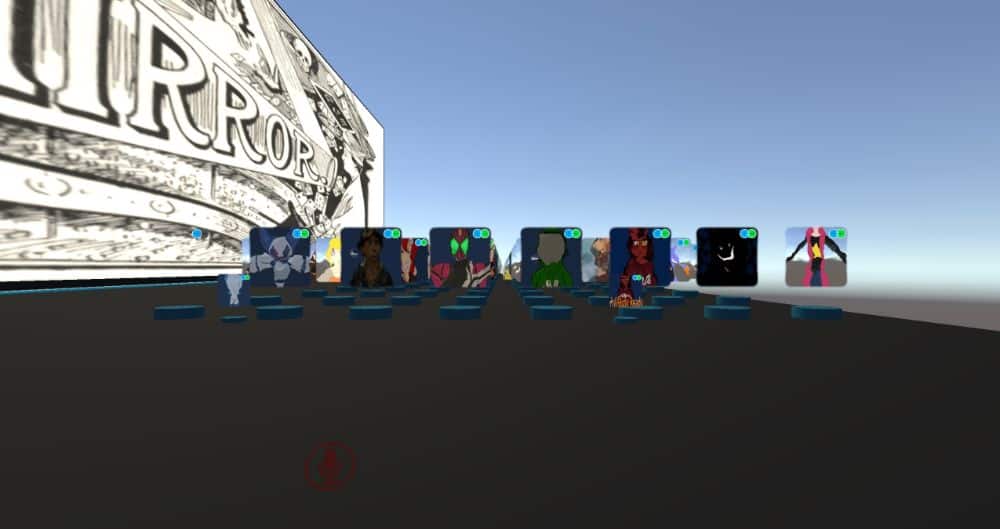 This VRChat avatar world has a large collection of anime avatars and a selection of others characters from popular shows and games. Kirito from Sword Art Online, Pikachu, Link, Stitch, from Lilo and Stitch, and Samurai Megazord from Power Rangers are all present. I was delighted to find Clementine from The Walking Dead here, as this is one of my all-time favorite PC games.
As well as normal-sized avatars, there is a collection of some of the most enormous avatars I've ever seen in VRChat. Megazord, for example, is available in three different sizes, the largest of which towers above the world when you change into him. This one definitely made my favorites list, but I'll have to be careful which worlds I use it on, as he needs a lot of space.
This is a really well laid-out VRChat avatar world, allowing you to easily see what is on offer, and you're not going to miss picking up any of your favorites. There's also an enormous mirror that runs the entire length of the main room that can be toggled on and off by the long blue button at the base of the wall. This is a really helpful feature that let me decide which of the many, many avatars to keep as favorites.
Big Al's Avatar Corridors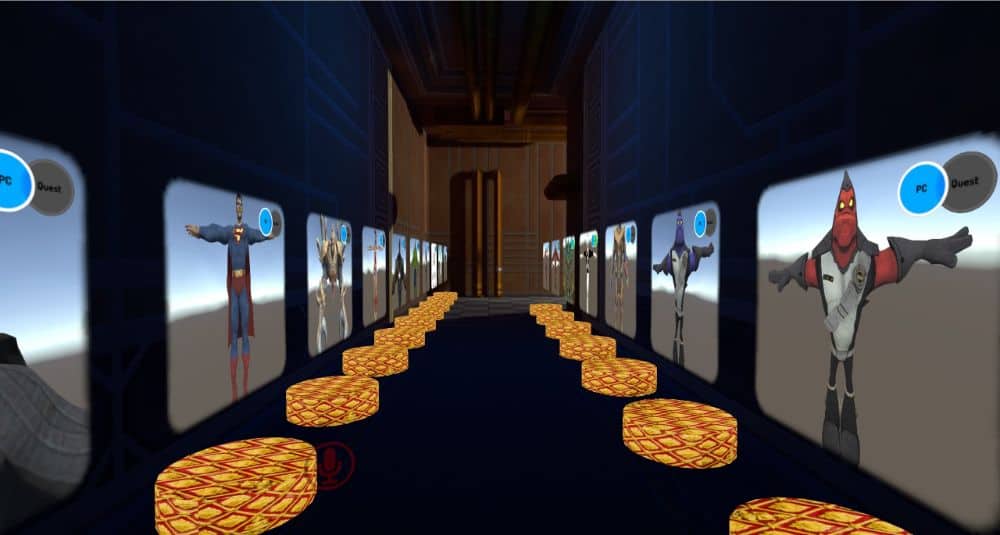 Big Al's Avatar Corridors are like a series of subterranean tunnels that are full of a massive selection of avatars from popular shows and movies. The selection includes characters from The Simpsons, Disney movies, Ghostbusters, Angry Birds, South Park, Futurama, Star Wars, Toy Story, The Smurfs, and loads more.
Each avatar is clearly displayed and labeled, so you can see at a glance what each avatar is. This is an improvement on many other avatar worlds, which don't have their avatars labeled. All the avatars are good quality, many are compatible with both PC VR and Quest, and many have custom emotes and animations.
You do need to spend a little time wandering around to see all the avatars on offer, and the layout of the corridors means it can be difficult to be sure that you have seen everything, but this is a minor inconvenience in what is otherwise one of the best VRChat avatar worlds available.
This is very much a VRChat avatar world to visit if you want to play as a fun character, rather than pick up a serious digital avatar, but I found myself clearing space in my favorites list to add quite a number of these avatars to my collection.
PsychoUpdates's Avatars
This VRChat avatar world is one of the coolest I've seen in a while. It's themed like a cross between a club and a high-end urban clothes boutique, with a purple theme and a great soundtrack. After you go down the stairs, you can enter a large dressing room on the right where there is a large selection of human avatars of multiple ethnicities, with a good choice of clothing options.
The avatars are laid out in a well-organized grid around the changing room, and there is a handy mirror in the corner of the dressing room, so you can just turn around to see how you look as you try each avatar on.
Once you have chosen your look, you can come out of the changing room and enjoy the rest of PsychoUpdate's awesome world, while admiring your look in the enormous mirror down the stairs. There is also a seating area to chill out, so it's a good place if you want to meet up with friends and try on some cool VRChat avatars.
Hidden4Loves Avatar Forest
This is a really impressive avatar world with hundreds of female avatars to choose from. It's bright and cheerful, with rows and rows of female avatars with loads of different clothing, hair, and style options. If you're looking for a female avatar, Hidden4Love's Avatar Forest has so many different options to choose from, enabling you to find an avatar that looks just how you want.
The avatars are very well arranged, and you can teleport between rows of avatars making navigation around this world very easy. You can also teleport to and from a mirror room, so you can check out your appearance with ease, without having to run back and forth.
The avatars are toggled by pressing well-labeled buttons, which is great as this decreases the graphical demands when you arrive in the world. The only downside is that most of the avatars are currently marked as being compatible with PC, and not with standalone Quest.
The forest theme is pretty cool, with lots of trees and toadstools, and you can teleport yourself up to "cloud heaven" to get a great view of the world from above or relax at the elevated seating area.
All of the avatars are of a similar style, so you will either find this VRChat avatar world to be perfect for you, or you'll skip past it fairly quickly. What everyone will agree on is that the creator of this world, Lily (Hidden4Love), deserves a lot of credit for creating one of the best VRChat avatar worlds I have found.
Genshin Impact Avatar World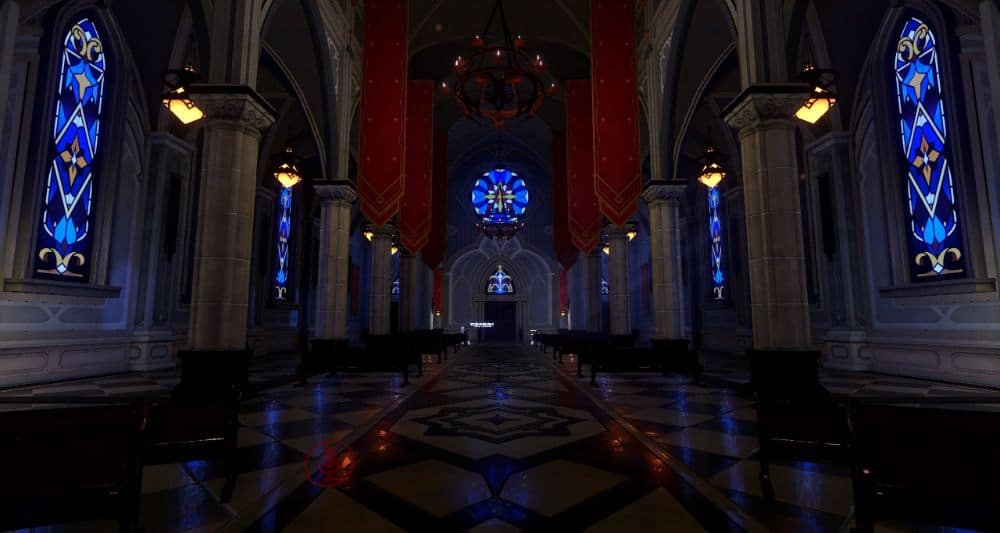 This beautiful world has a great selection of Genshin Impact avatars. All are compatible with PC VR and Quest and have full-body tracking. The selection here is amazing, and all avatars have great animations, so there are endless options to express yourself while using them with your friends.
The quality of this recreation of Mondstadt Cathedral is outstanding, and the visuals are breathtaking. This is an avatar world that is worth visiting just to relax and enjoy the ambiance of a fantastic location, never mind the top-quality avatars on offer. If you like this world, you may like to read this article covering some other stunningly beautiful VRChat worlds.
This is a really popular VRChat avatar world, and every time I have visited, there has been a good crowd of people hanging out, chatting, and enjoying themselves. Even if you aren't a big fan of Genshin Impact, this is a great VRChat avatar world to visit just to see what is possible in this amazing VR game.
Rum Ham's Avatar World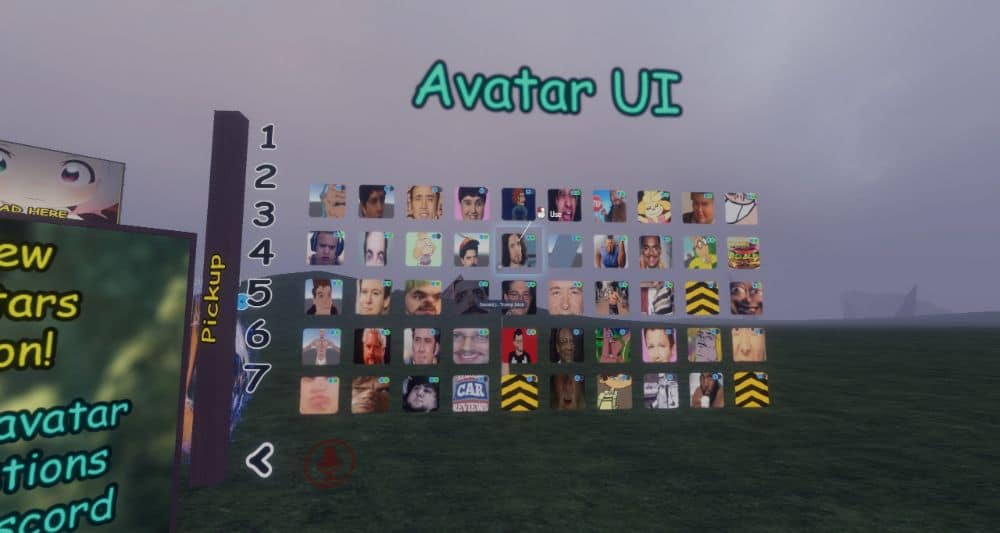 Run Ham's Avatar World has a huge selection of avatars from a selection of creators. From the moment you arrive in Run Ham's avatar world, it's clear that the emphasis is on fun and amusement, rather than trying to find the perfect digital representation of your personality.
The selection mainly consists of meme and pop culture characters, and although the quality ranges from reasonable to terrible, there are a lot of cool characters that I really enjoyed browsing through. I've added quite a few to my favorites list to put on at the right time for some laughs
The drawback of this VRChat avatar world is that the avatars aren't labeled, and the preview images aren't great, so you really need to try them out and look in the nearby mirror to see whether you like each one. There are also portals to a range of other avatar worlds, so it is a good way to see plenty of avatars in a short period of time.
V & K Avatars
V&K Avatars is a really well-built and themed world with a selection of anime girl avatars. This neon-pink city apartment is perfectly themed, with fantastic detailing and lighting, and there is a reasonable selection of avatars that are all variations of the same theme.
These avatars are really well made and they each have a number of changeable clothing options, but no custom animations. They are quite risque, so won't be to everyone's taste, but I know a lot of people will really love these quality avatars.
100 Avatars
This is a great VRChat avatar world if you want an amusing avatar that will make you and your friends laugh. Most of the avatars here are cross-platform, and whilst fairly basic, were well worth taking a look at.
The selection includes garden gnomes, aliens, humans of all shapes and sizes, food, shapes, snowmen, and many other random avatars. There are actually many more than 100 VRChat avatars here, despite the name of the world.
The world is laid out very nicely, with different sections for each type of avatar, and easy access to mirrors to check out how you look. The theme is delightful, with brightly colored grass, hills, and water, and small rivers and bridges separating each area. Whilst there are better quality avatars to be found elsewhere, this is a really nice VRChat avatar world if you want to pick up some fun and amusing avatars.
Pokemon Avatars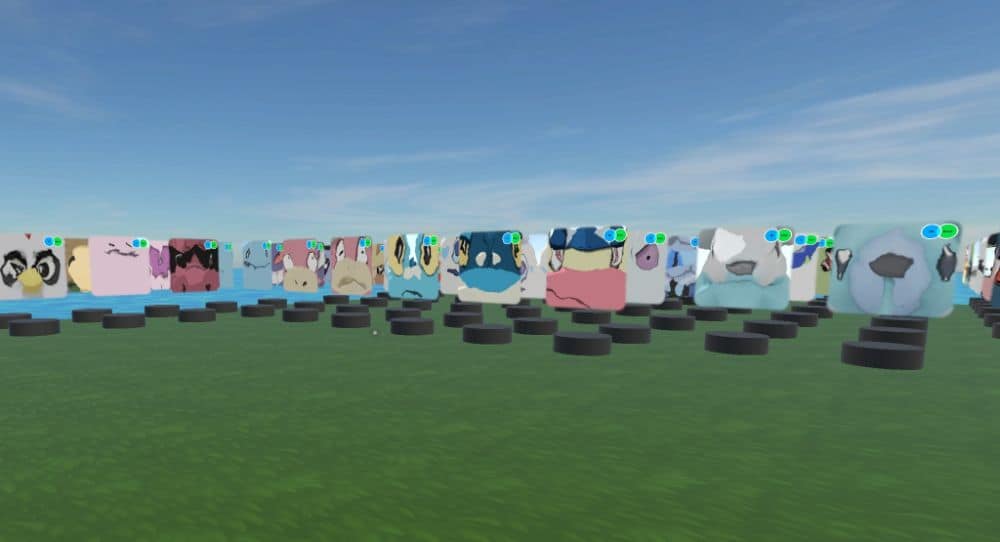 This world is simply called Pokemon Avatars, made by pixelplayer17, and has a selection of hundreds of Pokemon avatars that are compatible with PCVR and standalone Quest headsets. All of the Pokemon have good animations and attention to detail.
The world itself is fairly basic, but if you're looking for good Pokemon avatars for VRChat, then this is a great place to visit. The avatars are arranged neatly and there is a mirror right behind where you choose the avatars, so you can check out how they look very easily.
There are only Pokemon in this world, but no trainers or other characters, so I've included a second Pokemon VRChat avatar world below.
Tyson's Pokemon Avatars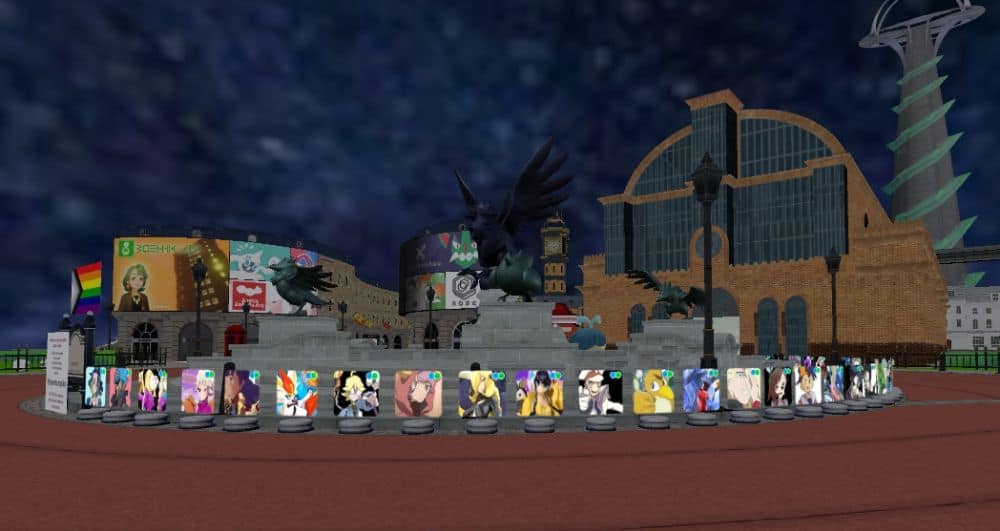 Following on from the last VRChat avatar world, Tyson's Pokemon Avatars is a really well-made world that has a great selection of characters from the pokemon universe. All the avatars are laid out around a large statue, and you can simply walk around and browse for your favorite avatar.
The quality of avatars was generally very good, and all were compatible with PC VR and Quest. With the exception of having a custom avatar made, I think these are some of the best Pokemon avatars you will find in VRChat.
The world surrounding these avatars has been created with care and attention to detail and is a fun place to explore. There are a number of other Pokemon avatar worlds to explore, and I would encourage you to explore some of them, as you are likely to be able to find exactly the avatar you want.
Collin's Avatar World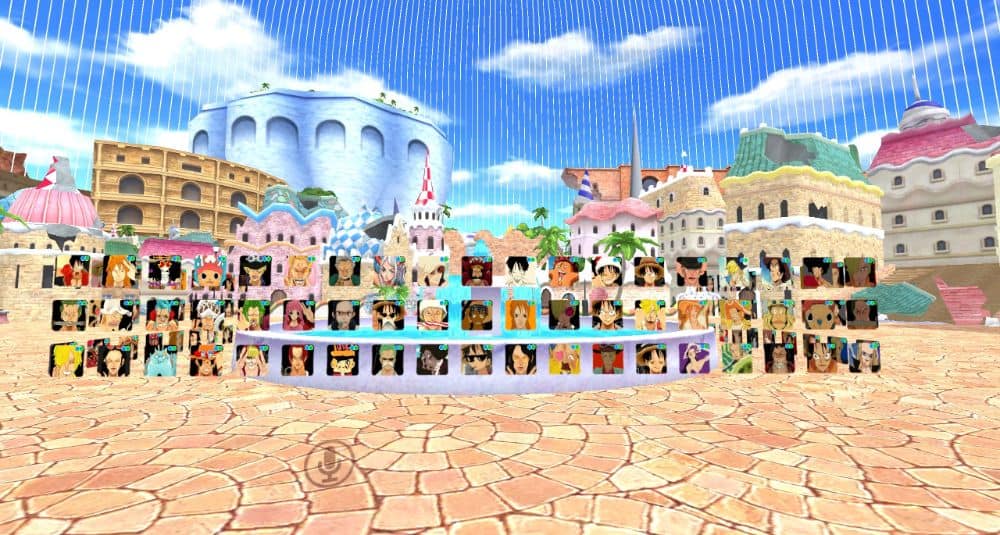 Collin's Avatar World is set in a delightfully cheerful town center, with all the available avatars neatly arranged in the town square. The focus is predominantly focused on anime avatars, but there are also a few other random characters. I was able to get a fantastic avatar of The Rock that I'm really pleased with.
Most of the avatars are compatible with PCVR and Quest and most have a few animations to keep you entertained. There are also portals to a number of other interesting avatar worlds that have avatars of a similar theme.
Snowdin Town Avatar Hub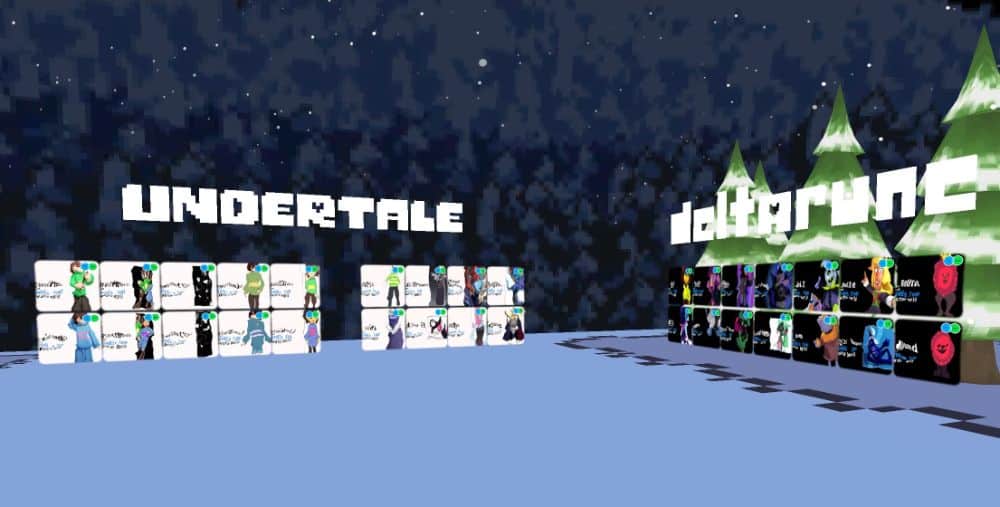 This really nicely themed avatar hub has a good selection of Undertale and Deltarune avatars that are compatible with PCVR and Quest. If you are a fan of these games, this is a great place to get some great VRChat avatars and also to hang out.
The attention to detail of this VRChat avatar world is great, and it's been a pleasure spending time exploring the town and talking to other visitors. Snowdin Town Avatar Hub is well worth a visit for anyone looking to meet nice people and find some cool avatars. Bear in mind that there aren't any other avatars in this world, so if you're not much of a fan of these games, you may want to visit somewhere else.
Cross Platform Avatars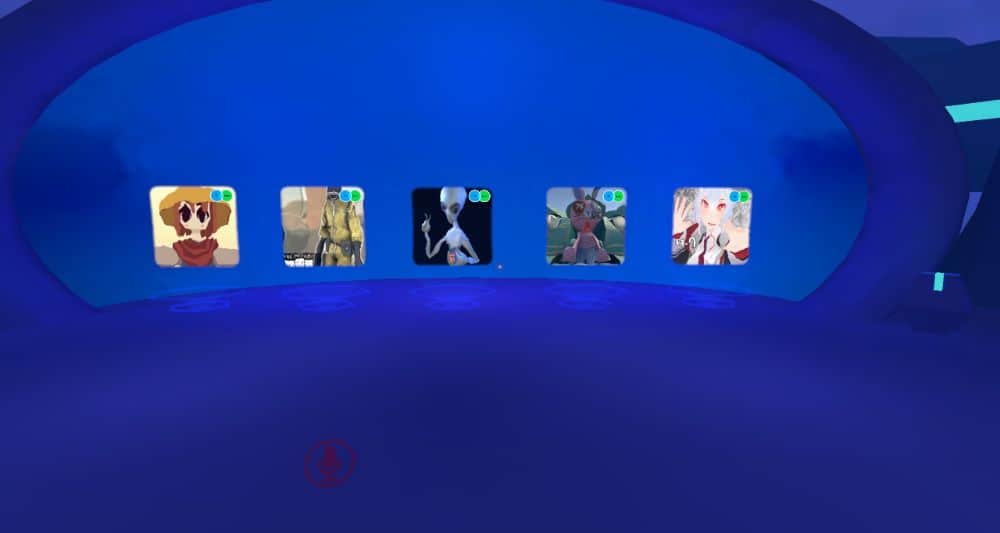 This is a simple VRChat avatar world that has a selection of approximately 30 cross-platform avatars. There are animals, anime characters, superheroes, an alien, and a few Minecraft characters. There are also portals to two other popular avatar worlds, Big Al's Avatar Corridors, and 100 Avatars.
Although there aren't loads of avatars here, it is still well worth a visit as it provides a reasonable selection of quality avatars that are fully compatible with PC VR and standalone Quest headsets.
Snazzy Jazzy JoJo Avatars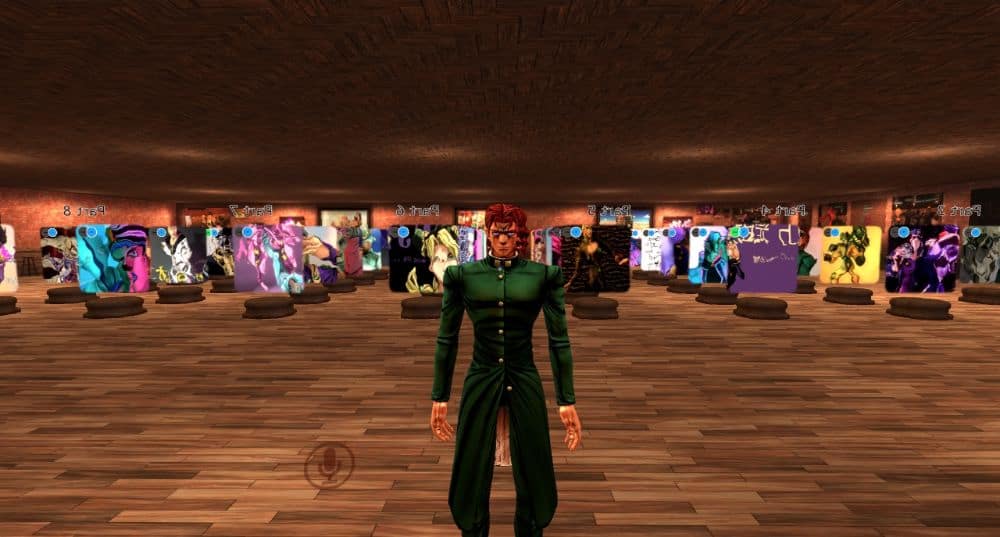 I absolutely love this VRChat avatar world. The coffee shop setting is really pleasant and the art style of the avatars is brilliant. Unfortunately, they are mostly PC only at present, but each avatar is really well made, and most have a few emotes and effects to keep you entertained.
I'm so impressed that so much time and attention to detail has gone into making these avatars. A lot of VRChat avatars can have quite a narrow stylistic focus, but I felt that JoJo's avatars were a breath of fresh air, with styles and characters that aren't seen too frequently in VRChat. This is quite a popular VRChat avatar world, and there was a steady stream of other players to chat to.
Minecraft Dream SMP World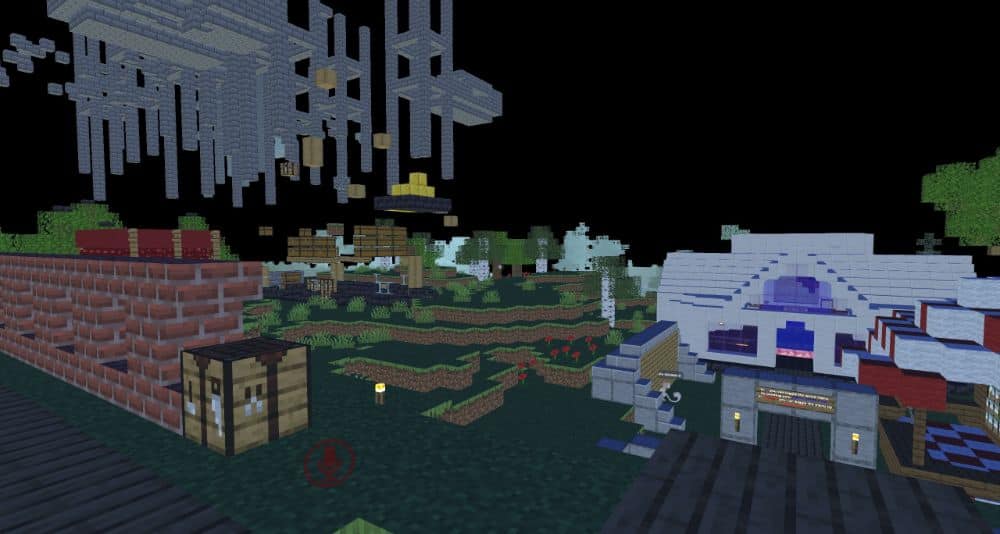 I love this VRChat avatar world that is built with such care and attention to detail. As soon as you enter this world, you are in Minecraft, with the surroundings handcrafted to maintain the theme. There are about 50 Minecraft-themed VRChat avatars in this world, neatly laid out in a grid, with a mirror behind you that makes it easy to check your appearance.
There are a few custom emotes, including the club penguin dance, that made me laugh. You can also equip a number of swords, shields, and a pickaxe, to really get immersed in the Minecraft theme. Not only can you try out a range of PCVR and Quest compatible avatars, but you can spend time exploring this detailed world and chatting with some of the many other visitors to this world.
Why Can't I Search For VRChat Avatars?
VRChat was never designed for people to collect avatars and they were linked to the individual user account of the person who made them. Originally, users could put their avatars on display for other users who visited their world, and you could try on these avatars, but not save them. Over time, additional functionality has been added, and you can now save any avatars that you try on, as favorites.
Part of the appeal of VRChat is creating or searching for the perfect avatar to use to interact with other users. Whilst I'm sure it would be possible to create a searchable database of all the avatars, this possibly removes some of the appeal of finding or creating a unique or special avatar.
Currently, the best way to collect avatars is to look in VRChat avatar worlds that have a similar theme to the type of avatar you are looking for.
Last Word
I've spent countless hours exploring hundreds of VRChat avatar worlds and these are the best ones I've found so far. Bear in mind that there are loads more high-quality avatar worlds that I haven't included, so you should go and explore to see what you can find.
Whether you're after a digital representation of your real-world self, a stylish and attractive avatar for socializing, or just some fun avatars to entertain your friends, there is probably a VRChat avatar world out there for you. There are worlds themed on virtually every popular show and game for you to visit, many of which will have appropriately themed avatars.
If you have your heart set on getting an avatar of a particular character, it is often best to search for a world themed around your favorite show or game, and see if there are any avatars available within it.
VR Lowdown is a participant in the Amazon Services LLC Associates Program, an affiliate advertising program designed to provide a means for sites to earn advertising fees by advertising and linking to Amazon.com. We also participate in other affiliate programs which compensate us for referring traffic.