If you're looking for the very best VRChat worlds that showcase everything this game has to offer, you've come to the right place. This article explores some of the most interesting, entertaining, and beautiful worlds in VRChat that you should definitely check out.
There are literally thousands of VRChat worlds to explore, and the list of things you can do is nearly endless. I've spent countless hours exploring the very best VRChat worlds, finding hidden gems, as well as highlighting popular choices that are well worth a visit. Let's get started!
District Roboto
This is one of the most visually stunning VRChat worlds I've ever visited. Set in 2241, your initial surroundings are a retro-themed, cozy apartment, filled with books and old electronics, but once you step outside into the streets, things change dramatically.
You enter the neon-lit streets of the far future, where humanoid robots go about their daily lives. There are a number of streets to explore, all with stunning graphics and lighting. There is a wide variety of robots, all of which are terrifically well animated.
You can visit the docks to get a view over the ocean and listen to a busker playing the guitar. Alternatively, you can mingle with the robots on the street and eavesdrop on their conversations, pop into a restaurant for a drink or some food, or interact with one of the stray cats that roam the streets.
Movie & Chill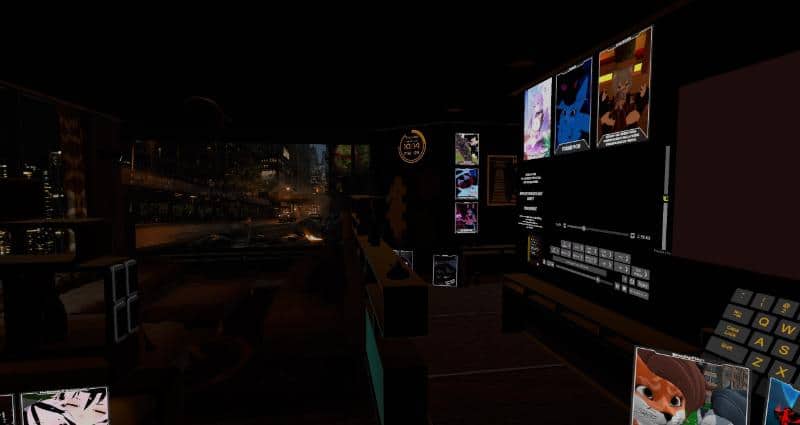 Movie & Chill is a fantastic VRChat world set in a cozy city apartment where you can watch a massive selection of movies on the cinema-sized screen while you chill out in really pleasant surroundings. This is a very popular world, and I've spent quite a bit of time here watching movies with friends.
Movie & Chill creates the perfect ambiance for relaxing and watching your favorite movies, and you can choose what to put on using the controls on the wall nearby. This is one of the most popular VRChat worlds and there are always hundreds, if not thousands of users spread across many instances. Feel free to jump in and meet some new people, or hang out with some friends in a private instance.
Movie & Chill is compatible with PC VR, Quest, and other standalone headsets, and can also be played in desktop mode. Visiting Movie & Chill in VRChat is one of my favorite ways to watch movies in VR due to the wonderful surroundings that make watching a good film so enjoyable.
Serenity Cove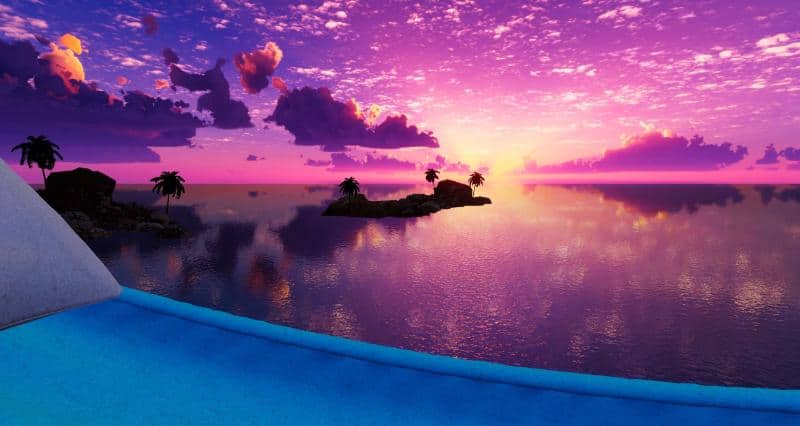 The chilled soundtrack, warm neon lighting, perfectly glowing sunset, and idyllic chillout areas make Serenity Cove a dream come true. This wonderful VRChat world recreates the feeling of being at a perfect beach at sunset. Relax on a seat by the fire pit, enjoy a movie in the cozy and inviting beach hut, relax in a hammock at one of the overlooks, or visit the waterfall and glowing caverns for a taste of paradise.
I dare you not to feel completely relaxed and happy in this wonderfully made world. Serenity Cove is compatible with PC VR, and standalone headsets such as the Meta Quest 2, and can also be played on desktop mode on PC. This is, without doubt, one of the best VRChat worlds in the game, and a personal favorite of mine, so you should definitely pay it a visit.
This VRChat world is made by Fins, who has made a number of the best VRChat worlds on this list. This is a PC-only world, and it's not hard to see why, as the graphics are mind-blowing. Enjoy this fantastic VRChat experience.
AfterDark Plaza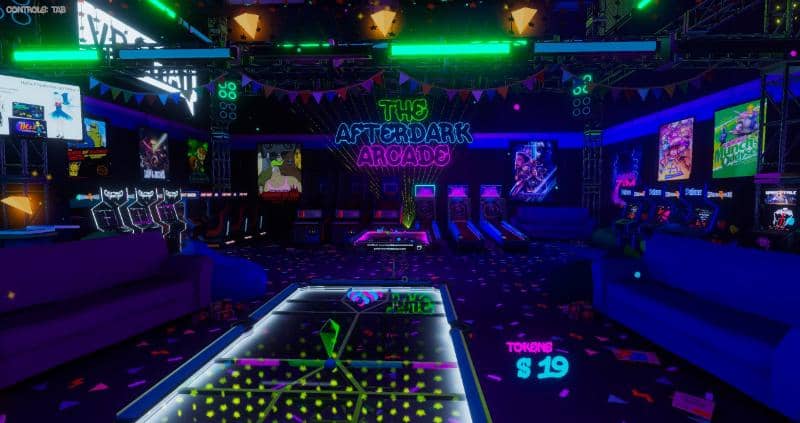 Afterdark Plaza has got to be one of the most entertaining and best VRChat worlds I've ever visited. This is like an 80s neon fever dream, but most definitely in a good way. You can visit the AfterDark Arcade and play a wide range of arcade games that will keep you entertained for hours. Earning and spending arcade tokens kept me playing longer than I dare admit, and visiting with friends made this even more of a blast.
Alternatively, you can take a trip to the Jitterbotz Theater where you can watch movies in a full-sized cinema, or visit the movie dome, to have a psychedelic experience where the video screen wraps around you and you're treated to a visual overload. I literally laughed till the tears were rolling down my cheeks watching the default video that plays in the video dome, which is a 15-minute Terry Crews/Old Spice remix that blew my mind.
Finally, you can take a trip to the Anomaly Lodge and enjoy the beautiful outdoor pool and bar area, while listening to some great music, take a nap in one of the hotel rooms, or visit the soon-to-be-ready casino and bar. The AfterDark Plaza is PC only due to the large file size, but it's not hard to see why this awesome VRChat world isn't compatible with less graphically capable standalone VR headsets.
The Great Pug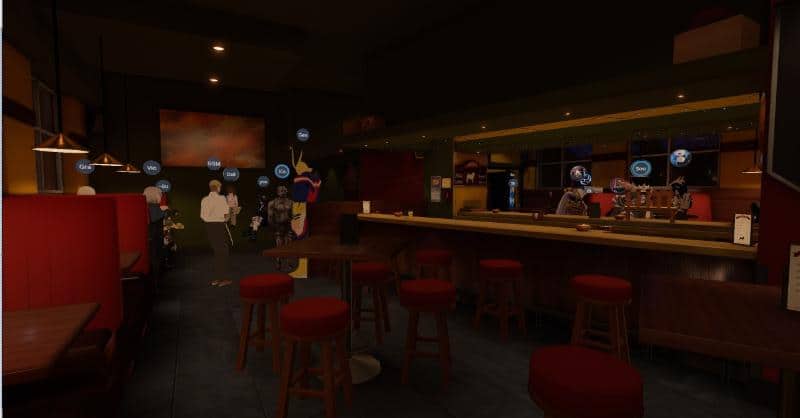 The Great Pug is a really popular VRChat world and an awesome place to meet and chat with a wide variety of other people who frequent this popular virtual bar. It's quite a cozy, social hangout, and there are multiple instances packed with people whom I've generally found to be friendly and welcoming.
The Great Pug is PC-only at present and can be visited in VR and desktop mode. You can be as active or passive as you like in the conversations, and it's as nice just to visit and enjoy the atmosphere as it is to meet and chat with new people.
Void Club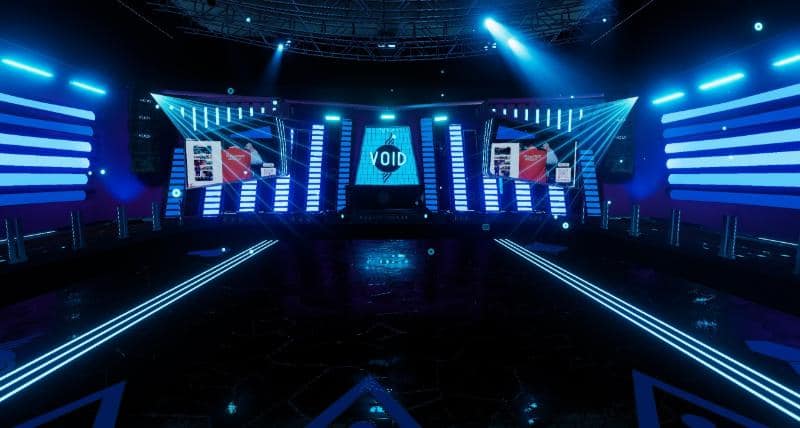 If you've got the urge to party, Void Club is the place to go. This futuristic clubbers paradise is a great spot to hang out with friends, hit the dancefloor, or get into the DJ booth yourself to see if you can keep people dancing.
This PC-only VRChat world is wonderfully designed and feels right up there with some of the best real clubs I've been in. From the street outside, with it's cyberpunk vibes, to the sloping entrance that opens up to reveal the heart of the dancefloor, this is pure fun to explore and spend time in.
If you want a quieter experience, there are several quieter rooms where you can relax, chat, and even play beer pong, twister, and connect 4. Obviously, this is a world that is best enjoyed with a crowd, so pick a busy instance, or go with a crowd.
Spych Boat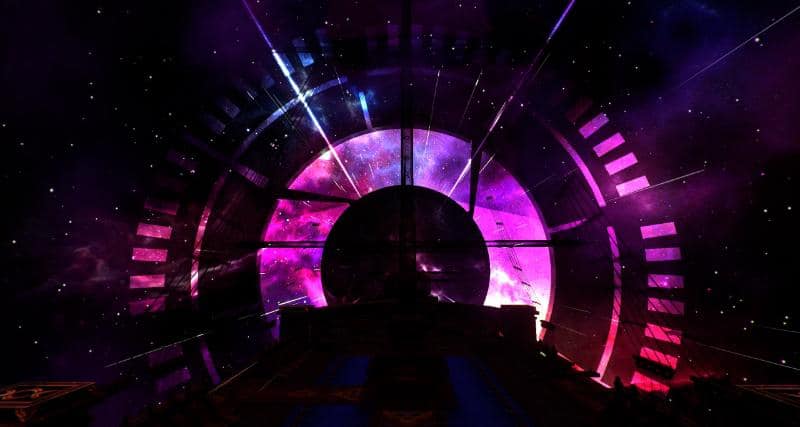 If you want to experience a truly unique VRChat world, Spych Boat has to be on your list of destinations. It's a PC-only world and comes in at a hefty 450Mb+ file size, but it's so worth a visit.
When you arrive, you're treated to an impressive and beautifully modeled Galleon that you can walk around and explore as it gently rolls on the ocean waves. But, if you think this is any indication of the experience this VRChat world offers, you are greatly mistaken. Press the button on the elevated area at the back of the ship to begin a journey into space, complete with a crazy EDM soundtrack and psychedelic visualizations.
The journey lasts about 5 minutes, and you finish up back on the ocean, next to an explorable desert island. I've genuinely never experienced anything like this. Strap your VR headset on and be ready for a totally awesome VRChat experience.
Sovren's Chill Home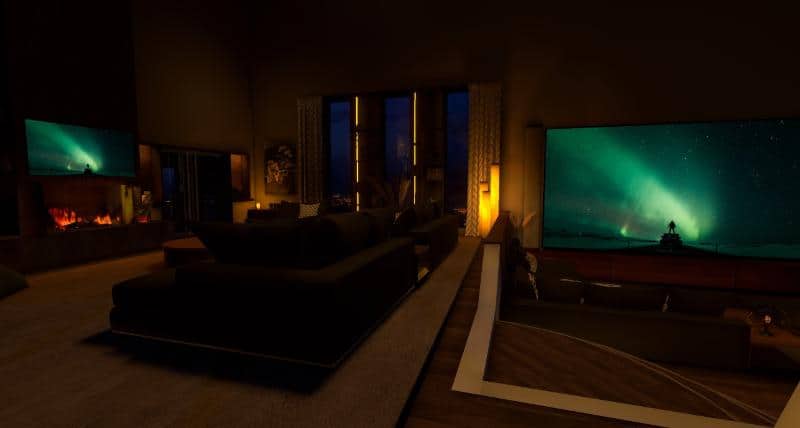 This is one of the coolest VRChat worlds I've seen in a long time. It's just the most gorgeous apartment, filled with chillout areas and loads of things to do. The lighting and decor are outstanding, and it's a perfect place to hang out with friends.
There are some fun activities to do including darts, roulette, pool, and beer pong, and there are huge video screens, a jacuzzi, an infinity pool, a bar, a roaring fire, and plenty of seating areas. Sovren's Chill Home is compatible with PC VR headsets as well as standalone headsets such as the Quest 2. It's one of the best VRChat worlds for hanging out with friends, and it's a popular spot too, so there are plenty of opportunities to meet new people.
Prison Escape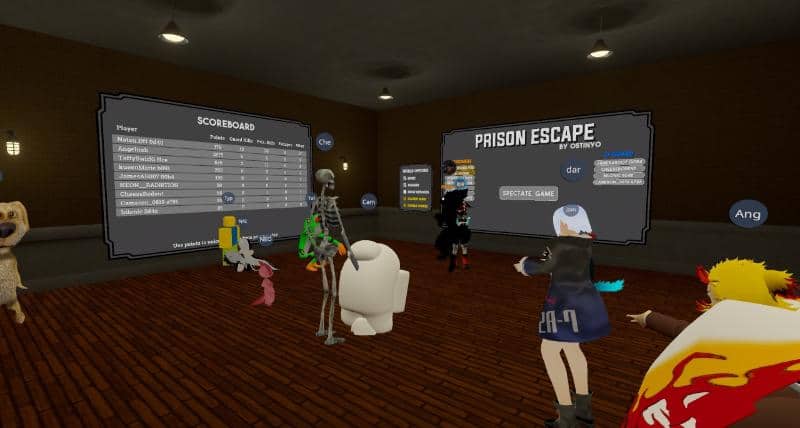 This is a fantastic VRChat game set in a prison, where you are split into two teams of prisoners and guards. The prisoners have to try to escape, while the guards have to try to stop any escape attempts.
Prisoners must escape from their cells, shimmy up ventilation ducts, find keys, and use tools to outwit or overpower the guards, open the front gate, and exit through the tunnel. The guards must watch the prisoners closely, and eliminate any prisoners that try to escape while avoiding harm to innocent prisoners.
This VRChat world is a blast to play and there is a really healthy player base. Rounds are short and it doesn't take too long to learn how to play. Being able to talk to, and interact with the other players brings so much entertainment that this is a world I would definitely recommend you visit.
Prison Escape is compatible with PCVR and standalone VR headsets such as the Quest 2. It can also be played in desktop mode, but I think the experience is considerably better in VR.
Midnight Rooftop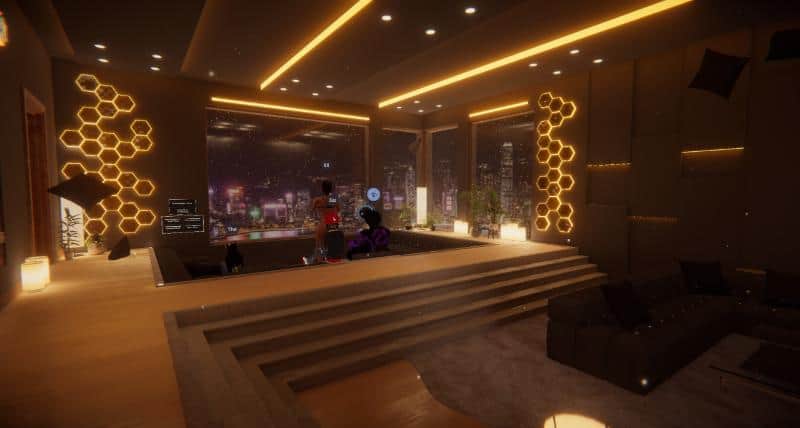 Midnight Rooftop is one of the most popular VRChat worlds and is a fantastic place to meet new people or hang out with your friends. It's a fairly small space, with an open rooftop area, complete with wonderful views, lighting and ambiance, as well as two indoor areas with plenty of seating.
This well-made world creates a relaxing environment to socialize in, but the main appeal is its popularity. I've met plenty of cool people in Midnight Rooftop and also seen and heard some unusual sights.
Midnight Rooftop is suitable for PC VR and Quest 2 headsets and is fine for visiting in desktop mode too. It would be hard to play VRChat without visiting Midnight Rooftop at least once, so take a trip and see how you like it.
Aquarius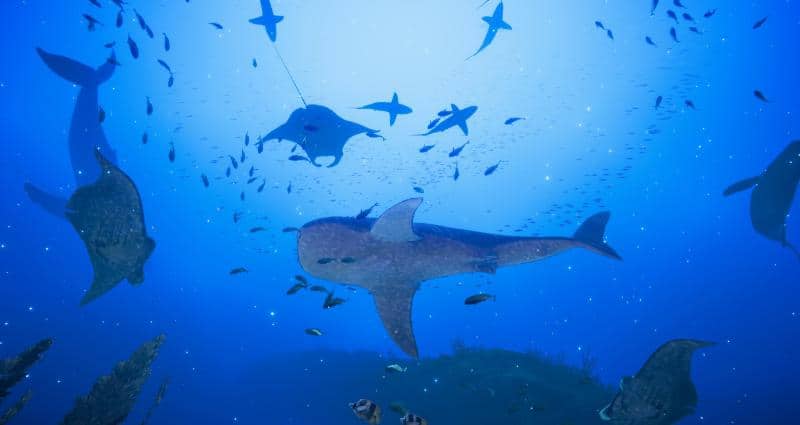 Aquarius is one of the most beautiful VRChat worlds and one that should not be missed. It's like visiting the most incredible aquarium in the world and the sense of scale and beauty is amazing.
The world features a comfortable and beautifully decorated viewing area that looks out through a floor-to-ceiling window into a vast aquarium tank filled with fish, Manta Rays, whales, sea turtles, sharks, and jellyfish.
You can stand right in front of the aquarium and let your entire field of view be filled with the wonders on offer, or you can relax in the seating area and look through the "Fishpedia" to learn more about the different animals on view. There are several other rooms that you can visit with equally breathtaking views of sea life, and the stunning lighting and ambiance of this world make the whole experience just incredible.
The peaceful surroundings, relaxing background music, and beautiful sea life make this one of the best VRChat worlds on offer and one that everyone should visit. It is a PC-only world at present and is made by Fins, who has made a number of other stunning VRChat worlds.
Magic Freeze Tag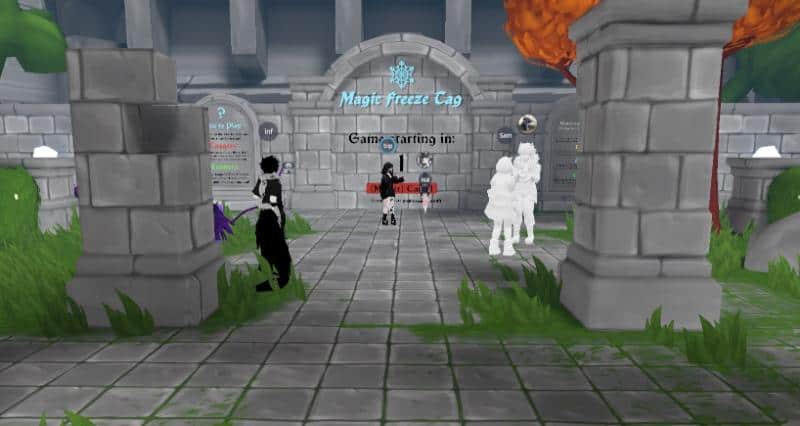 This VRChat world lets you play an entertaining game of freeze tag with a group of other VRChat users. You are randomly split into two teams to play Magic Freeze Tag.
The taggers have to chase and catch the runners, turning them into blocks of ice. If the taggers manage to catch all of the runners before the timer runs out, they win.
The runners have to avoid the taggers and touch frozen teammates to unfreeze them. The runners win if at least one team member survives until the timer runs out.
You play the game on a maze-like map, which provides plenty of opportunities to try different tactics to win. Things are made more interesting by a range of game mechanics.
Gates randomly appear and disappear that can block your way or save you from being caught, depending on your timing.
Portals instantly transport you around the map.
Lasers are fired from rotating stones that temporarily slow you down if you are hit.
Crystals are positioned throughout the map that gives you a temporary speed boost and can be crucial to catch up with or get away from the other team.
Magic Freeze Tag is a fun game and one of the best VRChat worlds of this type, and there are usually plenty of people to play a game with. Communication is key if you want to beat the other team, so your experience will depend on how willing your teammates are to cooperate. Magic Freeze Tag is compatible with PC, Quest, and desktop modes.
Rest and Sleep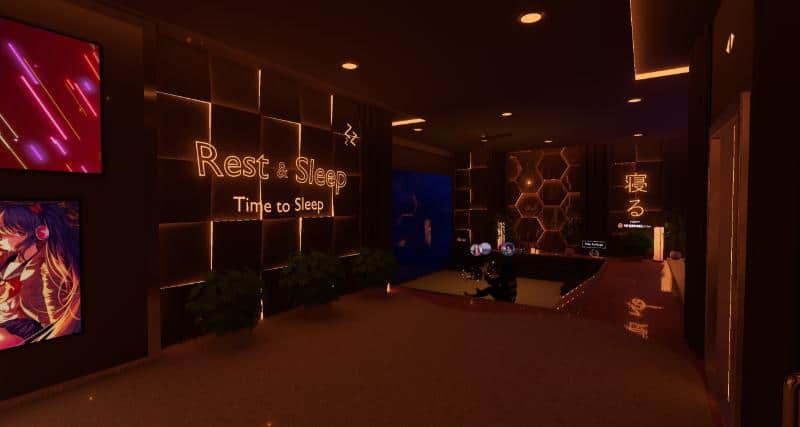 Rest and Sleep is one of the most relaxing VRChat worlds you can visit and combines seriously chilled surroundings with a mesmerizing soundtrack, for a seriously relaxing time. This is a great VRChat world to visit if you want to relax, or even if you want to sleep in VR. Yup, it sounds strange, but sleeping in VR is a thing. Either alone, or with your friends you can stay in VRChat as you settle down to sleep, and wake up in the pleasant surroundings of the Rest and Sleep world.
Rest and Sleep is compatible with PC and standalone headsets such as the Quest 2. Make sure to respect other players who want to relax and chill out, or start a new instance to enjoy a movie or hang out with friends.
Big Al's Avatar Corridors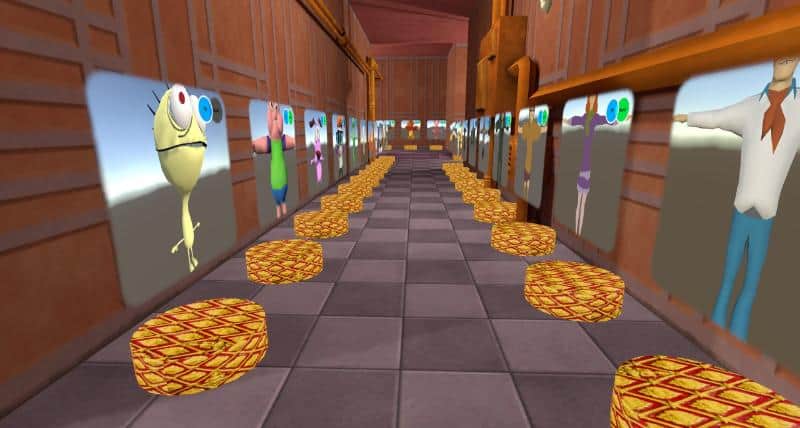 When you first play VRChat, you'll notice that everyone else is dressed as a wide variety of interesting characters, or "avatars". You'll no doubt want to get a cool avatar or two of your own, and Big Al's Avatar Corridors is one of the best VRChat worlds to find avatars. All you need to do is visit an avatar world like this one, try on the avatar you want, and save it as a favorite to keep it for as long as you want.
Most of the avatars available here are cartoony in style, and many are from popular shows such as The Simpsons, Star Wars, South Park, Toy Story, and loads more. The avatars are arranged on either side of corridors and rooms in what feels like a series of underground tunnels. Most are compatible with PC and Quest, and many have custom animations.
You may need to visit a few different VRChat avatar worlds before you find the perfect character you want to play as, but Big Al's Avatar World is a great place to start.
Oceans Away
If you're looking for the perfect beachfront location to hang out with your friends or meet new people, Oceans Away is a perfect option. You can take a dip in the pool or ocean, relax in the recessed seating area to watch the sunset, hang by the bar, or relax in one of the beach huts. You can also play chess, try out one of the jet skis, listen to music, or watch movies on the huge screen.
This is one of the best VRChat worlds if you just want to relax and feel like you are on holiday in paradise. It's compatible with PCVR and standalone VR headsets, and you can also visit in desktop mode.
The Devouring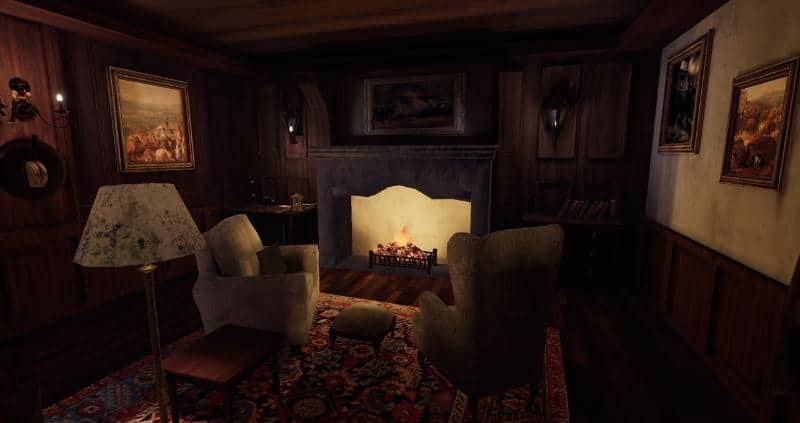 If you're looking for a scary VRChat experience that will have your heart racing, The Devouring is a great world to visit. The Devouring is a horror experience in VRChat for up to four players that has the quality of a standalone PC game and will take you about 5-6 hours to play through to the end. Trust me, it's worth it.
This is undoubtedly one of the best VRChat horror maps, and one of the best VRChat worlds overall if horror is something you like. You can play solo, but it's better to play co-op with a few friends. It starts with you heading off on a road trip that unfortunately goes wrong, and you end up waking up in the guest room of a haunted house after your car crashed. As you search the room, you find a note that warns you not to leave.
From this point, the story unfolds into a suspenseful horror experience, that will have your heart racing. It's full of great storytelling, challenging puzzles, immersive audio and visuals, and interesting game mechanics. I don't want to give too much away, but if you like horror games, you have to check this one out. The Devouring is only available in VRChat for PC-tethered VR headsets.
Putt Putt Quest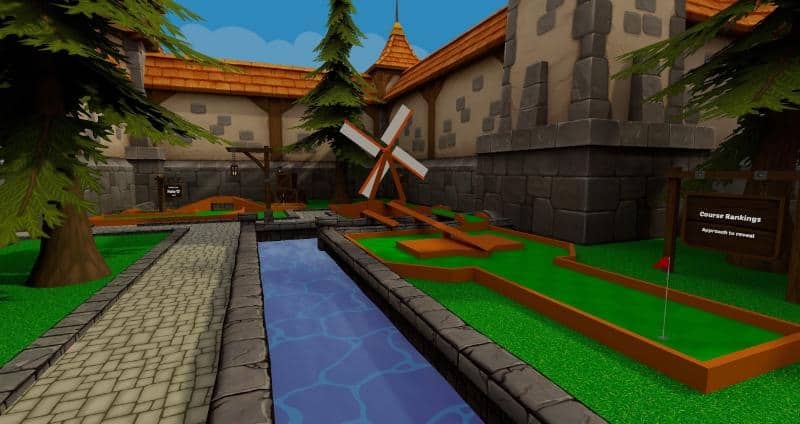 Putt Putt Quest is a well-made VR mini-golf game that is compatible with PC-tethered VR headsets, as well as standalone headsets such as the Quest 2. It has one full 18-hole course that is well designed and made. Playing the game is simple as you swing your VR controllers just like a real putter.
You can also play this game in desktop mode, but the controls aren't nearly as good. There are a number of standalone VR golf games, but Putt Putt Golf really does stand up to scrutiny against them. Sure there's only one course, but otherwise, there isn't much more I would want or need from a VR mini golf game.
Summer Solitude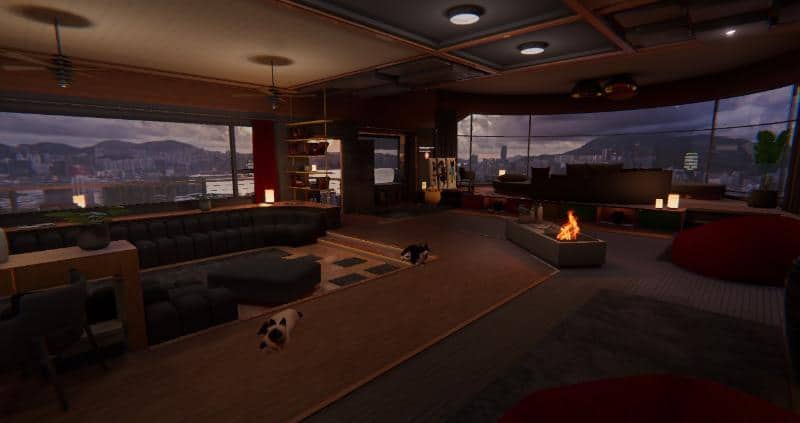 Summer Solitude is a cool VRChat world set in a high-rise luxury Hong Kong residence. The views over the city are outstanding and the building has lots of places to relax and explore, including a rooftop area with a bar, a pool, beautiful seating areas, and a downstairs area with a movie area, bedrooms, balcony, and cats!
This is a cool place to visit and spend time with friends. There's usually a good crowd in this VRChat world, so there are plenty of opportunities to meet new people if you want. It's compatible with PC VR, Quest, and desktop, so all users are catered for.
The Black Cat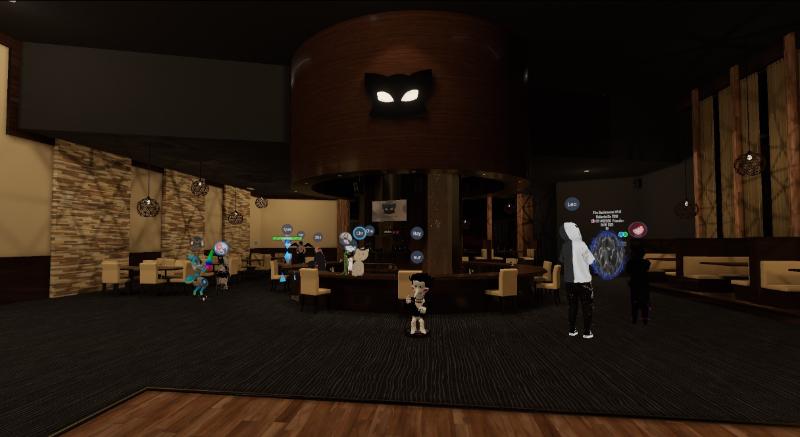 The Black Cat is a really busy VRChat bar/lounge with nice surroundings and two stages for those that want to put on a performance. It has fairly realistic styling that will make it feel like you are meeting friends in a bar in real life.
What makes this one of the best VRChat worlds to visit is its popularity. There are literally thousands of people in The Black Cat at any one time, split across dozens of instances of this world. You can't fail to meet some really interesting people, but it's also great to meet up with your friends and enjoy the atmosphere of a busy bar.
Noir – Nocturne
Noir Nocturne is an award-winning VRChat horror world that feels more like a standalone game, rather than a map within VRChat. I was incredibly impressed by the quality of Noir Nocturne and enjoyed it from start to finish. It's been developed by a small team led by Blake Cash (Centauri) and is a story-driven horror game set in the fictional underground city of Nocturne.
The premise is that you have been hired by an unknown agent to investigate the dark secrets of this mysterious city. It can be played solo, or with up to 3 other people and takes between 1 and 3 hours to complete. The characters are fully voiced and animated, and the story, graphics, and sound are really impressive. Noir Nocturne is one of the best VRChat worlds I've been to, but it is only available for PC players of VRChat, so standalone VR headset users are out of luck for this one.
Amebient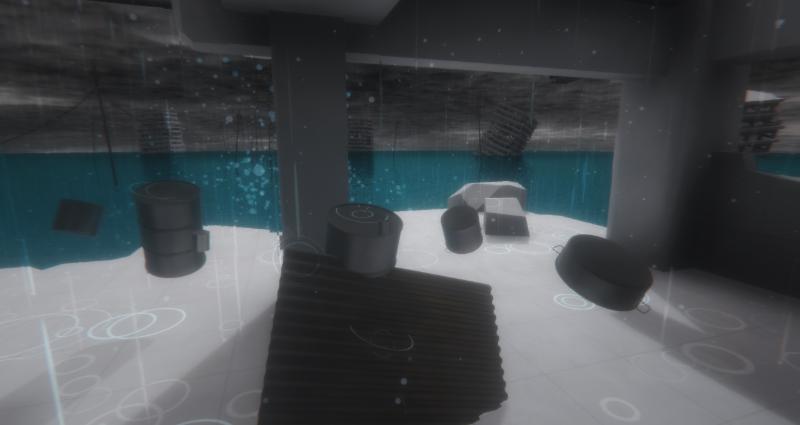 Amebient is a VRChat world you need to check out. I've sunk hours into this engaging experience that sums up why I love VRChat so much. The aim of this world is to position pots and pans under the falling rain, to make awesome rhythmic music produced by the rain as it bounces off the things you set out.
This is a massively engaging experience, and you can lose hours of your time adjusting the position of pots, pans, barrels, and metal sheets to get the timing of the beat just right, and produce an awesome tune.
The world is set in a modern apartment, with a balcony that opens out into the air, where it is raining heavily. There is a really relaxing vibe to this world, as the rain pours down around you. There's no end goal in this world, other than to enjoy the creative process of making music. This is a PC-only world made by the user, Phi16.
Better Uno
As you might imagine, this excellent VRChat world allows you to play Uno with up to 8 people. This is a great implementation of this ever-popular card game and is a lot of fun to play. This is a well-made VRChat world that does exactly what you expect.
The rules are explained well for anyone unfamiliar with Uno, and it's compatible with PC and Quest, as well as both VR and desktop users. If you'd like to play a simple card game that is easy to learn, with a group of random VRChat users, then Better Uno has you covered.
Deep Blue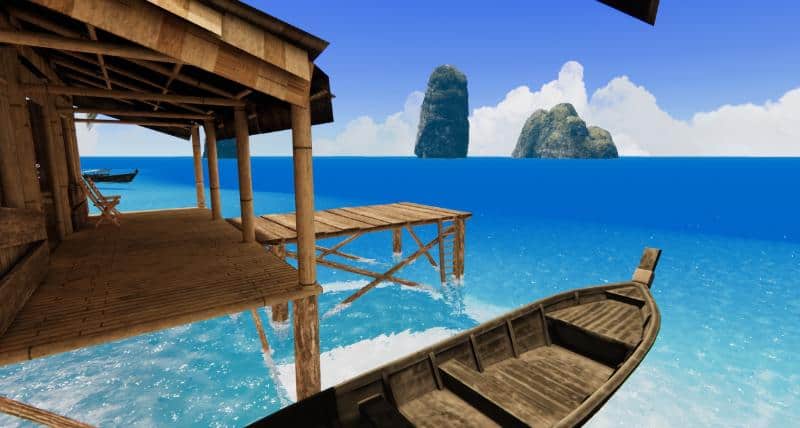 Deep Blue is a VRChat world set on a desert island in the middle of a beautiful aquamarine sea. Gentle ukelele music plays in the background, and palm trees sway in the breeze. At first, it doesn't seem like there is much here. Just a small sandy island with a few wooden shacks. The perfect place to relax and enjoy a bit of fishing, or laze happily in the sun.
However, the real appeal of this world is the delight that awaits you beneath the ocean. Click on the fishing rod that you will see on the left side of the beach hut that you start in to call a sea turtle to the edge of the pier. Jump on the sea turtle's back to begin an awesome journey under the sea.
The sea turtle will swim slowly out from the shore, before diving down, unveiling a wonderful seascape, full of schools of brightly colored fish, manta rays, whales, and gently swaying plant life that makes this a paradise under the sea.
Deep Blue is a really special experience, and one of the best VRChat worlds I have been to, but it's only compatible with PC currently, so users of Quest 2 or other standalone headsets are out of luck, unless you are able to connect to a VR-compatible PC with a link cable.
EvolvedAnt Arcade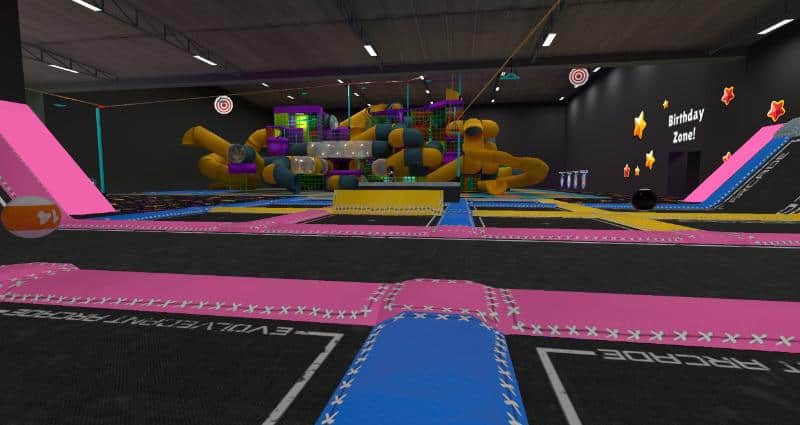 Like the perfect 7-year-old's birthday, this amazing party room is partly a trampoline park, partly a soft play paradise, but an entirely enjoyable VRChat world to visit. Enjoy bouncing around on the trampolines, exploring the maze within the soft play area, playing tag, using an air cannon to hit targets, and reengaging with your inner child.
This VRChat world is really well made and is compatible with PC and Quest. It's definitely best when you either bring friends or join in with others to enjoy the variety of activities on offer. This VRChat world is the perfect place for kids of all ages right down to the well-kitted-out party room.
Sky Camp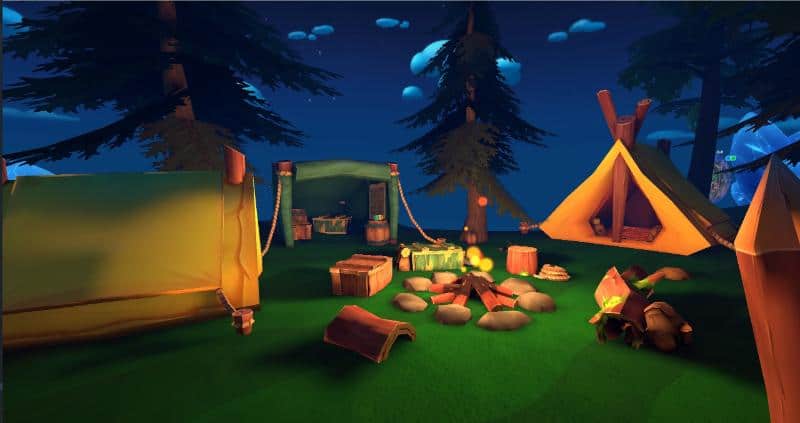 Sky Camp is a simple VRChat world consisting of a bright and cartoon-like campsite, set on a floating island. You can sit by the roaring campfire while enjoying a warm drink and the company of your friends. The art style of this world is what really attracted me to it, and it's a cool place to meet up.
It's not a particularly popular spot, so you're not likely to meet too many new friends, but if you want to meet a friend for a chat, this is a lovely location. Sky camp is compatible with PC and Quest and is suitable for VR and desktop players.
Wavelength
This is a VRChat world based on the social board game of the same name by Alex Hague. You'll need two or more players for this simple game where you try to read each other's minds using simple clues. The goal is to guess where a target is along an arc on the floor. The closer you are to the center of the target, the more points you score.
One player is the "psychic" and knows where the target is. They are allowed to give you one clue in each round to help you get as close to the center of the target as possible. In each round, opposite sides of the arc on the floor will be labeled with opposites such as "hot" and "cold". The psychic will see where the target is along this arc and have to guide you to the right location with one clue.
If the target was placed somewhere at the hot end, but not right at the end, the psychic might say "coffee" and then the players have to stand where they think the target is. Rounds are quick and players can work together to debate the best place to stand.
This is a really fun game that caused loads of debate and laughter when I played it with a few friends recently. It's a great implementation of an excellent board game and one of the best VRChat worlds to visit for a group activity. If you enjoy this world, don't forget to buy a real copy of the Wavelength board game to support the creator.
Genshin Impact Avatar World
This is a VRChat world that is themed on Mondstadt cathedral from Genshin Impact and is stunningly well-made. It is primarily an avatar world and has a great selection of really well-made Genshin Impact avatars.
All of the avatars in this world are compatible with PCVR and standalone headsets such as Quest 2, and they are also compatible with full body-tracking. I've picked this as one of the best VRChat worlds due to the exceptionally high quality of both the world itself and the avatars that are available. You definitely don't need to be familiar with Gensin Impact to appreciate this awesome VRChat world.
Test Pilots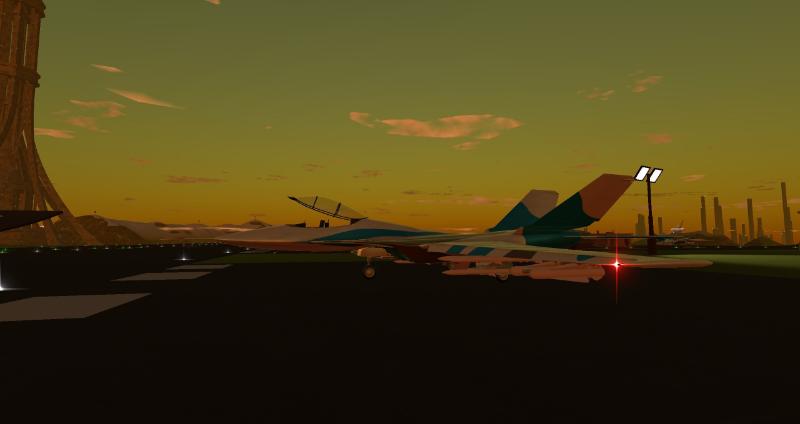 It's hard to believe, but Test Pilots is essentially a fully-fledged flight simulator within VRChat. You can get into a range of aircraft and even a helicopter and take to the skies. The controls are a little tricky to get used to, but after a few minutes, I found it much easier to control the aircraft than other standalone flight simulators.
Of course, the flight models are very basic, and nowhere near the standard of a flight simulator such as DCS or Microsoft Flight Simulator, but this is a free social VR game with a flight simulator squeezed into a VRChat world. That's seriously impressive!
Test Pilots is available for PC and Quest and has a large player base and active ongoing development. There is loads of entertainment to be had in this VRChat world, so it is definitely worth a visit.
Mids AVA World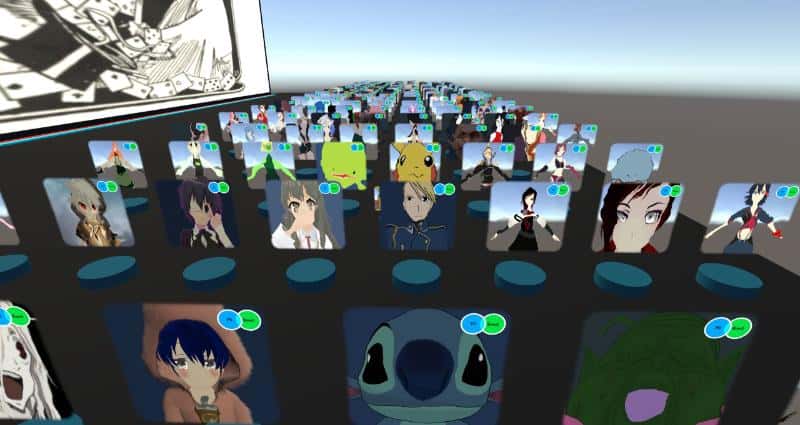 Mids AVA World is another awesome place to find some great avatars for VRChat. It has a large collection of popular anime avatars, as well as characters from a range of TV shows and games. Kirito from Sword Art Online, Pikachu, Link, Stitch, and Samurai Megazord from Power Rangers are just some of the characters available.
There are close to 200 avatars in this world, and all are compatible with PC and Quest. The avatars are laid out neatly in rows making it easy to see what is on offer. As well as normal-sized avatars, there is also a selection of giant avatars that are available in a range of sizes.
There is a handy mirror running the entire length of the avatar room, making it easy to see how each avatar looks. Mids AVA World is easily one of the best VRChat worlds for finding avatars, so you should definitely check this one out.
Adrift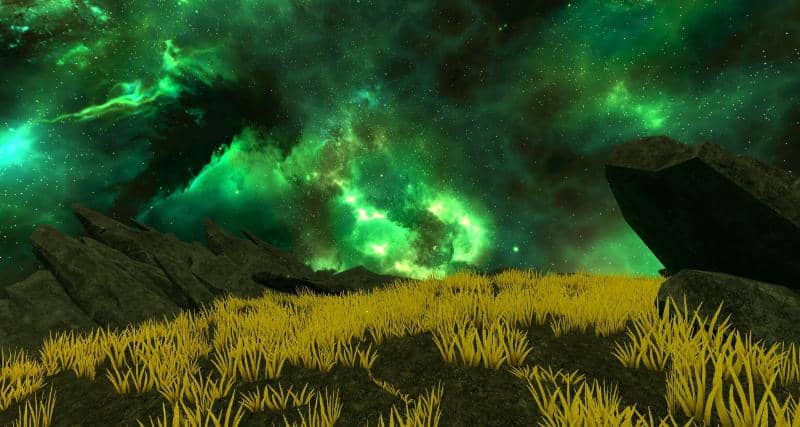 Adrift is a really simple PC-only VRChat world to visit if you simply want a peaceful setting to relax and enjoy the beautiful calm of this well-made world. Adrift consists of a rocky landscape with gently waving yellow grass, beneath a swirling black and green sky of stars and galaxies.
It feels like you're floating through space on an asteroid, far from civilization, and it's little worlds like Adrift that make VRChat such a fantastic place to explore. Whilst there;'s not much to do except enjoy the beauty and relax, it's worth popping in to see this beautiful world.
Home of the Time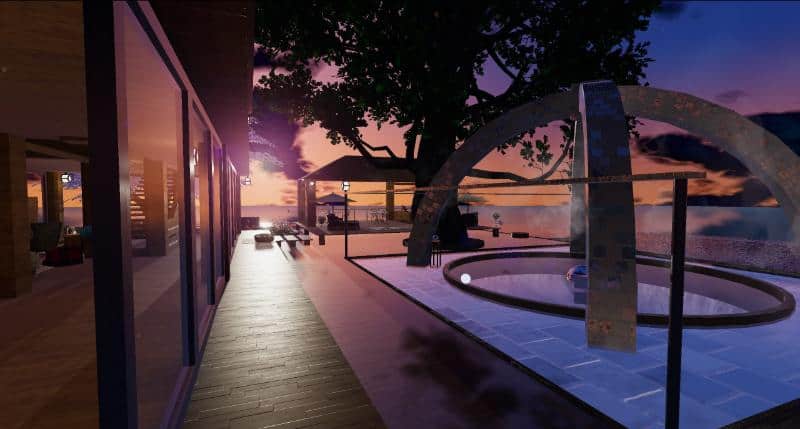 This wonderfully relaxing VRChat world consists of a beautifully decorated home and outdoor area where you can explore and relax. The special feature about this world though, is that you can adjust the speed at which time passes, allowing you to enjoy the beauty of the changing light of the day and night.
The lighting in this world is stunning, and I really enjoyed grabbing a seat in the garden and watching as the light and shadows change over the course of time. The sunrises and sunsets were stunningly beautiful, and the accompanying background music makes this world one of my favorites to spend time relaxing in.
Home of the Time is compatible with PC VR and standalone VR headsets and also works well in desktop mode. If you're looking for relaxation, this is one of the best VRChat worlds to visit.
Lost It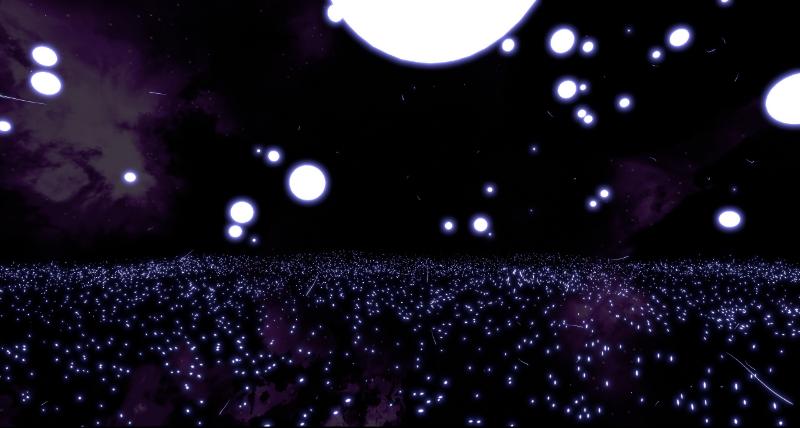 Lost It is a mesmerizing musical and visual experience in VRChat. You enter the world and it is just black all around, with a single button in front of you. Press this, and music will start, accompanied by an awesome light show that fills your vision. This is such an immersive and impressive experience and I highly recommend you give it a go. There is only one song, and it takes just a few minutes from start to finish, but it's still one of the best VRChat worlds due to the fantastic experience this provides.
Lost It is a great showcase for how VR can provide incredibly immersive experiences that eclipse anything you could experience on a computer, and really competes with the best real-world music events I have been to. Lost It is only compatible with PC currently.
Last Word
Although I've covered a lot of worlds, I feel like I've hardly scratched the surface of the wonderful VRChat worlds in the game. Whilst these are the best VRChat worlds I have visited, the best thing you can do is dive into the game to find out which you enjoy the best. Don't forget to speak to other players, as you will get plenty of suggestions for awesome places to visit in VRChat.
VR Lowdown is a participant in the Amazon Services LLC Associates Program, an affiliate advertising program designed to provide a means for sites to earn advertising fees by advertising and linking to Amazon.com. We also participate in other affiliate programs which compensate us for referring traffic.