I've had more fun bowling in VR than playing almost any other sport, and thankfully, there are a number of excellent VR bowling games to choose from. I've played all the main options and there are a few clear winners. The best choice for you will depend on what you are looking for from a VR bowling experience.
The best VR bowling games are Premium Bowling and ForeVR Bowl. Premium Bowling is a bowling simulation that is as close to the real thing as you can get in VR at present. ForeVR Bowl provides a fun, social experience, and still provides a very good simulation.
The Best VR Bowling Games
Bowling is one of my favorite sports to play in VR and I've racked up loads of hours in the alleys. I've played all of the VR bowling games on this list, as well as a few that didn't make the final cut. Let's look at each of the best VR bowling games, in turn, explaining the good and bad bits of each. There are even a few free VR bowling games on the list if you want to try some VR bowling at no expense.
Premium Bowling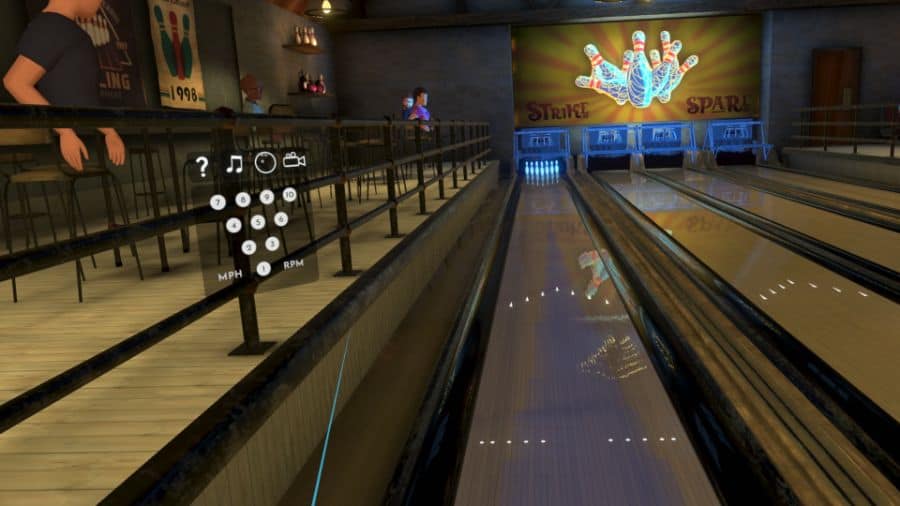 Premium bowling is one of the best VR bowling games and one that I can wholeheartedly recommend. It's the closest you'll get to real bowling in VR. This game focuses on bowling simulation and it does a great job recreating ball and lane physics.
This feels like a really premium experience, with excellent graphics, well-thought-out modes and options, and a bowling experience that is satisfying and fun. It feels incredibly realistic to bowl in Premium Bowling VR, and the only thing that is lacking is the feeling of lifting a heavy bowling ball, rather than swinging a controller.
Shots are satisfying because they accurately reflect your swing, so if the pins don't fall, you know what adjustments are needed for the next time. When you hit a strike it feels just right, and you can strive to recreate that perfect swing on your next turn.
I was really impressed with the amount of control I had when bowling, and even small changes in swing speed, direction, and spin had a significant impact on my performance. The swing mechanics in Premium Bowling are accurate and consistent, meaning you can reliably adjust your technique to get better over time.
Movement controls aren't perfect – Whilst I could move forward, backward, and side to side with the left thumbstick, I couldn't turn with the right thumbstick, meaning I had to physically move my body to turn instead. Whilst this is fine if you have a large playspace, or are using a standalone headset, I would really have liked the opportunity to be able to use the right thumbstick to turn my avatar.
This is a minor inconvenience, and once you get used to the movement controls, the gameplay really shines. Videos of Premium Bowling don't do justice to how satisfying it feels to bowl in this game. The feel of the shots is just right, and it stands above the competition.
The only issue I had with the realism of shots was that Premium Bowling was sometimes a little inaccurate in detecting how much spin I was applying to shots. It sometimes felt that the amount of spin was dictated by the controller position when I released the ball, rather than the rate of turn of the controller during the swing. This is a minor criticism of an otherwise great simulation.
Premium Bowling provides a good range of bowling alleys, and multiplayer support is adequate. I wasn't left looking for more options. This is just a fantastic bowling simulation. Premium bowling is available for Steam VR and Oculus headsets.
There are probably two types of players looking for a VR bowling game. The first group wants a pure bowling simulation and will enjoy the challenge of improving their game. Premium Bowling is perfect for this group.
The second group is those who are looking for a more social, entertaining bowling experience. Whilst Premium Bowling may be a great option, you may wish to consider one of the other options below.
ForeVR Bowl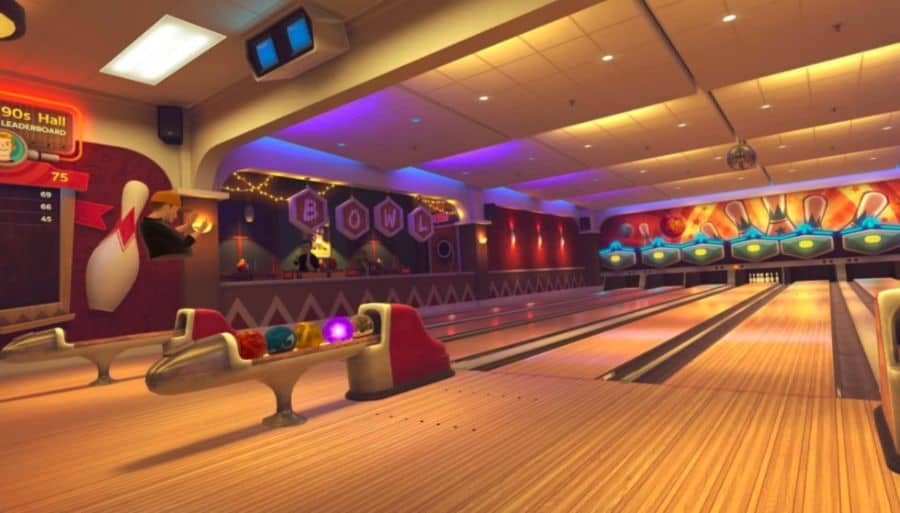 ForeVR Bowl is the second option I would recommend, and it has a number of pros and cons compared to Premium Bowling.
ForeVR Bowl is more focused on the fun, social side of bowling, and does a great job of recreating the excitement of visiting a real bowling alley. Ball and lane physics are very good, and whilst not quite as good as Premium Bowling, the amount of entertainment that this game offers more than makes up for the slight decrease in simulation accuracy.
ForeVR Bowl is currently only available for Oculus headsets, so it isn't an option if you have another type of headset.
The graphics of ForeVR Bowl are more stylized, in contrast to the realism of Premium Bowling. Considering it is designed to be played on standalone headsets such as the Quest 2, I think the developers have done a great job making it look as good as it does. The art style and design of ForeVR Bowl give it real warmth and personality.
ForeVR Bowl takes a different approach to the problem of swinging a controller, rather than holding a heavy bowling ball. ForeVR Bowl uses bowling balls with different attributes that impact the behavior, speed, and spin of your shots, adding another dimension to the game.
There are more than 150 different bowling balls, each with different spin and speed stats. As well as impacting gameplay, the ball designs are terrific and this provides a huge amount of incentive to play and collect them all.
It took me a while to adjust to the physics of ForeVR Bowl after playing Premium Bowling, and although I was generally impressed once I got used to it, I noticed a few things which I didn't love so much.
Firstly, I noticed quite a difference in my accuracy whenever I threw the ball from standing compared to when I took a step forward before throwing the ball. I'm not sure whether taking a step forward helped the headset get a better idea of my aim, but it quickly became my preferred way of bowling in ForeVR Bowl.
The other issue I had was that there was very little difference in ball speed depending on how fast you swing your hand. It felt like I had much more control over the spin than ball speed. This is likely to be intentional due to the stats assigned to each individual ball, but it certainly detracts from the realism of the game.
Neither of these issues affected my enjoyment of the game, but they did take a little getting used to.
One thing I really loved about ForeVR Bowl was the soundtrack. There are some awesome songs in the default soundtrack, but there is also a built-in Jukebox that lets you play any music from Youtube while you bowl.
ForeVR Bowl has single-player, as well as local or online multiplayer game modes. In local multiplayer, you can share one headset between up to 8 players, and this is great for playing at home with friends or family.
There are currently 8 lanes to choose from, including a retro 90s lane, champions hall, and lanes themed on Atlantis and the Moon. You can play on lanes with bumpers in Bumper Paradise, which is a really helpful addition when playing with younger players.
Premium Bowling Vs ForeVR Bowl
Your choice of Premium Bowling vs ForeVR Bowl is a tough one, but they are definitely designed for two slightly different markets. Choose Premium Bowling if you prefer more realistic graphics and the most authentic VR bowling simulation. Choose ForeVR Bowl if you want to recreate the fun atmosphere of going bowling with friends or family, and prefer to sway more towards entertainment than simulation.
Pure Bowl VR Bowling
An alternative to the two VR Bowling games above is Pure Bowl VR Bowling, which was released for Steam VR in 2021. It focuses on providing a bowling simulation and does a fairly solid job. The graphics are generally appealing and the lanes were enjoyable to spend time in.
Bowling and lane physics were pretty good, but I did find it more difficult to produce consistent shots with Pure Bowl VR Bowling than with the first two titles on this list.
You can play solo, against AI opponents, and you can also play local multiplayer. There are fewer lane options, and the overall package feels more basic, but the visuals are great. Whilst I'd struggle to recommend Pure Bowl VR Bowling over the first two titles on this list right now, I think there is a lot of potential for this game to improve over time.
For now, I think Premium Bowling and ForeVR Bowl are better options if you are looking for a good bowling simulation.
VR Mini Bowling
VR Mini Bowling feels like a combination of bowling and mini-golf. It provides a different experience from the first three VR bowling games on this list but is tons of fun, and really good value.
Whilst you can bowl on a traditional bowling lane, the most fun come from the crazy lanes that will have you bowling around corners, up ramps and loops, and having to avoid all kinds of obstacles.
There are a number of different scoring modes, including standard mode, stroke play, and rush mode. Stroke play counts how many shots you take to knock down all the pins in each lane, while rush mode challenges you to do this as fast as possible, which provided plenty of laughs as I frantically tried to throw bowling balls as fast as I could.
Whilst VR Mini Bowling is very much designed for fun first, there are global leaderboards and local multiplayer, and this provides plenty of incentive to improve and play your best.
The ball physics are actually fairly good in this game, but it's the creative lane design and fun game modes that make this a blast to play. For such an inexpensive VR bowling game, I'd definitely recommend giving VR Mini Bowling a try. VR Mini Bowling is only currently available for Steam VR headsets.
All-In-One Sports VR
If you'd like to try a bit of VR bowling, but you're not sure whether you need an entire bowling game, All-In-One Sports VR is a great option, allowing you to play 11 sports within one game. The included sports are Baseball, Archery, Ping Pong, Basketball, Bowling, Badminton, Golf, Dart, Billiard, Boxing, and Tennis.
Whilst the bowling is of course not going to be as good as a game dedicated to Bowling, it is plenty of fun, and the physics is pretty reasonable.
Bowling in All-In-One Sports VR is not up to the standard of Premium Bowling, lacking the realistic feeling and reliable swing mechanics of a dedicated VR bowling game. However, it's not designed to take on the best and is better considered to be a VR version of Wii Sports.
There was quite a learning curve to perfect the technique of bowling in All-In-One Sports VR, as it was less like recreating real bowling, and more like its own game. I spent the first few minutes throwing plenty of gutter balls while I got used to the game, but eventually adjusted my technique and started improving my scores.
Whilst bowling in All-In-One Sports VR is very entertaining, it is only worth getting if you'd like to play a variety of sports and have some fun with your friends. Most of the sports provide plenty of fun, rather than faithful recreations of the real-world activities. Having said that, I had tons of fun with this game, and would definitely recommend it.
Bowling In Rec Room
Rec Room is a hugely popular social game that you can play in VR or on a regular computer. It's available on Steam VR and Oculus headsets, and the good news is that it's free. There are thousands of user-made rooms where you can take part in a wide variety of activities.
The good news is that there are several good VR bowling rooms that you can play in to get a taste of VR bowling. Just open up the game, go to the menu, and select play, then use the search function to search for "bowling". There are a number of rooms you can enter and start bowling right away.
I have tried a few, and the best one was just called "Bowling". It was a fully functioning bowling alley, where you can play as many games as you like. You can play single player, with friends, or play online multiplayer with other users.
Bowling in Rec Room took quite a bit of getting used to. The physics is significantly worse than the Premium Bowling VR and some other games on this list, so I really had to learn the technique required to bowl well. It was a little frustrating at first, but I eventually got the technique and started doing a bit better.
Rec Room is generally great fun, with so many options to meet new people and have fun doing a variety of activities. The bowling is OK to try, and as it is free, there shouldn't be anything holding you back from giving it a go.
Bowling In VRChat
Similar to Rec Room, VRChat is a social VR platform, where you can socialize with other users while doing a huge range of activities. Most of the spaces are created by other users, providing plenty of opportunities for creativity.
Once again, if you search for "bowling" in the user-created worlds, you will find a number of bowling experiences that you can visit and enjoy. I found a number that provided a full VR bowling experience. The main appeal of VRChat is its sociability, and it's really easy to play a game of bowling with other people.
I had plenty of fun experimenting with the different VR bowling worlds, but the physics was generally poor and the experience was significantly worse than other options for VR bowling.
Last Word
When it is done well, VR bowling is one of the most enjoyable sports to do in VR. The best VR bowling experiences are currently Premium Bowling, which provides an excellent VR bowling simulation, and ForeVR Bowl, for a more arcade-like experience, that sacrifices a little realism for tons of fun.
VR Lowdown is a participant in the Amazon Services LLC Associates Program, an affiliate advertising program designed to provide a means for sites to earn advertising fees by advertising and linking to Amazon.com. We also participate in other affiliate programs which compensate us for referring traffic.