I'm a huge golf fan, enjoying playing and watching it whenever I can. Golf was one of the first sports I tried in VR and I've now had the chance to play most of the currently available VR golf games. This article is going to give you my thoughts on the best VR golf games from the wide variety available.
Let's start with a summary of my favorite VR golf games;
Best VR Golf Game For Meta Quest 2: Golf+
Best Steam VR Golf Game: Golf 5 eClub
Best VR Mini Golf Game: Walkabout Mini Golf
Best VR Golf Game For PSVR: Everybody's Golf VR
Let's now take a look at each of the popular VR golf games, and I'll share my experiences, both good and bad, to help you pick the best one to pick up and play.
Golf+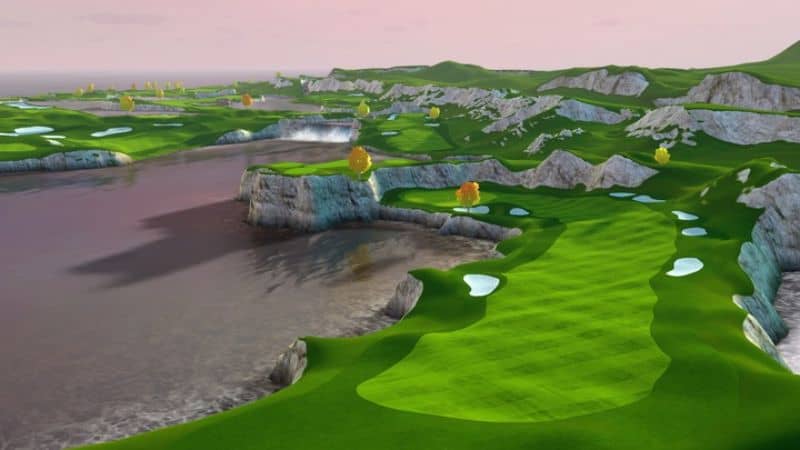 Golf+ is one of the premier VR golf games available for Oculus headsets. Combining a driving range (Topgolf), beautiful putting courses (Pro Putt), and now full 18-hole golf courses, Golf+ is a fantastic package.
Golf+ only currently only comes with three full 18-hole courses included in the base game. The Cliffs, Alpine Links, and Castle courses are fictional, but well-designed and entertaining courses to play.
Through a partnership with PGA, you can also play seven Real World Courses (DLC) that include Pebble Beach, TPC Sawgrass, and the Jack Nicklaus-designed Valhalla Golf Club. The DLC courses cost between $5.99 and $10.99, so the cost can start to mount up if you want to be able to play all courses. There are plans to add further courses over time. Bear in mind that playing on the full 18-hole courses is only available on Quest 2.
Despite the fact that Quest 2 is a standalone headset, the graphics are pretty good, if not spectacular, and there is a really nice art style that makes it a pleasant experience. The club swing and ball flight physics are great and coupled with the sound effects, it really makes for an immersive VR golf game. You can play solo and multiplayer, and it was easy to find people to play with.
I found shot power to be a little off when first starting, but you can adjust this as you play so that your shot distances roughly match your real-world equivalents. I also found that putting and chipping were too powerful at first. The ball would fly by the hole whenever I played like I do in real life. This was remedied by turning down the green speed and chip shot power, meaning I could swing my controller pretty much like I would a club in real life.
Obviously, using a controller in place of a golf club doesn't make for a particularly authentic experience, but there is a solution. I bought a golf club attachment for my Quest 2 controller and this has been a game-changer. This means it really feels like I am holding a real golf club when I play and it makes the whole experience so much more immersive.
Tee Time Golf
Tee Time Golf is a solid VR golf game available for Steam VR headsets, including Valve Index, Oculus Rift, Rift S, Pimax, and HTC headsets. It has a much more cartoony graphical style than some of the other options on this list, but the physics and game mechanics are excellent.
If you have a Quest 2 or other Meta headset, then Golf Plus is probably the better VR golf game to choose. If you have a Steam VR headset, then this is a good option if you want a full golf experience in VR, although it is not as good as Golf 5 eClub.
Swing mechanics are consistent and satisfying, but Tee Time Golf leans more towards an arcade golf experience, rather than a simulator. This isn't necessarily a bad thing, it just depends on what you are looking for. I found it pretty relaxing and could see myself improving over the space of a few days of play.
Whilst it does offer multiplayer, the player base is low, so you should consider it to be a single-player game unless you are able to arrange for a friend to play with you.
Golf 5 eClub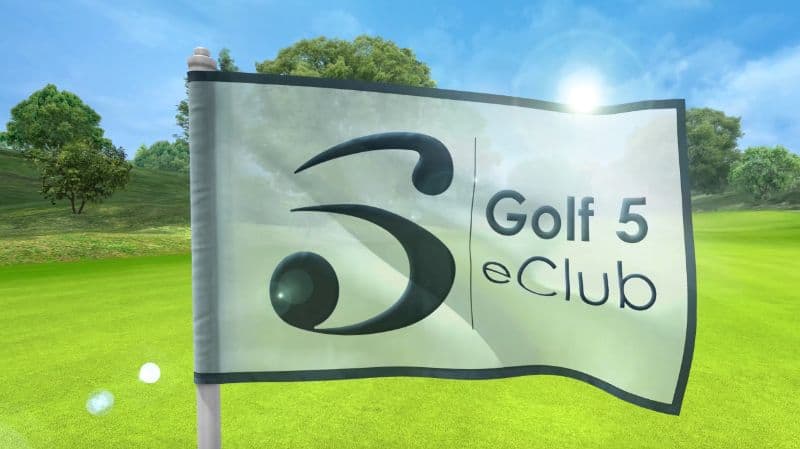 Golf 5 eClub is a great VR golf experience that is jostling with Golf+ for the position of best golf game for Quest 2. Golf 5 eClub has a greater focus on golf simulation, with graphics that are also more realistic. It offers three full 18-hole courses, a driving range, a putting practice area, and a mini-golf experience.
Swing simulation is pretty accurate, particularly for drives and iron play, but I felt that accuracy fell down a little when it came to chipping and putting, where the swing mechanics were a little too sensitive. I really enjoyed the challenge of trying to improve while playing this game, and I slowly became better at shaping shots to my liking over time.
One significant negative of Golf 5 eClub is that it only has three full courses, which is less than I would ideally like, although it does make up for this with the other modes of play. I also had some difficulty getting Golf 5 eClub to play nicely with my 3rd party golf club attachment, although this maybe isn't a fair criticism as it is a 3rd party attachment.
I think both Golf+ and Golf 5 eClub are excellent VR golf games and it would be hard to go wrong with either. If you're looking for a more authentic golfing experience, I'd recommend Golf 5 eClub, but if you want a well-polished game, and are less concerned with simulating authentic golf, then Golf+ is probably the way to go.
If you don't have a Quest headset, then Golf 5 eClub is the best VR golf game to pick. It is now available on Steam and also on the Pico store, so you should be able to play it with the vast majority of VR headsets.
The Golf Club VR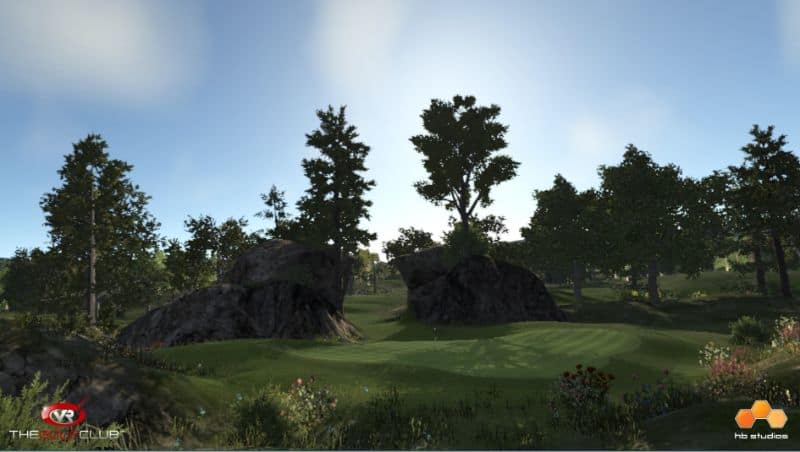 I've played a lot of "The Golf Club" as a regular PC game, and consider it to be a great Golf game, but the VR experience has been a little disappointing. The feel of the shots is good and the graphics are great despite this game being several years old now. Unfortunately, The Golf Club VR is let down by the lack of developer support for newer VR headsets and controllers.
The Golf Club VR only has official controller support for Vive headsets, so if you have another brand of headset, you may have to spend some time defining custom controls. I use the HP Reverb G2 for most of my Steam VR games, and there is no support for the WMR controllers. It took me a lot of trial and error to map custom controls that would allow me to control the game, and despite my efforts, I still haven't got it working perfectly.
When it does work, The Golf Club VR is a great game, and I love the focus on more realistic gameplay. There is a significant learning curve and fairly unforgiving swing mechanics, which creates an excellent degree of challenge without becoming frustrating. There are loads of courses to choose from, as well as thousands of user-made courses, but there is no multiplayer support, so you're stuck playing on your own.
The Golf Club VR had the foundations of a great VR golf game, but it's hard to recommend a game that is no longer supported by the developers. Maybe the developers of "The Golf Club" are planning a sequel, and I really hope so, as there is loads of potential here.
Walkabout Mini Golf
Walkabout Mini Golf is easily my favorite mini-golf game in VR. The courses are interesting, the gameplay challenging, but tons of fun, and the controls are intuitive and well-designed.
Available for both Steam VR and Oculus headsets, and normally available at a very reasonable price, this game is super easy to recommend.
It comes with 8 full 18-hole courses that get progressively more difficult as you work your way through them, and there are a number of additional DLC courses. You can play solo or multiplayer.
I've put a lot of time into playing Walkabout Mini Golf and it easily makes my top 10 list of favorite VR games. The learning curve is perfect, starting you with forgiving courses and generous par ratings, before ramping the difficulty up gradually until things start to get really challenging.
There is satisfying feedback from the controllers and 1 to 1 swing mechanics that make it feel like you are really swinging a putter. Multiplayer has been a blast, and both my wife and I have had great fun playing this one. It may just be mini-golf, but I couldn't leave this gem off my list of best VR golf games.
exVRience Golf Club
ExVRience Golf Club is another option for Oculus/Meta Quest and Touch VR headsets. It has a lot of positives, but ultimately can't quite compete with Golf+ and Golf 5 eClub. It offers a range of modes, including two full courses, with a third mirrored course, as well as a driving range, putting and chipping games, practice green, and clubhouse.
Multiplayer is supported, but again, you'll need to bring a friend as the player base is very small. I particularly liked the ball physics in exVRience Golf Club, and the swing mechanics were pretty solid. It isn't pretty graphically, but it does a lot right and is certainly worth a look.
Developer support is reasonable, and I have seen a number of improvements since I first played this VR golf game. Ultimately, it needs a fair bit more polish and content, but has a lot of potential, as so many of the fundamentals are in place. I hope to see this game get even better over time.
Everybody's Golf VR
Everybody's Golf VR is available exclusively for PSVR and does a great job of bringing this popular series to VR. It eases you into the game gradually by starting off with limited play options that you need to work through to unlock more features.
Everybody's Golf VR makes good use of the Move controllers for the swing mechanics, although it's quite some distance off simulating a real golf swing. It has a useful practice swing feature that you can use easily before each shot, and you can use the power meter to judge how hard you can swing.
Everybody's Golf VR trims back some of the features and graphical details of the non-VR version, but overall, I really enjoyed it. If you own a PSVR, your options for VR golf games are limited, but it is well worth picking up Everybody's Golf VR.
Golf It
Originally designed as a non-VR mini-golf game, Golf It now has VR support, and I've got to say, it's a lot of fun. It has 6 full 18 hole mini-golf courses with plenty of character and interest to keep you entertained. VR support definitely feels a little tacked on, and when you compare this game to Walkabout Mini Golf, there isn't much comparison.
If you're looking for a mini-golf VR game, Golf It is good, but I would definitely recommend going for Walkabout Mini Golf instead.
Everyday Golf VR
Everyday Golf VR is a reasonably good VR Golf Game, with great graphics and satisfying swing mechanics, but it is let down by the inconsistency of swing speed and shot accuracy. It is currently only available for Steam VR compatible headsets.
I enjoy the realistic feel of the shots in Everyday Golf VR, with putting being particularly realistic, and appropriately challenging to get the hang of. You really need to read the green and get a feel for how hard to swing your club to get anywhere near the hole.
My main complaint is that swing speed is unpredictable, and I seemed to fluctuate between hitting great shots, and wildly inaccurate ones without really having an idea of what I did wrong. I'm a keen golfer in real life and definitely felt that other VR golf games had more realistic swing mechanics.
If you are looking for a Steam VR golf game, I'd recommend The Golf Club VR or Tee Time Golf over this. I still feel that the options for VR golf games are not as good Steam VR headsets compared to Quest headsets, but hopefully, this will change in the near future.
Cloudlands: VR Minigolf
Cloudlands VR Minigolf is loads of fun and a really solid mini-golf experience. Available primarily on Steam VR, it features a combination of pre-made mini golf courses, as well as a fantastic, and easy-to-use course editor. You can even play holes that other players have created.
The controls are intuitive and satisfying and putting in Cloudlands VR Minigolf felt very much like putting in real life. The courses can get a bit outlandish, but never stop being entertaining.
I still prefer Walkabout Mini Golf, but Cloudlands VR Minigolf is a close second.
Is VR Golf Realistic?
Most VR golf games aren't going to improve your real-life golf game, but they are much better simulations of golf than non-VR golf games. The physics and swing mechanics in Golf+, Golf 5 eClub, Tee Time Golf, and The Golf Club VR were good, and it felt like I was making similar movements to those I would make when swinging a real club.
The biggest immersion breaker is that you are using a controller and not holding a real club. Using a golf club attachment for my controller made an instant difference in how authentic the experience was, but it didn't work flawlessly with all titles.
Ultimately, VR golf games are still some way short of the experience offered by other home golf simulators, but they cost a fraction of the price, even when you consider the cost of your VR headset.
I think there is a massive opportunity for improvement on the current selection of VR golf games. I would really like to see a AAA VR golf game for Steam VR headsets, as the offerings here are still a little limited.
Does VR Golf Help You Play Better In Real Life?
VR golf certainly helps me enjoy the experience of golf more often, but I'm not sure that it has resulted in much improvement in my game. The one area where I felt I made a little improvement was in being able to experiment with hitting different types of shots and getting a better feel for how to draw and fade the ball consistently.
At present, it's best to think of VR golf as being largely for entertainment, but it is so much more immersive than playing a non-VR golf game.
What VR Golf Games Are Available For Quest 2?
The Meta Quest 2 makes up a large proportion of VR headsets currently in use, and thankfully it has one of the best selections of golf games. Here is a list of the main options for VR golf on Quest 2.
Golf+
Golf 5 eClub
ExVRience Golf Club
Walkabout Mini Golf
Cloudlands 2
Cloudlands VR Minigolf
VRGolfRange
Upcoming VR Golf Games
There is limited publically available information about upcoming VR golf games, but I am waiting in hope that more titles are announced soon. I would particularly like to see a PGA Tour game incorporate VR, as the prospect of being able to play a wide selection of PGA courses in VR would be fantastic.
VR Lowdown is a participant in the Amazon Services LLC Associates Program, an affiliate advertising program designed to provide a means for sites to earn advertising fees by advertising and linking to Amazon.com. We also participate in other affiliate programs which compensate us for referring traffic.