Oculus Quest 2 passthrough is a handy feature that I use a lot when playing games on my Quest 2. The ability to double-tap the side of your headset and use the passthrough cameras to see around your room without having to take your headset off is great. If passthrough isn't working on your Oculus Quest 2, this article should be able to help you fix the issue.
If passthrough isn't working on your Oculus Quest 2, check to ensure that passthrough is turned on, ensure Guardian is on, and reset the guardian boundary. If this doesn't work, restart your Quest 2, and consider doing a factory reset of your headset if nothing else works.
Why Is Passthrough Not Working On Your Oculus Quest 2?
There are a number of issues that can prevent passthrough from working on your Oculus Quest 2
Passthrough needs to be enabled within the Quest 2 options menu before it will work.
You need to have Oculus Guardian enabled for passthrough to work.
You may need to reset your Guardian boundary to get passthrough to work.
You may need to do a full restart of your headset.
Occasionally, a factory reset is required to resolve software issues preventing Quest 2 passthrough from working.
How To Enable Passthrough On Oculus Quest 2
To enable passthrough on your Oculus Quest 2, follow these steps.
Press the Oculus button on your right controller to bring up the toolbar.
Click on the Quick Settings button on the left side of the toolbar.
Select the Settings button in the top right corner of the Quick Settings Menu.
Select Guardian to enter the Guardian settings menu.
Click on the button next to the option that says Double-tap for Passthrough.
Once this is enabled, you should be able to double-tap on either side of your headset to switch to passthrough mode.
You can double-tap again to return to VR mode.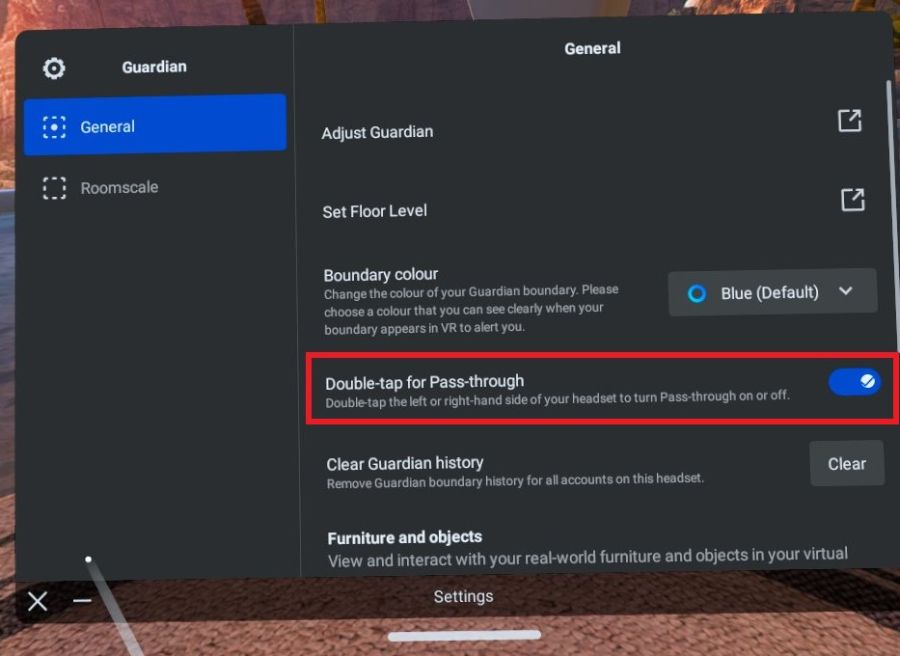 How To Enable Oculus Quest 2 Guardian
If you have enabled passthrough, but double-tapping the side of your Quest 2 doesn't switch to Passthrough mode, the next thing to check is that Guardian is enabled. Passthrough will currently only work when Guardian is enabled so this is essential if you want to use passthrough.
It doesn't matter whether you have chosen a room-scale or stationary boundary, but you must choose one. If you have previously turned Guardian off, you can enable it again by doing the following:
Navigate to the Settings menu and select System.
Scroll down the options on the left side and select the one labeled Developer.
Click on the button next to the Guardian option to toggle Guardian on.
Now try double-tapping the side of your Quest 2 and hopefully, passthrough should work.
You will only see a Developer option in the settings menu if you have upgraded your Oculus account to a developer account. If you haven't previously done this, and Guardian is on and working, move to the next step.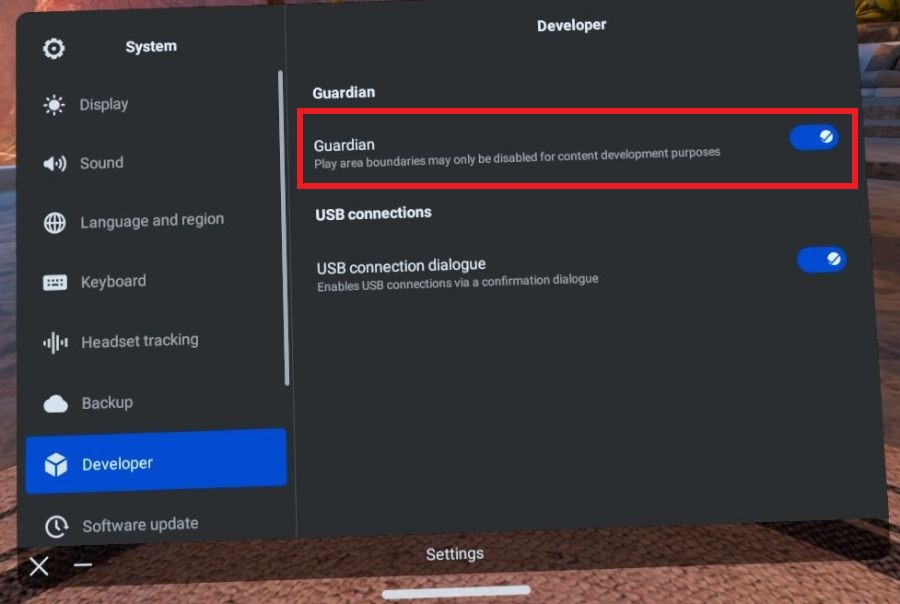 Reset Oculus Quest 2 Guardian To Fix Passthrough
Another common cause of passthrough not working is that your existing Guardian/boundary is not functioning correctly, so resetting this is the next thing to do to get passthrough working. Follow these steps to reset your Guardian on your Quest 2:
Navigate to the Settings menu.
Select the Guardian tab.
Click Adjust Guardian.
Follow the instructions to reset your floor height and play area.
Try enabling passthrough by double-tapping the side of your headset to see if resetting the Guardian has fixed the issue.
Restart Your Headset To Get Quest 2 Passthrough Working
Multiple people have run into issues with Quest 2 passthrough just after enabling it for the first time, or after a software update, and the solution here is to simply power off your headset and restart it. This is not the same as pressing the power button to put your headset to sleep.
You can do a proper restart of your Quest 2 by doing the following:
While your headset is on, press the power button for about 3 seconds until the shutdown menu appears on the screen.
Select shut down to completely power off your headset.
Leave it for a few seconds after shutting down, then press and hold the power button for a few seconds to restart your headset.
You can also simply press and hold the power button for about 5 seconds and the headset will turn itself off. You can then restart it by pressing and holding the power button.
Factory Reset Your Quest 2
If nothing has worked so far, the next option is to do a factory reset of your Quest 2. This will fix almost all software issues causing passthrough not to work, including a common problem that causes a black screen to appear when trying to use passthrough. The downside of doing a factory reset is that you will need to reinstall any games or programs you had installed on your device. You won't lose any of your purchases, as these are stored on your Oculus account.
You can do a factory reset of your Meta/Oculus Quest 2 by following these steps:
With your Quest 2 off, hold down the power and volume buttons until you see a USB Update Mode menu appear on the screen.
Select Factory Reset from the menu by navigating with the volume up and down buttons, and then pressing the power button.
Select "Yes, erase and factory reset" and then press the power button to reset your Quest 2.
Once the factory reset is complete, you will have to perform the initial setup and download all of your games again.
If Oculus Quest 2 passthrough still isn't working after trying all of these things, you should contact the Oculus support team, who may have further suggestions for things you could try, or may be able to arrange a repair or replacement of your headset if it is faulty.
VR Lowdown is a participant in the Amazon Services LLC Associates Program, an affiliate advertising program designed to provide a means for sites to earn advertising fees by advertising and linking to Amazon.com. We also participate in other affiliate programs which compensate us for referring traffic.