Virtual reality can be a wonderfully creative environment and there is a wide selection of VR art apps to satisfy your creative endeavors. I have spent many, many hours exploring and testing all of the best VR painting, art, and modeling apps available, and this article is going to cover my favorites.
This article covers VR apps and games for painting, sculpting, 3D modeling, design, and animation. Many are available for all VR headsets, but some are restricted to PC-tethered VR headsets, and a few are Oculus-exclusive titles. I've covered apps that are suitable for all skill levels, from beginners to professionals, and have personally tested all of the apps and games on this list.
1. Open Brush
Open Brush is a powerful VR art tool disguised as a casual painting game and is entirely free to download and play on Steam and the Oculus store. It is an open-source spin-off from a premium art application called Tilt Brush.
Open Brush allows you to use a wide variety of brushes and tools to create 3D pictures and creations in a VR space. There is a wide range of tools to help you create exactly what you want, and it is highly intuitive to learn how to use everything.
There are loads of brushes and useful tools that provide fantastic flexibility to create your ideas. You can easily access all tools and brushes by using an intuitive menu attached to your wrist, allowing you to start creating without barriers.
Open Brush has benefitted from years of development and is, without doubt, one of the most impressive VR art apps available. We owe Google and the Tilt Brush team a massive thank you for making this open-source, and to Icosia Gallery for taking up the development of Open Brush and keeping it free for all to use.
Open Brush is the first VR art app I tell people to try out as it's such a powerful and intuitive tool and really showcases what a unique experience it is creating art in a room-scale VR setting.
Open Brush currently gets 98% positive reviews on Steam and 4.5 stars on the Oculus store, so go check it out if you haven't already. You can check out more about Open Brush at the Steam store, Oculus store, or on the Open Brush website.
2. Vermillion
Vermillion is a hugely impressive VR painting app that recreates the wonderful experience of oil painting on canvas. This game is amazing and you can spend countless hours improving your painting skills and producing some really impressive pictures.
Vermillion has everything I could expect from a VR painting app, with adjustable canvases, a multitude of brushes, realistic wet-on-wet color mixing, layers, realistic analog brush strokes, and accurate blending and mixing.
I've been really impressed by how Vermillion translates the feel of applying paint to a canvas into VR, with visual feedback from the brush and visual indicators letting you know how much pressure you are applying with your brush.
There are numerous quality of life features, such as the ability to color match from your canvas to the palette, brush cleaning at the press of a button, undo and erase tools to get rid of mistakes easily, and the ability to overlay pictures onto your canvas to plan your creations much more easily.
The menu interface is really intuitive, allowing you to save your work in super high definition, save your palettes for future use, watch Youtube videos, listen to music, or find pictures to copy while you work.
Regardless of your prior artistic experience, Vermillion is really satisfying to use. If you are interested in learning to paint but have previously been put off by the expense and time commitment required, Vermillion is a great way to learn and develop your skills and you will definitely be able to create some fantastic paintings if you work hard.
Vermillion is a terrific VR painting app that gets fantastic reviews on Steam, with a 95% overall positive rating currently. check out Vermillion on Steam, or on the Oculus store.
3. Medium by Adobe
Medium by Adobe is a stunningly impressive VR 3D modeling application that lets you create organic shapes, complex characters, abstract art, or whatever you like in VR. With highly intuitive controls and a sensible workflow, it doesn't take long to learn the basics, and you can work towards building some awesome creations.
Medium was acquired by Adobe from Facebook in 2019 and is available for free for the Rift, Rift S, and the Oculus Quest 2 via Air Link or Link Cable. It is not possible to use Quest 2 in standalone mode only.
You use one of your hands to spray clay into the shapes you want, and a variety of options allow you to adjust the size of your tool, smooth, move, erase, and manipulate the clay to slowly form the creation you are working towards.
Being able to physically rotate and move around your creation feels much closer to sculpting in real life, rather than using a 3D-modeling tool on a computer. Most of the tools are very intuitive, and you can start to make creations within minutes, although it will take a long time to perfect your skills and make truly impressive creations.
The most powerful tool in this program is the move tool, which allows you to intuitively manipulate your creations to adjust their shape, position and rotation, and it makes it so much easier to make progress towards your end goal.
Medium by Adobe is one of the fastest ways I have found to take an idea and transform it into a piece of 3D art. It's so intuitive and skips past much of the technical knowledge that you would need to get up to speed in a program such as Zbrush or Blender. This VR art app lets you start creating straight away, and learn the technical skills required to produce fantastic VR art as you go.
4. Painting VR
Painting VR is a huge virtual painting studio that provides a fantastic environment for you to get creative and paint in VR. Painting VR does an amazing job of simulating the experience of painting on canvas within VR, with excellent visual, audio, and haptic feedback, that helps make this VR painting app feel as close to painting in real life as possible.
There is a wide variety of brushes to choose from, and you can adjust how they perform with a number of sliders. It also has intuitive color mixing and painting techniques that are translated very well into an intuitive VR painting experience.
There is more freedom to use a wider variety of paints, canvases, and techniques than in Vermillion, but overall there are still some areas that are a little rough around the edges. However, the tactile experience of creating art in Painting VR is excellent, and I couldn't imagine it being much better given the technology of current VR headsets.
There are plenty of options to customize your setup within Painting VR, and you can save your studio set up so that things are exactly as you like them every time you load the game.
There is an in-game web browser, and it is very easy to load pictures and videos for reference and position them beside your canvas, and you can follow Youtube painting tutorials or listen to music easily in Painting VR.
I love that you can hang your finished work in your studio, building up a portfolio of work over time, and you can also share your creations with the community.
Painting VR can be played on most current VR headsets and is available on Steam and on the Oculus store. It can be played in standalone mode on the Quest 2, giving you loads of freedom to move around your studio.
5. Gravity Sketch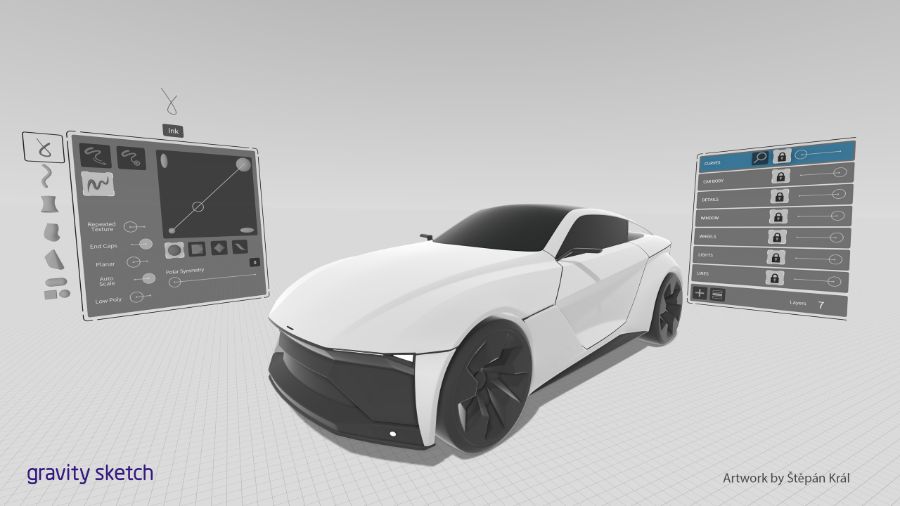 Gravity Sketch is an incredible tool that's immersive, intuitive, and allows you to create detailed 3D models within VR. You can create models of anything, from furniture, cars, characters, machine parts, plants, and animals. You can start and finish the entire creation process in immersive VR in much less time than it would take to create a similar model in many other apps.
Although Gravity Sketch is a powerful piece of software, it does have quite a significant learning curve, and I found that I had to watch a series of tutorials on Youtube and spend a few hours familiarizing myself with the controls and functionality before I felt confident using it.
After this point, it was only my artistic skills that held me back, but I could really see the huge potential of this VR art app. The basic version of Gravity Sketch is free on both Steam and the Oculus store, but there is a premium subscription that you will need if you want to gain full functionality, or want to use it for commercial purposes.
There are so many excellent features within Gravity Sketch that make it efficient and enjoyable to create 3D models, and it has a deep toolset that actually allows you to create real work you can export and use. You can also collaborate with up to three other people while you work.
The basic version of Gravity Sketch is free, so there are no real drawbacks to trying this VR design app. You can get it on the Oculus store and on Steam.
6. SculptrVR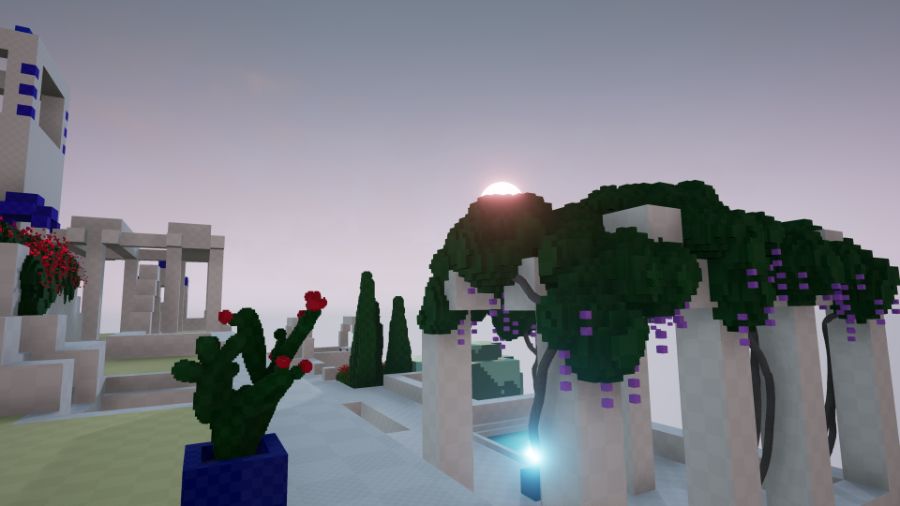 SculptrVR is a voxel-based VR sculpting app that lets you create anything you want in 3D using simple, intuitive controls. One of your controllers holds your tools on the front and settings on the back, and the other controller is used to select your tools and build your creations.
There are multiple tools that let you create different shapes, add or remove material, smooth, blend and paint your creations to get them just right. I found the controls to be very easy to learn, and it only took me 10-20 minutes before I felt I had a good grasp of the process for making what I wanted.
SculptrVR has an amazing 10,000x zoom that lets you zoom in on the smallest area of your creation to add extremely fine details and back out again to get a bird's eye view of your work.
SculptrVR has online multiplayer, where you can join a room of up to 5 different people to collaborate and chat. You can group with friends in a private room, or join a group of strangers and meet new people while you create.
You can export everything you've made to FBX or OBJ for 3D printing or sharing online, which is so helpful, and you can even print your creations directly to a 3D printer.
SculptrVR is an excellent choice if you want to try out sculpting and 3D modeling in VR but you have little technical knowledge of using other programs to do similar modeling. You will pick up the basics in no time and you can make some really impressive creations. SculptrVR is available for Oculus and Steam VR headsets and can be used by Standalone headsets such as the Quest 2.
7. Masterpiece Studio Pro
Masterpiece Studio Pro is a VR 3D modeling suite that consists of two programs.
Masterpiece Creator – Sculpt, optimize, texture, and mesh your 3D models.
Masterpiece Motion – Rig, skin and animate your 3D models.
These two programs allow you to work through the entire process of creating and animating 3D models and the well-developed tools let you create 3D models quickly and efficiently. Similar to many other VR art apps, one controller (left by default) holds your tools, and your other hand is used to build your model. There are tools that allow you to add, move, smooth, shrink, bulge, undo, and otherwise manipulate your creation into exactly what you want.
I found the creation tools in Masterpiece Studio Pro intuitive to use and I didn't feel the need to view anything more than a basic tutorial to get me able to start creating. Masterpiece Studio Pro is a fantastic option for anyone that wants to get more experience in the full process of creating and animating 3D models.
Once your creation is complete, you can export it to game engines, renderers, and standard animation software. Masterpiece Studio Pro is available directly from their website and will work with Meta VR Headsets, including Rift S and Quest 2 with link, and all current PC VR headsets that are compatible with Steam VR.
8. Kingspray Graffiti VR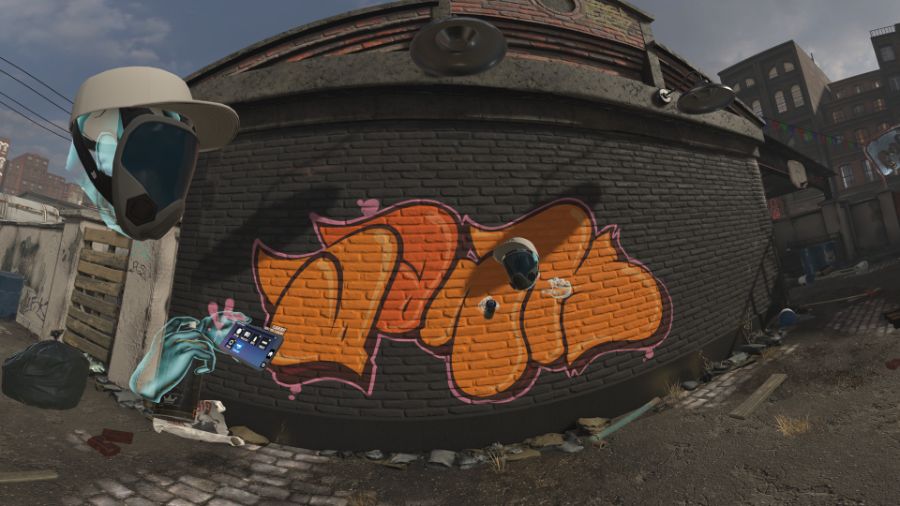 Kingspray Graffiti VR is a great VR art app available on Steam and the Oculus store for PC VR headsets and standalone headsets such as the Quest 2.
Kingspray allows you to create fantastic street art in a selection of interesting environments using all the tools you would need in real life. The process of using virtual spray cans feels really natural as the movements for using them in VR mirror the real-world actions very well.
I can't say I have any experience of creating graffiti, but I loved this game and found it really relaxing and fun. I was able to find some great Youtube tutorials that helped me pick up the basics, and I was soon creating some fun designs and building my skills.
Kingspray has a good selection of environments and loads of different surfaces for you to create VR art on. The UI is really intuitive, and selecting paint colors, applying paint, undoing and redoing, and color sampling, are all easy to achieve. There is also a projector feature, so you can take a reference picture and project it onto the wall you are working on, helping you create exactly what you want.
Kingspray Graffiti VR has multiplayer support, which was so much fun to use. I tried collaborating with a few friends, and whilst I can't say that my creative output was increased, the fun factor increased significantly.
One cool feature of this VR art app is that you can watch replays of all your creations, from start to finish, which is both helpful to see how you could improve on your next piece, and for sharing your hard work with others. If creating graffiti sounds like something you would enjoy, I think you'll love Kingspray Graffiti VR.
9. Brushwork VR
Brushwork VR has to be the coolest VR painting app I have seen in a long while. The amazing thing about Brushwork VR is that it works directly from your browser. I've tried using it with the Meta Browser in the Quest 2 in standalone mode and using Chrome on desktop with the HP Reverb G2 and it has worked flawlessly.
Just go to the Brushwork VR website via the internet browser on any VR headset.
Click on "Start Painting"
Then click "Enter VR And Start Painting"
You will then see a notification asking if you want to enter this immersive experience, and once you click Yes, you're in Brushwork VR with your canvas, brushes, and paints ready to go.
The mechanics of this awesome VR art app are similar to Vermillion and Painting VR and you will pick up the controls in about 2 minutes. The brushstrokes feel fantastic and blending colors and mixing paint feel really natural and satisfying.
I was able to get straight to work and instantly lost myself in this app for hours on end, enjoying the process of bringing a vague idea to life on the canvas.
Brushwork is currently in an Alpha phase of development, but it has been working great for me. It's not as fully featured as Vermillion, but the quality is fantastic so far, and it's entirely free to use. The only issue I encountered was that it stuttered for a few seconds when it was auto-saving every few minutes, but this was a fairly insignificant issue.
The fact that this works in your browser and is totally free completely destroys the barriers to anyone creating art in VR. As long as you have a VR headset and an internet connection, you are ready to go. I'll definitely be keeping track of the development of this VR painting app and you should definitely give it a try.
10. StereoPaint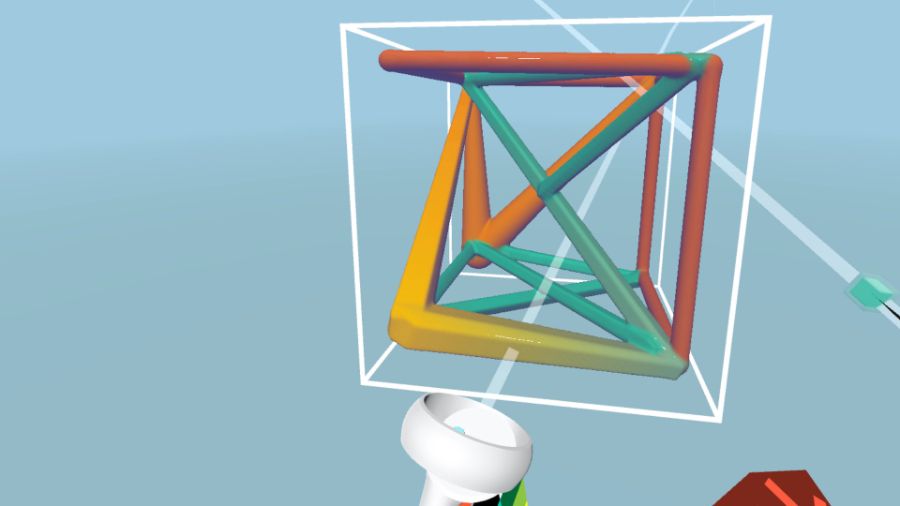 StereoPaint is a free VR sculpting app that allows you to create fantastic 3D models in real-time using simple and intuitive controls. It is available on Steam VR and on the Oculus store and is super easy to pick up and use.
StereoPaint is a great option for the more casual user who just wants to have fun in a VR art app, creating whatever they wish. I loved the beautiful graphics and environments of StereoPaint, which helped to create a fun and relaxing environment, and the integrated physics system that lets you interact with your creations was great fun too.
If you want to have a go at 3D modeling in VR, this is a great option, and the fact that it is compatible with Quest 2 in standalone mode makes it a great option.
11. Quill by Smoothstep
Quill by Smoothstep is a VR illustration and animation tool that lets you create and animate models using simple controls in a VR space. It has a really simple workflow that lets you create 2D and 3D drawings and then animate them frame by frame using a number of different techniques, including frame-by-frame, keyframe, anim brush, and puppeteering.
The best things about Quill are that it is intuitive, extremely powerful, and lots of fun. Quill by Smoothstep is available for free on the Oculus store for Rift, Rift S, and Quest 2 via Link Cable or Air link. It is not available for other PC VR headsets, unfortunately.
12. Kodon
Kodon is a VR sculpting application available for Steam VR headsets that allows you to sculpt awesome creations in VR. This is an artistic VR app that has been around in early access for a number of years and I think is due to have a full release quite soon.
The potential of this VR sculpting app is huge, with great tools to recreate the experience of sculpting in real life, but it does have a few bugs and control issues that do impact the ease of use.
There is more of a learning curve with Kodon than with some other VR sculpting tools, but it is well with the effort, as this is a really nice VR sculpting app that is capable of producing some fantastic creations.
13. Color Space
Color Space is a VR art game where you immerse yourself within a coloring book and use the palette to color in a variety of interesting scenes. Rather than coloring a 2D scene, you are placed inside the scene and have to complete each of about 32 interesting pictures. In a hugely entertaining twist, the features of each scene come to life as you color them, encouraging you to finish each part of the picture to see what happens.
Color Space doesn't require too much artistic skill, and is very much a VR art game, rather than a design tool, but it's really relaxing, and I had to include it on this list. If you've ever wondered why coloring books for adults are a thing, give this VR art game a try and you'll soon be convinced.
As well as having a great UI and mechanics, the audio design is perfect, creating a really relaxing environment, that makes Color Space an almost meditative experience. The only downside of Color Space is that it is Oculus exclusive, so you're out of luck if you have a PC VR headset.
14. Art Studio VR
Art Studio VR is a realistic VR painting app available for Oculus VR headsets and works with quest 2 in standalone mode. It allows you to paint using realistic brushstrokes on a canvas, or paint a number of different models to your liking. This is currently an early access release on the Oculus store, so there are a few bugs and some features that are still to arrive, but I really like what I have seen so far.
The action of using the brushes and applying paint to the canvas felt great, and the level of feedback I got about how firm I was pressing and how much paint I was applying helped me to create better pictures. Art Studio is a great VR painting app that is good value for what is available in the package, and it will be interesting to see how this VR art app develops over the coming months.
15. MultiBrush
MultiBrush is another branch of the open-source code from Tilt Brush, but this one has excellent multiplayer functionality that makes it well worth a look. It contains everything that you can expect to find in Tilt Brush or Open Brush, but the multiplayer functionality makes it way more fun.
I've played this VR art app with friends and even with my kids, and the joy of collaborating on a project together is tons of fun. MultiBrush was initially free but now costs about $15. If you are happy to do without the multiplayer functionality, then Open Brush is very similar but free. MultiBrush is available for PC VR headsets via Steam VR, or can be purchased from the Oculus store.
VR Lowdown is a participant in the Amazon Services LLC Associates Program, an affiliate advertising program designed to provide a means for sites to earn advertising fees by advertising and linking to Amazon.com. We also participate in other affiliate programs which compensate us for referring traffic.