If you're looking for great sports games to play in VR, you're in luck. There are loads of sports that translate really well into virtual reality, providing incredible levels of immersion, challenge, competition, and fun. I've picked out some of the best VR sports games that you should definitely try, representing a wide variety of sports.
Of all the games I play in VR, sports games are the ones that I enjoy the most. This article covers some of the most popular VR sports games of all time, as well as some niche games and undiscovered gems that are well worth checking out. I have purchased and played all of the games on this list, logging countless hours of playtime, and all of the opinions in this article are entirely independent. Let's dive into the action.
1. Eleven Table Tennis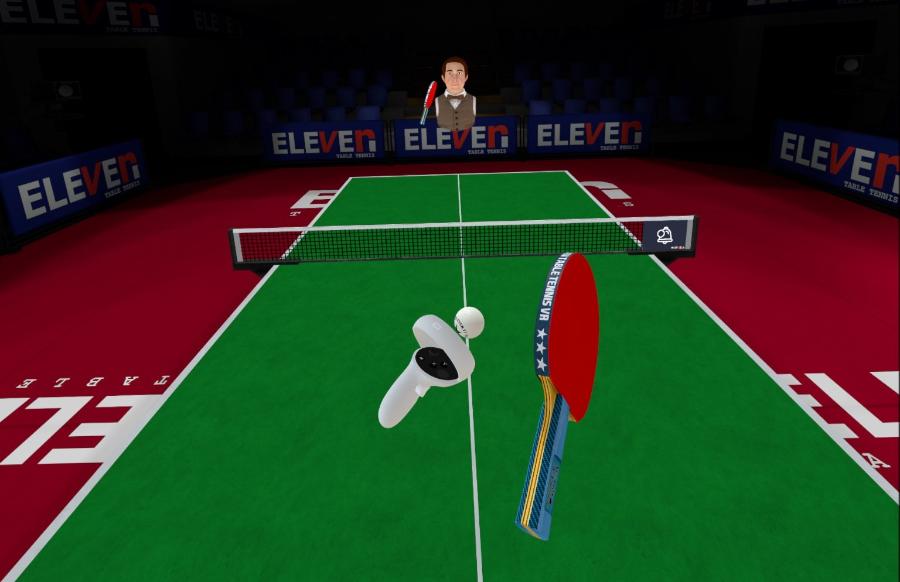 Eleven Table Tennis is undoubtedly one of the most realistic and enjoyable VR sports games you can play. The physics and controls are so realistic that there are times when I struggle to see how this game could be any closer to the real thing.
Table Tennis is perfectly suited to VR, as you are able to move and take shots just like you would in real life. The weight and grip of your VR controllers are also quite similar to Table Tennis paddles, providing tactile feedback that makes the experience feel even more realistic.
With loads of options to adjust the difficulty, controls, and environment, this game has everything I could want. You can play against computer opponents of increasing difficulty, or challenge other people in multiplayer matches, and due to it being such a popular VR sports game, you won't have any difficulty finding an opponent to play against.
I've spoken at length to a number of highly competent real-life Table Tennis players who can attest to the accuracy of the controls and physics. There are slight limitations to the accuracy of some shots, particularly in highly competitive play, but overall, this is a hugely impressive experience.
I have spent many, many hours playing Eleven Table Tennis, and the core gameplay is just so solid that I keep coming back. The only drawback is that you need a fairly large play space, particularly when you play more challenging opponents, as you will need to lunge quickly in all directions to try to return the shots of the best opponents.
Eleven Table Tennis is available on the Steam store and Oculus store and is compatible with a wide variety of VR headsets including the Quest 2.
2. Walkabout Mini Golf VR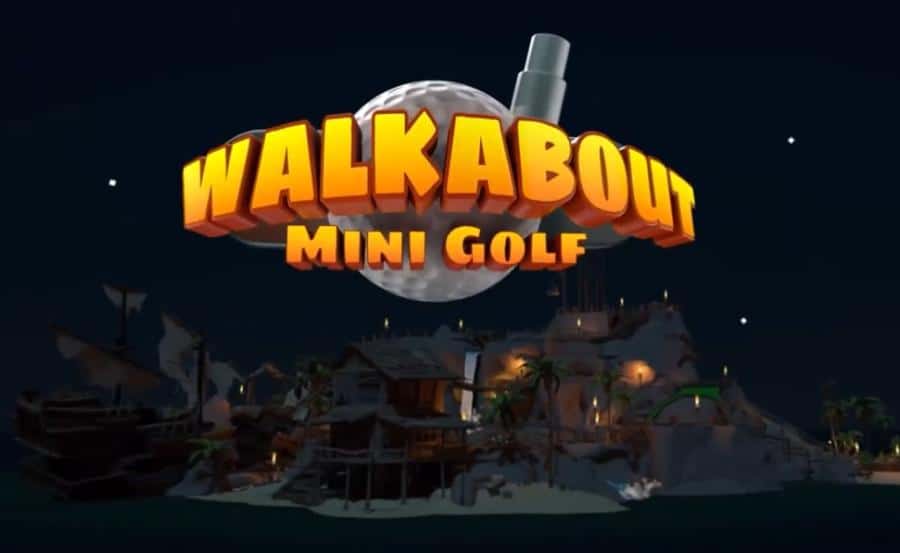 Regardless of whether you are a fan of golf or not, Walkabout Mini Golf is an essential purchase for anyone who enjoys VR sports games. The controls and physics in this game make it feel so realistic that it's easy to forget you are playing a VR game and not actually out enjoying a round of mini-golf.
The base game comes with 8 interesting, beautifully themed courses that have an easy and hard mode, and as of now, there are an additional four courses available as DLC. There are collectibles to keep you playing again and again, and you can play single-player or multiplayer.
Walkabout Mini Golf VR has 1-to-1 swing physics which means you swing your virtual club just like you would in real life, making the gameplay feel extremely realistic. Tactile feedback from your controller gives you a real sense of having hit a real golf ball making each shot feel satisfying. As someone who enjoys playing golf in real life, I have been hugely impressed by how similar this game feels to putting a ball in real life.
The graphics are colorful and the art style is really appealing and interesting. The courses are well designed, with plenty of interesting features to ensure that each course keeps your interest while providing a challenge.
I loved how the courses got progressively harder, with the first course feeling quite easy, even for beginners, whilst in the hard mode of each course, you are pushed to the limit to get anywhere close to par.
Walkabout Mini-Golf is one of the best VR sports games and is available on Steam and the Oculus store and can be played on a wide range of VR headsets.
3. Premium Bowling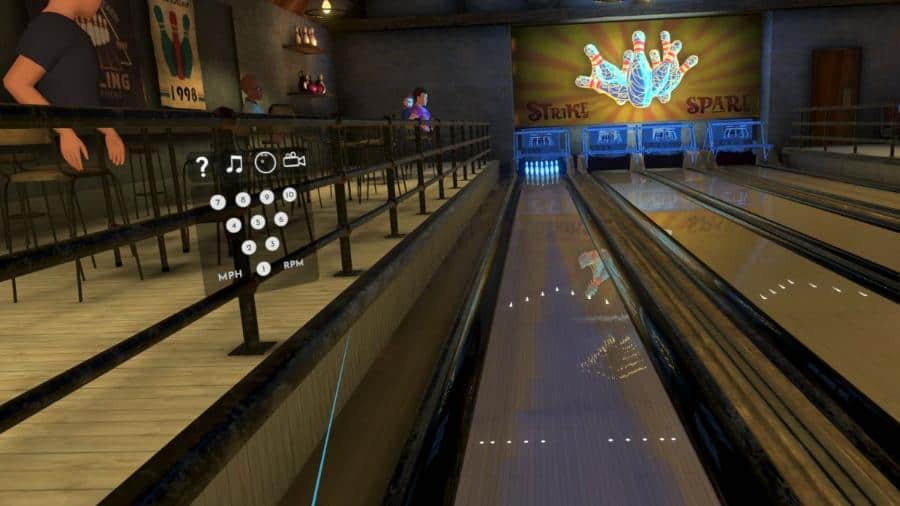 I'm front-loading this article with the very best VR sports games, and this is another of my all-time favorites. In common with the last two games, Premium Bowling is so good due to the faithful recreation of the real-world sport, with physics and controls that are just about as good as they could be.
Premium Bowling allows you to play in a range of bowling alleys, and you can use a selection of balls, and even adjust the way the lane performs through different oil patterns. Premium Bowling has single-player and multiplayer game modes, as well as online leaderboards, that I found surprisingly addictive.
The graphics in Premium Bowling are terrific, really adding to the immersion factor. VR is a great fit for bowling, and Premium Bowling is definitely the best VR bowling game, although it can't entirely recreate the weight and feel of holding a bowling ball.
Over the space of the first few hours of playing, I could see my skill level slowly increasing, and as I got used to the controls, I found them very consistent and predictable. There is a large and active player base, so there is no shortage of people to play with, and it will take you a long time to get close to a perfect 300. Premium Bowling is available on Steam and on the Oculus Store.
4. Golf+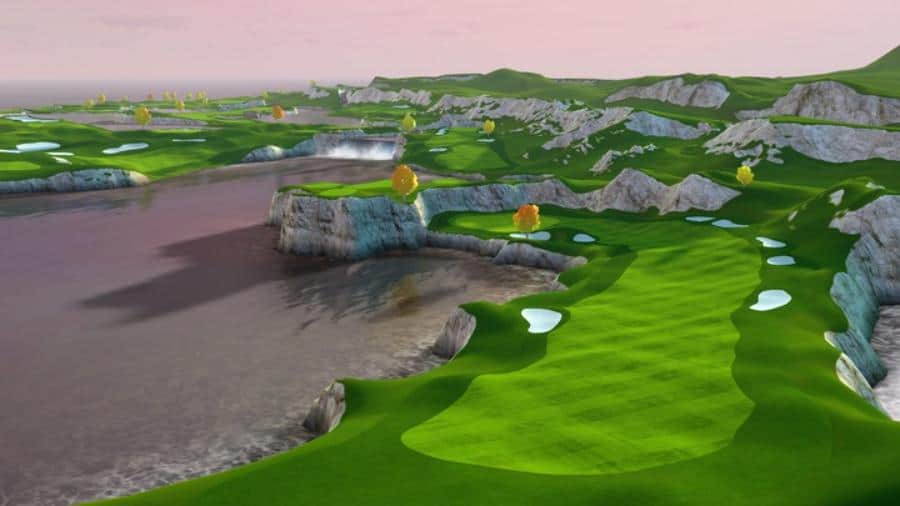 Golf+ is my pick for the best VR golf game and one that enjoys a huge level of popularity. It combines a driving range (Topgolf), putting courses (Pro Putt), and full 18-hole golf courses, so there is no shortage of ways to enjoy the game.
Golf+ has five full 18-hole courses, comprising the fictional Cliffs and Alpine courses, the Jack Nicklaus-designed Valhalla Golf Club, and two DLC courses, the Ocean Course at Kiawah Island, and Wolf Creek Golf Club, Nevada. The development team continues to roll out improvements and there are plans to add further courses to the game over time.
One downside to Golf+ is that it is an Oculus-exclusive game, so if you have a Vive, Index, WMR, etc headset, you are out of luck with this one. If you don't have an Oculus/Meta headset, there are a number of other VR golf games available for PC-VR headsets you may like to check out.
The graphics in Golf+ are attractive, with a lovely art style, but they are quite simplistic to support the limited processing power of the Quest 2. I've been playing Golf+ fairly consistently for several months, and I've generally been impressed by the swing controls and club and ball physics. I'm able to swing the controller just like a real club and can adjust my swing to produce different shots that feel consistent and repeatable.
There are a number of issues that detract from Golf+ feeling like real golf. I had to reduce the green speed and shot power to make my shot distances more closely resemble what I would hit in real life. I also felt my shots were more inconsistent in Golf+ compared to real-life golf, although a lot of this is due to using a controller rather than a golf club.
I managed to largely resolve this issue by buying a golf club attachment for my Quest 2 controller, consisting of a real golf club grip that your VR controller attaches to. This was a game-changer and means it feels like I am holding a real golf club when I play, making the whole experience much more immersive. I still think there is room for improvement in Golf+, but it is the best option if you are looking to play golf in VR right now.
5. The Thrill Of The Fight
If you're looking for a game to really get your heart rate up, The Thrill Of The Fight is a terrific option. This VR boxing game focuses on authenticity and does a wonderful job of providing a realistic boxing experience.
You have the choice between hitting the gym to practice with the speed bag, heavy bag, dummy, or other training aids or going up against a series of increasingly challenging AI opponents to test your skills. You will need a reasonably large play area to safely enjoy The Thrill Of The Fight, as you will be moving quickly and punching hard, so it's important to be well clear of any obstacles.
The gameplay feels really authentic, with satisfying punching mechanics, and opponents who behave in realistic ways. Controller force feedback from shots gives a feeling of weight to your shots, whilst dodging and blocking incoming punches feels satisfying.
Much like real boxing, The Thrill Of The Fight is an incredible workout, and you're unlikely to be able to play for more than 20-30 minutes at a time without taking a break. For anyone looking to get fit while using VR, this is a better option than many of the specific fitness games.
The one downside here is that it is a single-player experience only, but don't let this put you off. The Thrill Of The Fight is one of the best VR sports games available and is usually for sale for less than $10, so don't hesitate to pick it up. It is available for Steam VR and Oculus headsets but is not available for PSVR.
6. Real VR Fishing
Real VR Fishing is an Oculus-exclusive VR sports game and easily the best VR fishing game I have played. With stunning graphics and terrific physics, this game really captures the essence of fishing in real life. There are plenty of fishing locations and a wide selection of fish to catch, including a number of rare and epic fish to catch, as well as a fairly in-depth progression system.
There are loads of options to adjust the gameplay to your liking, and you can also enjoy multiplayer with your friends, which always makes fishing more fun. I find this to be such a relaxing game and one that I keep coming back to.
There are very few negatives to this game other than the slightly limited selection of things to buy with the currency you can earn in-game, and the slow roll-out of new DLC content. Other than that, this is a VR sports game that I can wholeheartedly recommend.
7. DIRT Rally 2.0
If you're looking for a hugely entertaining VR driving experience, Dirt Rally 2.0 is a terrific option. This seated VR experience puts you behind the wheel of some of the best and most iconic rally cars and lets you race in six rallies across 70 stages.
There are loads of excellent VR racing games, but Dirt Rally 2.0 is a great place to start if you want to enjoy the thrill of racing without the ultra-competitive experience of some VR track racing games. Dirt Rally 2.0 is only available for PC VR headsets, although PSVR owners can enjoy its predecessor, Dirt Rally VR.
Dirt Rally 2.0 is ideally played with a steering wheel controller, but you can still have a good experience using a gamepad such as the Xbox controller for PC.
Dirt Rally 2.0 has beautifully modeled car interiors and the graphics are fantastic, greatly increasing the sense of immersion. If you've previously played racing games on a PC screen, be prepared for a massive leap in terms of immersion, as the sense of being right inside a rally car is pretty intense.
You can play solo or multiplayer, and there is still a very healthy player base to compete against. With a long history of development, Codemasters have nailed the controls, physics, and feel of driving a rally car, and the reviews from other players are fantastic.
I consider Dirt Rally 2.0 a gateway into the world of VR racing games, and you may find yourself getting a full racing setup at home if you really catch the bug.
8. ForeVR Darts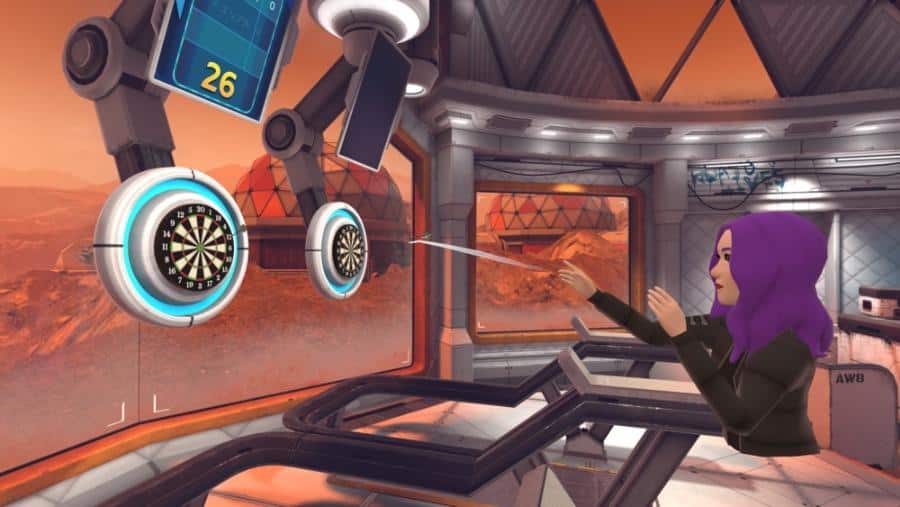 ForeVR Darts is made by the same developer that made the very impressive ForeVR Bowl, and their effort to bring darts to VR has arrived to a similarly positive reception. This is an Oculus-exclusive VR sports game that allows you to play darts against a range of computer opponents and against friends and strangers in multiplayer matches.
There is a choice of using the Quest 2 controllers or you can use hand-tracking using the Quest 2 passthrough cameras to control the game. Hand-tracking is good, but it's still an experimental feature and is sufficiently unreliable that I preferred using the controllers.
Darts is quite a difficult game to translate to VR as you really rely on the weight and feel of the darts to be able to throw them accurately. To mitigate this limitation, ForeVR Darts uses an aim assist feature that helps you just enough to avoid frustration, but not enough to make it too easy.
There are a number of environments to play darts in, including a pub, Las Vegas, a beachside location, and a Mars space station. All are well-themed and keep the game interesting. There are a large number of darts to unlock that have different characteristics that impact their flight behavior. This provides plenty of incentive to keep playing to unlock as many as possible.
ForeVR Darts is the best VR darts game currently available, but it's not perfect, and I feel that darts has more inherent limitations than some other VR sports games that are better suited to the medium. Overall, though, with a bargain price point and very solid gameplay, I'd recommend this VR sports game if you'd like to play a game of darts or two.
9. Blacktop Hoops
Blacktop Hoops is a streetball-inspired VR basketball game that is currently in early access and is showing a lot of potential to become one of the best VR sports games. It has been built from the ground up for VR, with realistic dribbling controls that feel natural and satisfying. You use realistic movement to control your player, turning, ducking, and moving to beat your opponent, supplemented by using the controller to move your player around the court and jump.
There are currently 4 main game modes, including a tutorial, 1-on-1 matches, practice mode, and shooting mode. The AI opponents are really well done, with motion capture movements taken from some of the world's best streetball players. There is quite a significant learning curve when you first play, so don't expect to be dribbling like a pro and pulling off 3-pointers with ease – you're going to have to put in some practice if you want to improve.
Blacktop Hoops has a great soundtrack that helps get you immersed in the setting, and the graphics are colorful and appealing, with a cartoony aesthetic. The game is currently in early access, with the next phase bringing multiplayer support, followed by a full, premium release.
The game is currently available for free via steam or the Oculus store. Check out the Blacktop Hoops website to learn more about this awesome VR sports game.
10. First Person Tennis – The Real Tennis Simulator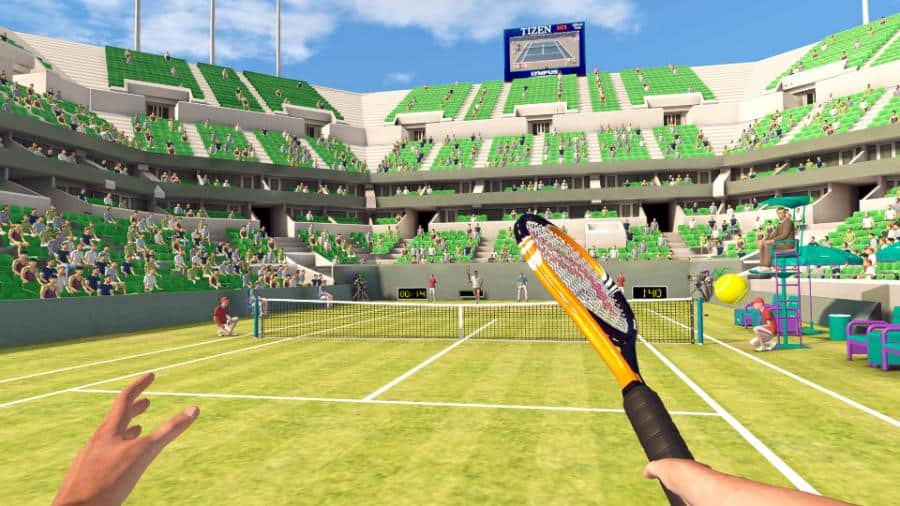 First Person Tennis is without a doubt the best VR tennis game currently available. It provides a highly realistic VR simulation of tennis that gets so many things right. As a keen recreational tennis player, I felt a lot of shots were realistic, with technique, body positioning, and timing being crucial to hitting good shots.
You can play against a range of AI opponents and there is an easy-to-use matchmaking system for multiplayer games. There is an arcade and simulation mode, which I think is a good option, as simulation mode is significantly more challenging, whereas arcade mode is great for casual users.
There are a number of drawbacks in the gameplay that detract from the realistic feel, with lob shots, drop shots, and the degree of spin on shots lacking the same level of control you would have in real life. The graphics are excellent and all the gameplay features I would want in a VR tennis game are here.
The overall feedback from general users, as well as highly competent tennis players, is that this is a really solid VR tennis simulation, with only a few minor negative points. First Person Tennis – The Real Tennis simulator is available on Steam VR and the Oculus store.
11. Black Hole Pool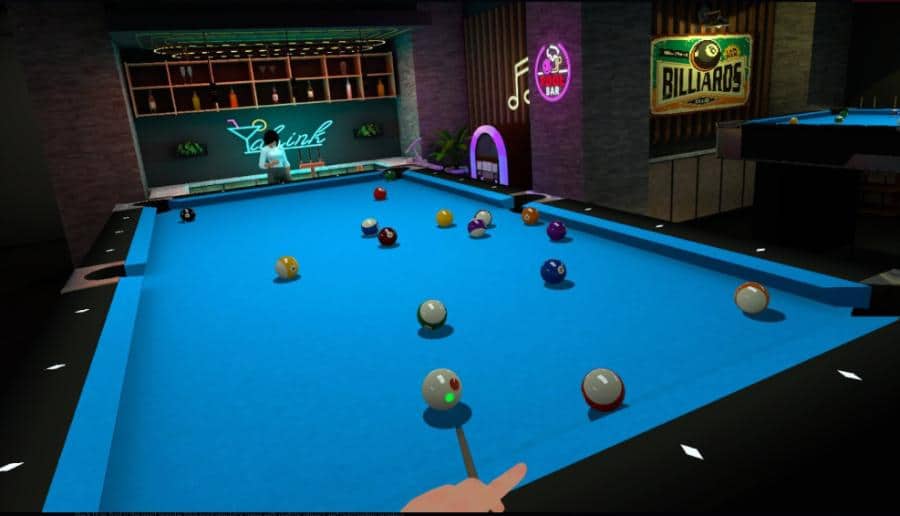 Black Hole Pool is an 8 and 9-ball pool simulator that combines terrific gameplay and physics in an excellent VR pool experience. It's available via the App Lab on the Oculus store and it allows you to play pool in practice mode, against AI opponents, and online against other players.
The controls take a little time to get comfortable with, but I found that after playing a few games, I could navigate easily to make the shots that I wanted. The control system feels great, with you positioning your cue behind the cue ball first, before locking its position with the left trigger and then using your right hand to perform a cue action just like you would in real life.
I've played quite a number of other pool simulators in VR, often incorporated into other games, but Black Hole Pool is way ahead of the competition with an experience that comes as close as possible to replicating the real-world experience.
Black Hole Pool has a freemium model, where you can play the practice modes for free, but you must pay to access the game modes that allow you to play against AI and real players. This is a reasonable system as it lets everyone try the game for free, and only pay for the parts that you want.
You can listen to music or watch Youtube videos while you play via the large TV screen on the wall, making this a very relaxing and enjoyable experience. The developers of Black Hole Pool are currently developing another VR Pool game called "The Rack" which will incorporate a more social experience as well as full locomotion. I'd definitely recommend giving this VR sports game a try if you have an Oculus headset.
12. All-In-One Sports VR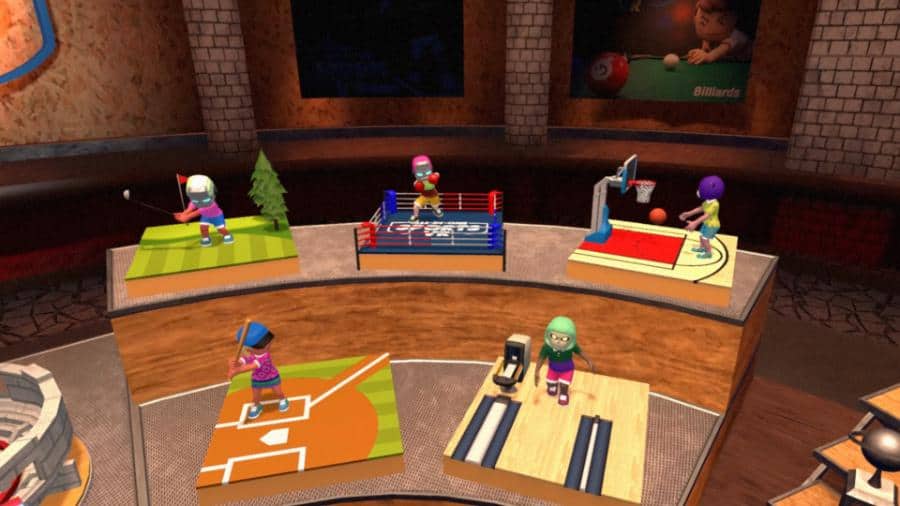 If you've just got a VR headset and you want to try out a lot of VR sports games in one package, All-In-One Sports VR is a great option. Catering to the casual user, this game is perfect for playing with families, and friends and for having lots of fun, rather than providing an accurate simulation of any of the sports included.
The sports included are Archery, Pool, Baseball, Basketball, Badminton, Bowling, Boxing, Darts, Golf, Ping Pong, and Tennis.
I love the user interface, which shows you miniature characters playing each of the sports, that you can lift up and move to the start area to start playing. You can play against AI opponents or multiplayer through integrated matchmaking.
I found each of the games to be fun to play, with solid control mechanics, but honestly, each of the individual sports is blown away by other VR sports games that focus on a single sport.
All-In-One Sports VR is available through the Oculus App-Lab and on Steam and is well worth picking up if you are looking for a casual and enjoyable VR sports experience that gives you plenty of options. If you really just want to play two or three of the sports included in this game, you may be better off buying games that focus on individual sports.
13. 2MD: VR Football
2MD: VR Football is a room-scale VR sports game that puts you in the position of a quarterback on the field where you have to complete a two-minute drill to come back from a deficit to win the game.
Whilst the graphics and textures of 2MD are rudimentary, this is more than made up for by the excellent gameplay, sound, and atmosphere. You can do passing plays, hand-offs, or even run with the football and you can design custom plays and select them easily on the field with the thumbstick on your controllers.
There is a training field here you can practice throwing at targets, and adjust settings including throw power and release height so that the game feels just right for you.
This game is filled with personality and attention to detail, and it's clear that the developers have given this game a lot of time and thought.
Each match starts with you playing an offensive play with two minutes left on the clock. The aim is to advance down the field and score a touchdown before the timer runs out. Once you win a round, you will progress on to a bonus round, followed by a new, more difficult two-minute drill. The aim is to keep going, against progressively more difficult opponents until you lose.
The throwing mechanics in 2MD work extremely well and are much better than many other games I have tried. I found that I was able to mix up pass types and throw accurate passes after some practice. This led to a really satisfying gameplay experience. I found the difficulty level appropriate and enjoyed the challenge it presented.
2MD: VR Football is one of the best VR sports games and is available on Steam, the Oculus store, and for PSVR and is normally priced at about $10, which I think is very reasonable.
14. Stride
Stride is a free-running Parkour game that will have you running and jumping around a series of interesting environments while taking part in several different game modes including Endless, Arena, and Time Run modes. It is available on the Oculus store and Steam.
Stride VR uses really satisfying motion controls that have you swinging your arms to run faster, lifting your arms to jump higher, and physically ducking to slide under obstacles.
Time Run mode has you trying to beat the clock as you navigate urban environments, running, jumping, sliding, and grabbing your way around the course to try and beat the target times, which award you 1, 2, or 3 stars depending on how fast you are. It can be so satisfying to chain together a number of jumps to navigate around the course and I really feel a rush of adrenaline when I manage to pull off some slick moves and beat the target time.
Arena mode pits you against a number of AI enemies while trying to complete objectives. There are tons of options and modifiers to mix things up in this mode, and it really provides a frenetic and enjoyable experience.
Endless Mode involves you moving as quickly as possible through an endless map filled with obstacles, enemies and traps that get harder and harder as you progress.
Stride VR offers a ton of value and gets terrific reviews on both Steam and the Oculus store. It's pretty intense and will definitely bring out your competitive spirit, whether you are trying to beat the clock in Time Run mode, or battling it out in Arena mode.
15. Totally Baseball
Totally Baseball is, without doubt, the best VR baseball game available. Unlike many other baseball games that provide a home run derby experience, where you can blast a shot out of the park with a flick of your wrist, Totally Baseball really requires you to swing for the pitches in a realistic manner.
You can experience almost every aspect of baseball in this fantastic VR sports game, including batting, pitching, and fielding. Whilst the fairly realistic batting is a joy to play, the fielding is also a blast. You can get double plays or catch a pop-up and get the runner who is tagging up. For pitching, you can either use a realistic pitching action or switch to a hand cannon that lets you aim your pitches without swinging your arms. Pitching takes a bit of time to get used to, but developing your skills and striking someone out is always hugely satisfying.
Totally Baseball has loads of options to allow you to adjust the difficulty and realism of the game and also plenty of options to adjust your locomotion and comfort settings. You can customize your character and play in single and multiplayer modes. The graphics are simplistic and cartoon-like, but this doesn't in any way detract from the enjoyment of the game.
Overall, Totally Baseball VR is a really immersive experience that makes you feel like you're actually playing a game of baseball, and is one of the best VR sports games I've played. It's available on the Oculus store and Steam for all major VR headsets. Pricing is usually around $10, and it's well worth the money.
16. The Climb 2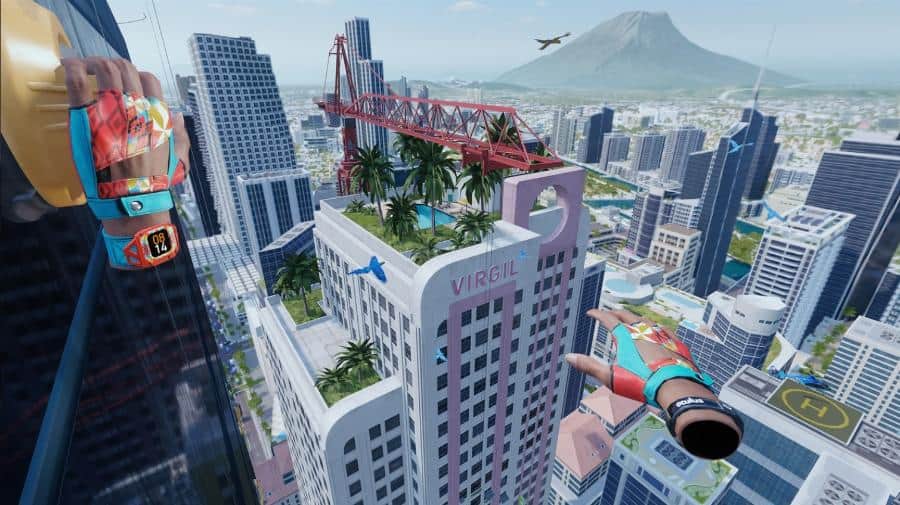 The Climb 2, made by venerated developer Crytek, is the much-anticipated sequel to The Climb which originally came out in 2016. This professional VR climbing simulator lets you climb and explore a variety of urban and natural environments, including the Alps, Bay, and Canyon environments from the original games that have been significantly remastered and improved.
You use your hands and arms to move naturally around the environment, gripping onto hand holds to stop you from falling. Each map has a variety of routes you can take, as well as a good variety of gameplay. You must use a variety of handholds, climb along ropes and up ladders, slide down zip lines, and move between moving handholds to successfully navigate each map.
This is such an immersive game due to the stunning graphics and realistic movement through the environments, and for someone who really hates heights, it definitely had my legs shaking and my head spinning. There is a really good grip stamina system where you must manage your grip strength to avoid fatigue, and you need to regularly chalk your hands to maintain grip strength.
As well as single-player, there is an asynchronous multiplayer mode where you can race against the ghost hands of other people to complete the courses as fast as possible. The Climb 2 is currently only available on the Oculus store, so PC VR headset users are excluded from this title for now.
17. iB Cricket
iB Cricket is a terrific VR cricket game that captures the atmosphere of a cricket match perfectly. You take on the role of a batter at the crease, trying to score as many runs as possible while protecting your wicket. As with all of the best VR sports games, the most important thing is how well the real-life experience is translated into VR, and iB Cricket does a great job in this regard.
The graphics are fairly average but don't detract from the overall experience, and standing at the crease in a large stadium hitting boundaries felt really impressive. It was really natural to use my VR controller to pull off shots, and I felt the timing and controller movement was excellent in replicating square drives, cuts and pulls with admirable consistency.
There are plenty of bowling options, including right arm, left arm, fast, medium pace, off-spin, leg-spin, etc keeping the game interesting and challenging. You can also choose from a number of different bats, pitches, and stadiums, and take part in a range of challenges.
iB Cricket is available on Steam and on the Oculus store and can be played in standalone mode on Quest 2, giving you a lot of freedom to move and enjoy this great VR sports game. The other option for playing cricket in VR is CricketClub. Whilst it is also a solid choice, the overall package of iB Cricket is better, and the developers continue to improve and develop it over time.
18. MarineVerse Cup
MarineVerse Cup is a really impressive VR sailing simulator that is terrific for anyone who wants to learn how to sail a real boat. Whilst the graphics are functional, rather than impressive, MarineVerse Cup makes up for this by being an incredibly good tool to teach you how sailing actually works.
MarineVerse Cup helps you learn how to sail a boat in dynamic weather scenarios where skill and decision-making is crucial to success. There are single-player modes, including lessons, mini-games, and racing, as well as good multiplayer options, including online races and leaderboards.
MarineVerse Cup is available on the Oculus store for Quest 2 and Quest, and also on Steam for other VR headsets.
19. Beat Saber
Whilst maybe not technically a sport, I have to include Beat Saber in this list of the best VR sports games because it has all of the best aspects of a virtual reality sports game in a well-polished package that can provide countless hours of fun.
If you've got a VR headset, it's highly likely that you're heard about Beat Saber. It's a VR rhythm game where you use a lightsaber in each hand to cut through blocks that fly towards you in time to music. It requires a lot of practice, skill, great timing, and lots of energy to become a Beat Saber expert, but you will be having fun every step of the way.
There are a good number of songs to choose from, multiple difficulty levels, and loads of modifiers to change how the game plays, depending on your preferences. You can also mod the game fairly easily to allow you to use any song you like in the game, rather than being limited to the in-game soundtrack.
If you're looking for a VR sports game to provide challenge, competition, and exercise, Beat Saber is one of the best options you can go for. It's available on the Oculus store, Steam, and also for PSVR.
20. Rec Room
The beauty of Rec Room is that it is a social VR experience that has thousands of user-designed rooms that let you take part in a wide variety of games and activities. Rec Room lets you play versions of a wide variety of sports, including basketball, bowling, football, tennis, boxing, pool, frisbee, mini-golf, soccer, darts, and loads more. There are tons of niche sports represented, as well as loads of sporting activities and games.
Whilst most of the sports in Rec Room are a long way off simulations of their real-world counterparts, many of them are tons of fun, and some of the rooms have large player bases and plenty of opportunity for fun and competition.
Rec Room is free and available for all major VR headsets. The graphics are cartoon-like and stylized, which may not be to everyone's taste, but I think they work well.
21. Echo VR
Echo VR is a free-to-play competitive multiplayer game that takes place in zero gravity and uses innovative control mechanics to let you fly around futuristic environments and play a fast-paced game that is a cross between ultimate frisbee and capture the flag.
This Oculus-exclusive game can be played on Quest 2 or Rift headsets and is a total blast to play. There is an excellent tutorial that will get you up to speed with the controls, which are unlike anything I have used in previous games, and very quickly felt natural and fun to use.
Considering this game runs smoothly on Quest 2, the graphics are fantastic, really adding to the immersion level. Your enjoyment of this futuristic VR sports game will be determined by the quality of your teammates and opponents, and this does vary widely in multiplayer mode. The player base is huge, so you'll not be waiting long for a multiplayer match with high-intensity 4v4 multiplayer competition in zero gravity.
Not only is this one of the most enjoyable VR sports games I've played, but it's also one of the most popular, so you've no excuse not to dive in and give it a go.
VR Lowdown is a participant in the Amazon Services LLC Associates Program, an affiliate advertising program designed to provide a means for sites to earn advertising fees by advertising and linking to Amazon.com. We also participate in other affiliate programs which compensate us for referring traffic.