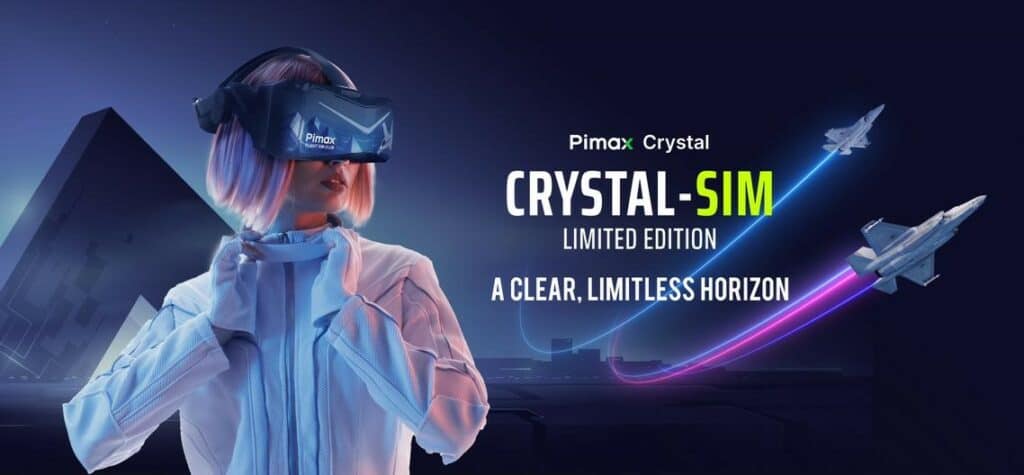 As a VR flight simulation enthusiast, I've been hugely impressed by the visual clarity of the Pimax Crystal and the benefits that this brings to my VR flight sim experience. Although it's one of the best VR headsets for flight simulation you can buy today, it doesn't come cheap, with a price tag of $1600 dollars, which will deter a lot of interested users from choosing this headset.
In recognition of this, Pimax has announced the Crystal-Sim Limited Edition of Pimax Crystal which reduces the cost of the headset and provides some customization for the needs of flight sim and racing sim enthusiasts.
Most people who use VR headsets to play VR flight and racing simulators rarely use the controllers, making them largely unnecessary. The Crystal-Sim Limited Edition of the Pimax Crystal ditches the controllers, whilst still retaining all other functionality, bringing the price down to as low as $1449.
In addition to the reduced price, they are also adding a number of limited edition faceplates to customize the look of the headset for this core group of users. I think these look pretty awesome, and I'm sure they will appeal to a lot of enthusiasts.
Having tested and reviewed the Pimax Crystal extensively, I've been really impressed with the visual clarity, and I've actually just rated it the best VR headset to use with Microsoft Flight Simulator.
The Pimax Crystal isn't perfect by any means, but one of the significant negatives was the high price tag, so the announcement of the Pimax Crystal-Sim Limited Edition, with its keener pricing, is welcome news.
In light of the recent price reduction of the Varjo Aero, which is the headset that I feel comes closest to the level of visual clarity of the Pimax Crystal, it is great that they are offering this variant for a lower price. It's still more expensive than the likes of the HP Reverb G2, which is also an excellent choice for VR flight simulation enthusiasts, but it's great that the Crystal-Sim Limited Edition makes this terrific headset a little more accessible to users.
If you'd like to learn more about the Pimax Crystal, you can read my detailed review, which covers all aspects of the headset. You can also learn more about the Pimax Crystal-Sim Limited Edition headset at the Pimax website.
Specifications Of The Pimax Crystal-Sim Limited Edition
In case you aren't familiar with the specifications, here are all the stats you need to know about the Pimax Crystal-Sim Limited Edition.
| Feature / Specification | Pimax Crystal-Sim Limited Edition |
| --- | --- |
| Display Type | Dual QLED + Mini-LED |
| Resolution (per eye) | 2880 x 2880 |
| Total Resolution | 5760 x 2880 |
| Pixels Per Degree (approx) (PPD) | 35 |
| Lenses | Aspheric glass lenses |
| Refresh Rate (Hz) | 90/120 |
| Field of View (FOV) (Horizontal) | 125° |
| IPD Range (mm) | 58-72 (Manual and Automatic) |
| Audio | Off-ear stereo speakers (Optional DMAS) |
| Microphones | Integrated triple |
| Tracking Type | Inside-out (Optional SteamVR Tracking) |
| Eye Tracking | Yes |
| Battery | 6000mAh Replaceable + 120mAh inside |
| Weight (g) | 960g including battery |
| Price | $1449 |
Does Pimax Crystal-Sim Edition Work Without Controllers?
One of the things that I wondered when I heard this announcement was whether it would be possible to play all the VR flight simulators I enjoy without needing to use VR controllers at all. In response to this news, I've spent the last few days extensively testing all of my favorite VR flight simulators to see if they will work without issue with the Pimax Crystal-Sim Limited Edition headset.
Microsoft Flight Simulator
I had no issues at all playing Microsoft Flight Simulator without VR controllers. Simply launch the Pimax Play software, switch on the Pimax Crystal, load Steam, and launch Microsoft Flight Simulator via the desktop. Once in the game, choose your flight and load into your aircraft using your computer monitor, mouse, and keyboard. Once your flight has loaded, simply press Ctrl-Tab to switch to VR and put your headset on.
Once you are sitting in a comfortable position, press space to recenter your view, and start flying.
DCS World
DCS World is arguably even easier to use without VR controllers. All I do is load the Pimax Play software, turn on my Pimax Crystal, and then load DCS World. You can immediately put your headset on and once the menu loads, you can use your mouse to choose what aircraft and scenario to play.
DCS World normally sets the default central position for your headset whenever the game loads, and again whenever you load into whatever scenario you are flying. You may need to recenter your view in DCS in VR, and this can be done by pressing L-Win+C (left Windows button and C). Just get into the position that you want to sit in and then press this keyboard shortcut to reset your view.
The only drawback to this is that the Pimax Crystal does not have passthrough, so you won't be able to see your keyboard without lifting your headset a little. Whilst this isn't a big issue, you can remap the "recenter VR headset" key binding to a button on your HOTAS that you can easily feel while wearing your VR headset.
X-Plane 12
X-Plane 12 works well with the Pimax Crystal without the need for VR controllers, although you will need to either bind some controls to your HOTAS or use the mouse to click buttons within the cockpit.
Start the Pimax Play software, then turn on your Pimax Crystal. Now launch SteamVR and launch X-Plane 12. Go to Settings > VR Hardware. As long as your headset is attached, there will be a check box at the bottom to "Enable VR hardware."
Once you enable VR, you should find yourself in a virtual hangar in X-Plane. From here you can navigate the menus with your mouse and launch into any aspect of the game that you like.
If you need to recenter your view, there is an option in the controls menu under "VR – camera reset" that you can bind to a key of your choice or a button on your joystick. The only caveat to this is that you need to ensure you disable home cockpit mode to ensure that this works properly.
War Thunder
War Thunder works seamlessly without VR controllers as you can navigate the entire UI using your mouse until you load into the cockpit of your plane. Start the Pimax Play software, launch SteamVR, and then load War Thunder within Steam. When you click "Play" in Steam, you will be presented with a menu where you can decide which mode of the game to play. Select "Launch War Thunder in Steam VR mode" and the game will load directly in your VR headset.
If you find that you need to recenter the view in VR in War Thunder, you can press Numpad comma (between 0 and Enter) to easily recenter the view.
You can now use your mouse to select your game mode and load into the cockpit of your plane and start playing. It may be helpful to bind some of the commonly used controls to your joystick so you aren't fumbling over the keyboard trying to find the right button for things. Otherwise, you should have a seamless experience.
VR Lowdown is a participant in the Amazon Services LLC Associates Program, an affiliate advertising program designed to provide a means for sites to earn advertising fees by advertising and linking to Amazon.com. We also participate in other affiliate programs which compensate us for referring traffic.