The Pimax Crystal is the latest virtual reality headset from Pimax and I've spent approximately 40 hours testing it, trying all the features across a range of applications, and comparing it to a range of other popular VR headsets. In this Pimax Crystal review, I'll provide a comprehensive look at this headset, sharing all the information you'll need to know to decide if this is the right headset for you. Does the Pimax Crystal live up to the hype? Read on for my full review.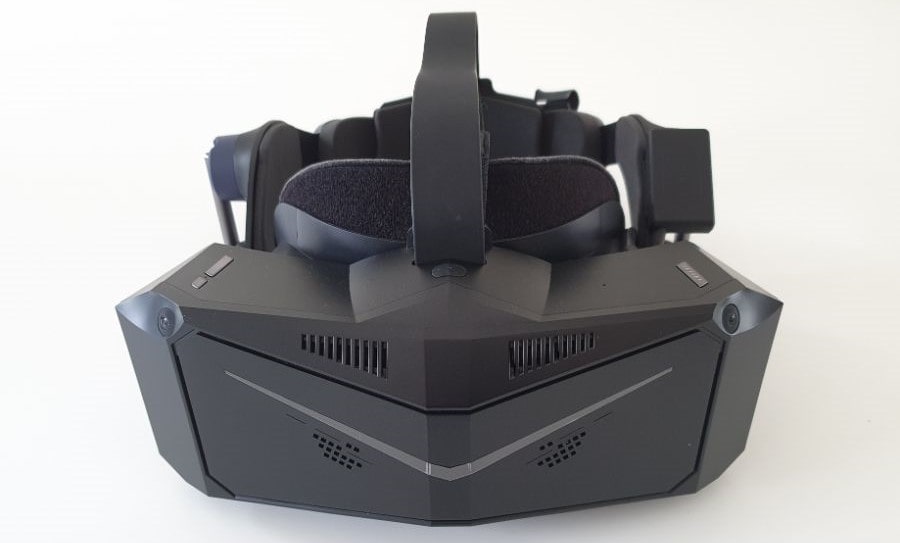 Bottom Line
The Pimax Crystal is a very impressive VR headset with technical specifications that exceed most competing headsets. It launched with a number of technical issues but most of these have been resolved at the time of writing. Pimax Crystal is a terrific VR headset for racing and flight simulator enthusiasts and those who demand the best visual quality in a headset, but it comes at a premium price.
The setup was simple and I encountered minimal technical issues while using it. Some features such as standalone mode are still in the early stages of development, some features are yet to be fully implemented, and the software and hardware still have a few bugs to be iron out.
If you must have the best visual clarity for your VR headset, and you are prepared to pay a premium price and cope with a few rough edges, the Pimax Crystal is a fantastic VR headset. If you're more of a casual VR user or are looking for a headset for room-scale or standalone experiences, Pimax Crystal is unlikely to be a good option.
You can purchase the Pimax Crystal from the Pimax website or from Amazon.
| | |
| --- | --- |
| Pros of Pimax Crystal | Cons of Pimax Crystal |
| Exceptional visual clarity | Heavy and bulky |
| Wonderful display panels | Not particularly comfortable for prolonged use |
| Automatic IPD adjustment | Controller tracking is in need of improvement |
| Easy setup | Standalone mode is very basic right now |
| DMAS speakers are impressive | Hardware and software is not as polished as it should be |
Specifications
The first thing that struck me when I heard about the Pimax Crystal was the highly impressive list of features and specifications. With some of the highest resolution panels on a consumer VR headset, impressive display technology, an enviable 35 pixels per degree of peak clarity, automatic IPD adjustment, a reasonable FOV, and the ability to function as both a wired PCVR headset and a standalone headset, I was certainly very interested in this headset from day one.
Tempering my expectations was the fact that Pimax has developed an unfortunate reputation for promising a lot, but struggling to deliver exactly what they originally planned, on the timescale they intended.
Once again, the early reviews of the Pimax Crystal have been quite mixed, with some praising the impressive technical achievement, and others bemoaning the fact that some features are not fully ready or working as smoothly as originally intended.
I'm reviewing the Pimax Crystal at the start of September 2023, and it has been rolling out to users for a few months now. I'm pleased to say that many of the early issues with hardware and software have been resolved, but there is still room for improvement.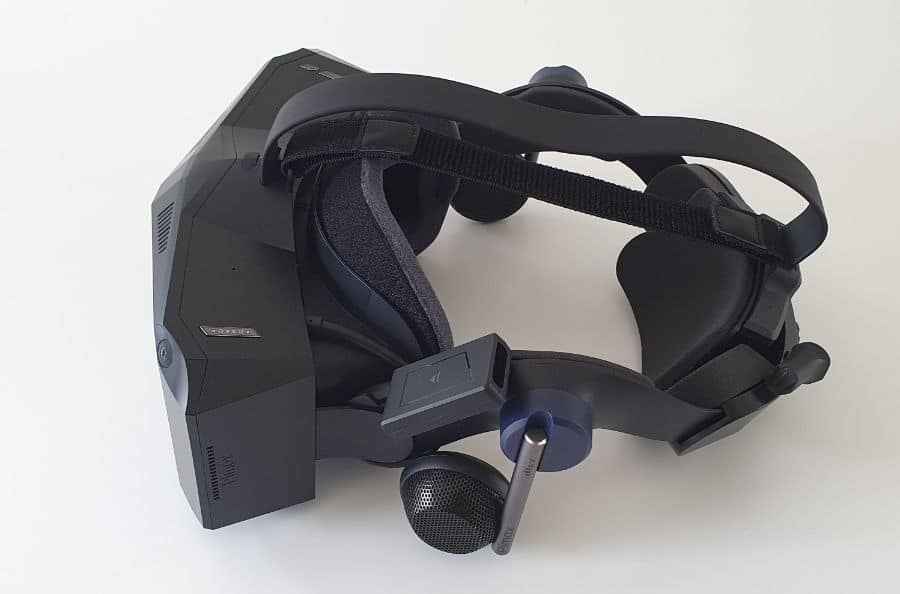 Pimax Crystal Specifications Comparison
| Feature / Specification | Pimax Crystal | HTC Vive Pro 2 | HP Reverb G2 | Valve Index |
| --- | --- | --- | --- | --- |
| Display Type | Dual QLED + Mini-LED | Dual RGB low persistence LCD | Dual LCD | Dual LCD |
| Resolution (per eye) | 2880 x 2880 | 2448 x 2448 | 2160 x 2160 | 1440 x 1600 |
| Total Resolution | 5760 x 2880 | 4896 x 2448 | 4320 x 2160 | 2880 x 1600 |
| Pixels Per Degree (approx) (PPD) | 35 | 20.4 | 19 | 11 |
| Lenses | Aspheric glass lenses | Dual-element Fresnel lenses | Fresnel lenses | Dual-element Fresnel lenses |
| Refresh Rate (Hz) | 90/120 | 90/120 | 90 | Up to 144 |
| Field of View (FOV) (Horizontal) | 125° | 120° | 98° | 109° |
| IPD Range (mm) | 58-72 (Manual and Automatic) | 57-72 (Manual) | 64 +/- 4 (Manual) | 58-70 (Manual) |
| Audio | Off-ear stereo speakers (Optional DMAS) | Off-ear stereo speakers | Off-ear stereo speakers | Off-ear stereo speakers |
| Microphones | Integrated triple | Integrated dual | Integrated dual | Integrated dual |
| Tracking Type | Inside-out and SteamVR Tracking | SteamVR Tracking | Inside-out | SteamVR Tracking |
| Eye Tracking | Yes | No | No | No |
| Battery | 6000mAh Replaceable + 120mAh inside | N/A | N/A | N/A |
| Weight (g) | 960g including battery | 850g | 550g | 809g |
| Price | $1600 | $1399 (including external tracking stations and controllers) | $599 | $999 (including external tracking stations and controllers) |
First Impressions
Pimax Crystal arrived in a suitably premium-looking box and the headset and accessories were presented nicely. The headset looks and feels like a premium product, with materials and build quality that feels appropriate for the premium price tag.
The controllers look like clones of the Quest 2 touch controllers, although feel much lighter and I was surprised that they come with the integrated battery installed, as they really do feel much lighter than other VR controllers. The thumbstick and buttons feel solid, although the triggers feel a little more flimsy than some other VR controllers. Overall though, I was very pleased with my first impressions of the controllers.
All the accessories come presented in black bags and cardboard boxes, and the packaging and presentation were very much in keeping with what you would expect from any other piece of premium technology.
Here is what came in the box:
Pimax Crystal headset
2 controllers
One DisplayPort cable
One battery charging dock
Two external batteries
Two USB Type-C cables for charging the controllers
Power and connection hub kit (external USB connection hub, power cable, and USB cable)
Screwdriver and screws
Lens cleaning cloth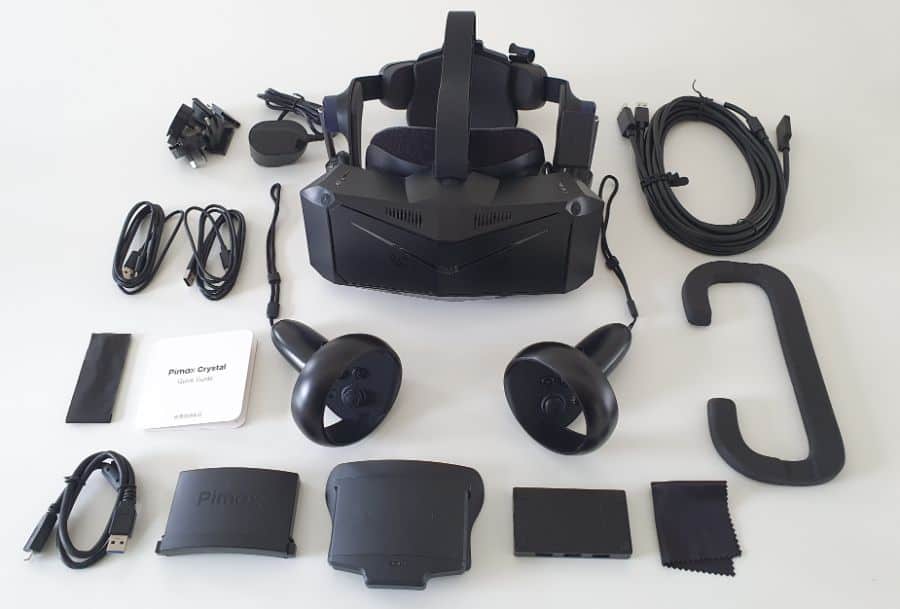 Setup
Setting up the Pimax Crystal was a lot easier than I expected. I had relatively low expectations and thought I would encounter at least some technical issues, but thankfully, everything went smoothly, and the setup guide was very simple to follow. The entire setup process from unboxing to using the Pimax Crystal took less than 5 minutes.
The setup steps are as follows;
Make sure the controllers and the external batteries are fully charged.
Download the Pimax Play software to your computer and install it.
Connect your Pimax Crystal to your computer;

Plug one end of the power cable into the USB connection hub and the other end into a power socket.
Connect one end of the Micro-B USB cable to the USB connection hub and the other end into a USB 3 slot on your computer.
Connect one end of the DisplayPort cable into the connector on your Pimax Crystal. The other end of the cable splits into two USB connectors, which you should connect to the USB connection hub, and a DisplayPort connector that should be connected to a DisplayPort connection at the back of your graphics card on your computer.

Make sure your computer is turned on and the Pimax Play software is running.
Move the switch on the Pimax Crystal to PC mode.
Long press the power button. The headset will turn on in a few seconds.
The Pimax Play software should automatically detect the headset and controllers.
You are then guided through a quick room setup process where you identify the center of your room and set the floor height.
Once this is done, you just click the "Start Steam VR button" to launch Steam VR. You can then put your headset on and start using it.
I was delighted that the setup process went without a hitch and I was testing out games using the headsets just a few minutes after starting the setup process. I have had almost no technical issues with using the headset and controllers in all of my time using it.
Pimax Crystal has been rolling out to users slowly over the last few months and I have heard reports that there have been a number of software and hardware issues for some users. I believe that most of these issues have been fixed, and I haven't encountered any significant issues with the setup and use of the headset or software as yet.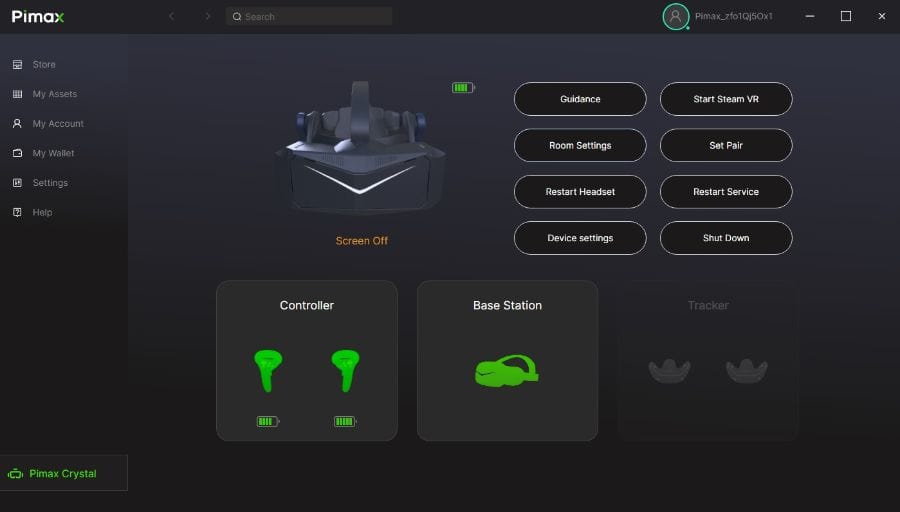 Visuals
I can say with some confidence that the Pimax Crystal has the best visual clarity I have ever experienced in a consumer VR headset. The QLED display panels combined with the glass aspheric lenses of the Pimax Crystal producing 35 pixels per degree (PPD) peak fidelity are a terrific combination. The colors are vibrant, the blacks are deep, and the visual clarity is fantastic. The lenses are impressive, with minimal distortion or chromatic aberration, and the field of view, while not enormous, is a little bigger than most other competing headsets.
In terms of pure visual clarity, the Pimax Crystal is considerably better than the HP Reverb G2, and HTC Vive Pro 2, and even slightly better than the Varjo Aero. Reading cockpit instruments in DCS World and Microsoft Flight Simulator is much easier than any other headset I have tried, making the Pimax Crystal a joy to use.
With that said, the visual clarity is still some distance off retinal clarity, and you will still see pixelation and reduced clarity of small text and other features at long distances. There is no VR headset currently in production that can match the visual clarity of the human eye, so it is important to temper your expectations.
I believe this is the first VR headset I have tried that uses glass lenses, and this makes a big difference to the visual clarity and should be something that other VR headset manufacturers move to where design constraints allow. The superior optical properties of the glass lenses in the Pimax Crystal compared to the plastic lenses of most other headsets is definitely welcome.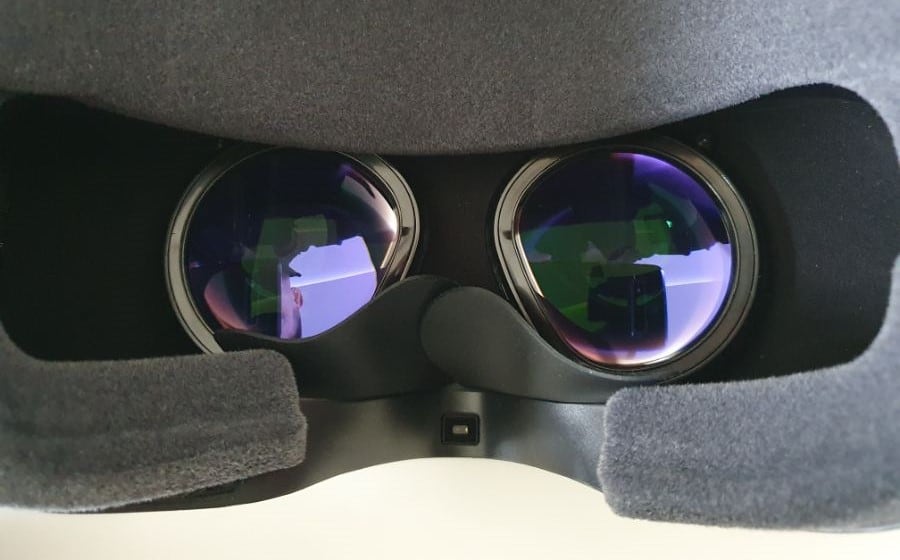 Pimax Crystal FOV
In contrast to previous Pimax headsets, the Pimax Crystal has a more modest horizontal FOV of 125°. On paper, this is bigger than many of its competitors, but it really only feels marginally bigger than most of the competing headsets. The FOV is more than adequate, and certainly noticeably bigger than the HP Reverb G2 and Pico 4, but didn't make a huge difference to the overall experience.
I actually think Pimax has made the right decision with its design decision here, as I would always prioritize visual clarity, PPD, and panel quality in the central area of my vision ahead of extending an otherwise adequate FOV.
Pimax Crystal Video Review
I've also recorded a video review of the Pimax Crystal sharing my thoughts after about 40 hours of testing. I cover all of the main features, compare it to competing headsets, and share some through the lens footage.
Comfort
The Pimax Crystal is not the most comfortable headset I've ever used, but it does a reasonable job, and I was able to use the headset for many hours at a time without feeling excessive discomfort. The facial interface is made of foam padding and does a reasonable job of cushioning your face and ensuring light leakage is kept to a minimum.
There is a band-type strap that goes around your head and this is tightened with a ratchet wheel at the back of the headset. This does a good job of ensuring the headset is firmly positioned against your face. There is also an adjustable, elasticated top strap, which is only partially effective at helping to support the weight of the headset and improve comfort. A non-elasticated, adjustable top strap seems like it would have been a much better idea.
The Pimax Crystal is quite bulky and front-heavy, even with the battery mounted at the back, and this does create some issues with the comfort and fit of the headset. You will need to keep the head strap fairly tight to prevent the headset from moving out of position on your face. If the strap is left too loose, the headset will exert pressure on your cheeks and nose and will wobble around when you move your head. I typically found that I had to keep the head strap tightened more than would be ideal for comfort.
Positioning the Pimax Crystal firmly and correctly isn't just important for comfort. Due to the aspheric lenses, you will see considerable visual distortion if the headset moves significantly during use, so it is essential to fit it correctly every time you put the headset on. This is quite a contrast to using the likes of the HP Reverb G2 and Pico 4 but is largely due to the choice of lens technology.
One minor annoyance is that there is no way to easily remove and replace the headset without loosening the ratchet wheel at the back of the headset. This means that you have to go through the process of positioning and tightening the headset every time you put it on.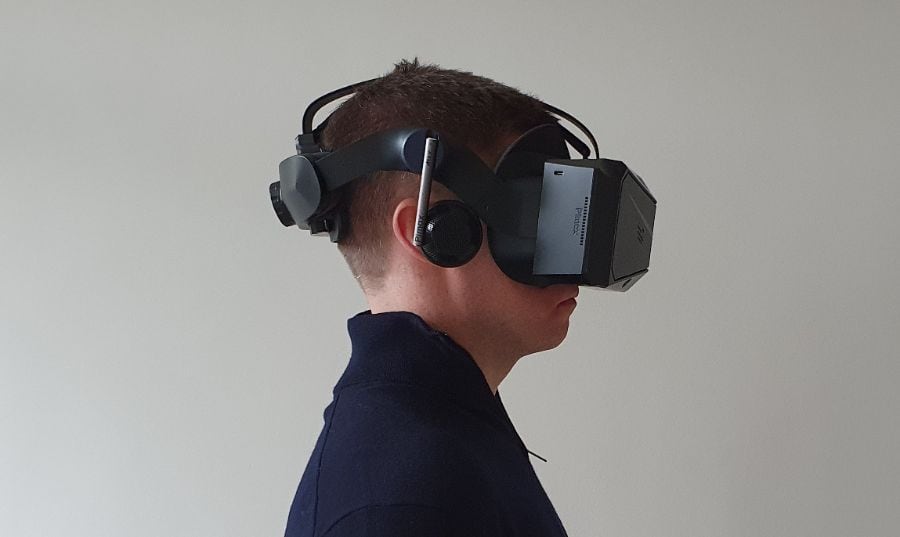 Sound
The Pimax Crystal comes with off-ear headphones, but there is an optional upgrade to off-ear DMAS headphones, which are the ones that came with my Pimax Crystal. The sound quality from the DMAS headphones is excellent, and very much on par with the excellent sound quality from the off-ear Valve Index and HP Reverb G2 speakers.
I love the design of off-ear speakers that are increasingly popular on VR headsets as they enable you to retain some awareness of the outside world, while still enjoying excellent audio. I'm no audiophile, but I have had no complaints with the audio from the Pimax Crystal.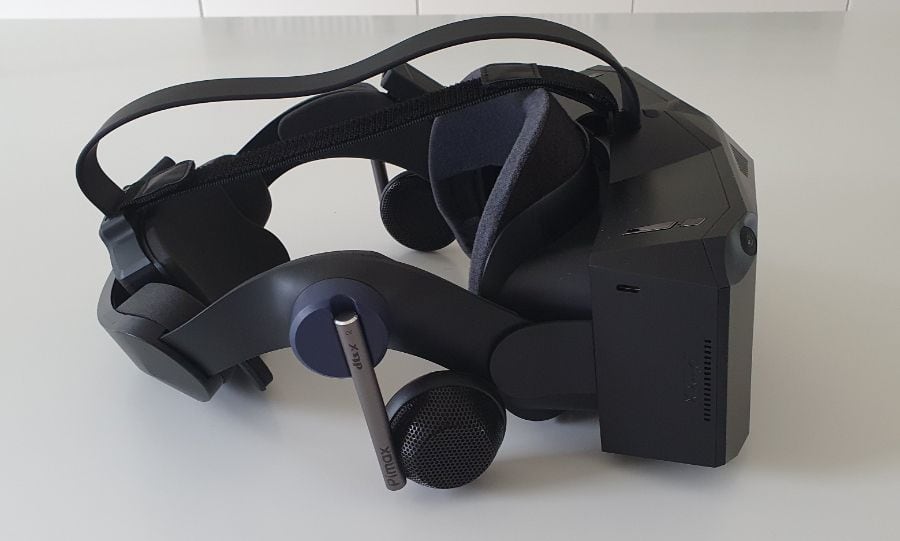 Controllers
The controllers that come with the Pimax Crystal are pretty decent, being very similar in design to the Touch controllers that come with the Quest 2. Build and material quality is reasonable, but isn't up to the same standard as a lot of other VR headset controllers.
They feel good to hold and function very well. The thumbstick and trigger buttons feel a little cheap to use, but function perfectly well.
I tested the controllers with inside-out tracking and I have not tested the Lighthouse tracking faceplate. I found the tracking to be excellent whenever the controllers were in front of me. I was able to play fast-paced games like Beat Saber, Eleven Table Tennis, Thrill Of The Fight, etc. without any issues whatsoever.
However, the controller tracking when your hands move above your head or behind your back is actually really poor. Games like Premium Bowling, which require you to start your bowling swing with your hand behind you were almost unplayable. I would start my swing, move my hand forward, release the trigger to send the ball down the alley, and quickly realize that nothing had happened.
If I moved my hand from behind me and then held it still in front of me, the tracking would fail completely, leaving my arm and hand invisible in VR. If I wiggled the controller about a bit, tracking would be restored, but it made it impossible to play this game and similar ones in a way that I have done countless times without issue using the HP Reverb G2, Pico 4, and Quest 2, all of which use inside-out tracking.
I know this is an issue that Pimax is acutely aware of, but I do not know if it is a software or hardware issue with the controllers, so I don't know whether this will be resolved with time. As a result, the Pimax Crystal isn't going to be a good option for people wanting to play high-tempo room-scale VR games where you need to swing your controllers out of direct sight of the tracking cameras.
This isn't as much of a negative as it first seems, as I think most people who will be considering buying the Pimax Crystal will be flight and racing simulator enthusiasts, who will have little need for the controllers beyond menu navigation.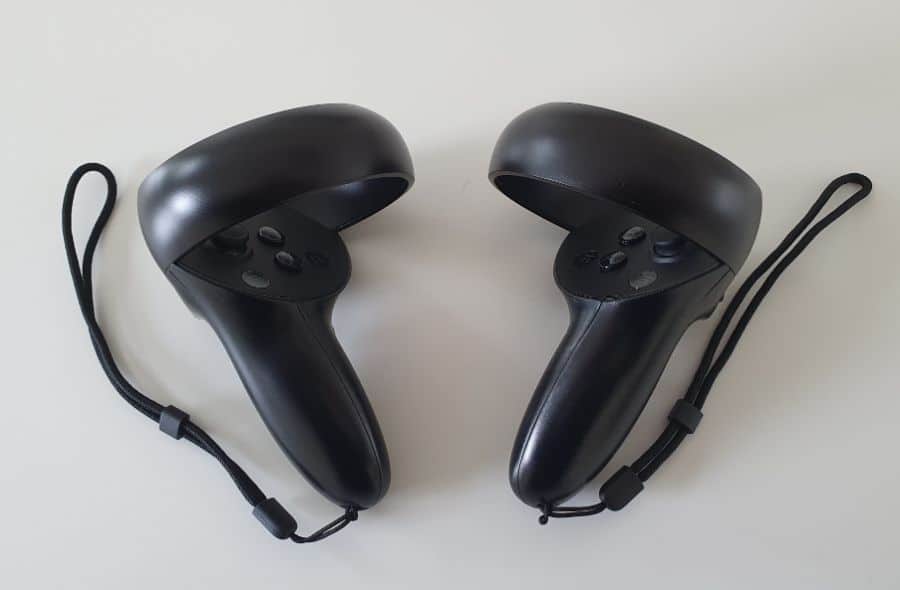 Battery
One interesting design decision is the need for an external battery to power the Pimax Crystal, even when running in PCVR mode. The Pimax Crystal comes with two external 6000mAh replaceable batteries, along with a charger, so you can charge one battery while using the other. The headset has a 120mAh internal battery so that you can hot-swap the batteries when required without having to turn the headset off.
Whilst some people have criticized this move, it enables the headset to be used as both a PCVR tethered headset and a standalone headset. With the use of the powered USB hub, I am getting at least 5 hours of use of the Pimax crystal before I need to change the battery, and keeping one charging while using the other means I always have a fully charged battery ready to go.
The only issue I have experienced is the physical difficulty in removing and replacing the battery from the Pimax Crystal. There are two plastic buttons that must be pressed to release the battery and insert a new one, and it takes a lot of force to do this, making it quite an effort to replace the battery each time. Surely Pimax could come up with a better battery release mechanism.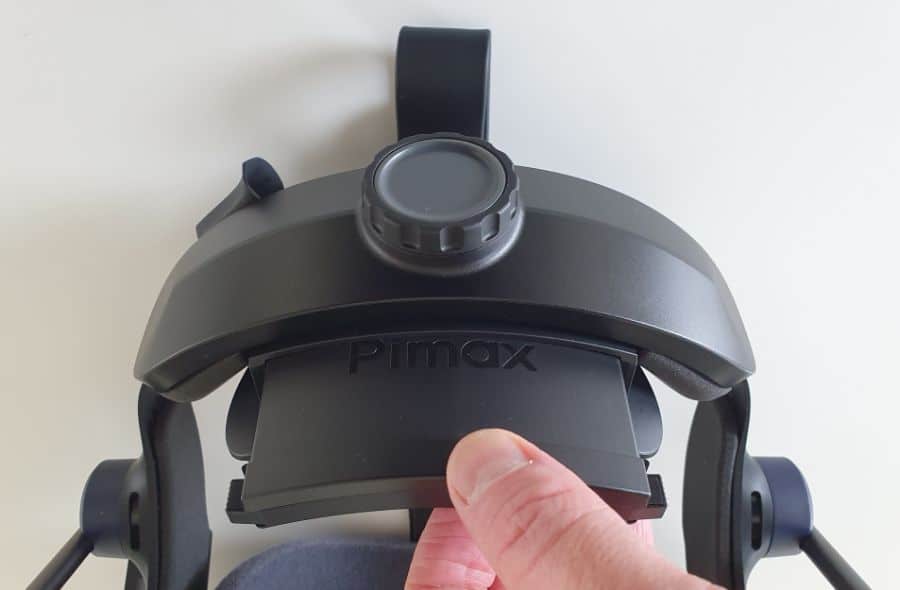 Standalone Mode
I was interested to try the newly launched standalone mode on Pimax Crystal, and I am pleased to say that it is working well. It's very early days, and the menu and content available are sparse, to say the least, but it does work really well, and I was able to play Open Brush in standalone mode with no issues whatsoever.
The amount of content available right now is very limited, and it feels very much like a beta launch. The standalone UI and menus feel very similar to Quest 2 and Pico 4, and it looks very much like Pimax will continue to build this out in a very similar way to their competitors.
Despite the promise, I need to be clear that you should not purchase Pimax Crystal with the intention of using standalone mode as it isn't ready for prime time yet. I like to think of it as a preview of what may be coming in the near future, but Pimax has a lot of work to do if they want to compete with other standalone headsets.
The main issue I have with standalone mode is not that it is in the early stages of development, but why Pimax felt the need to include it at all on the Pimax Crystal. With Pimax Crystal being a large and relatively heavy headset, it isn't a great choice for use as a standalone headset for room-scale VR. Other headsets do a much better job and aren't constrained by the design decisions required to produce a high-end PCVR headset with market-leading visual clarity.
I can see what Pimax may be thinking, but I fear that if they try to please every user, they will end up disappointing everyone. Of course, I would love to have a compact headset with exceptional visual clarity, a high FOV, with the ability to function as both a PCVR headset and in standalone mode.
However, it may be better to have one headset that is tailored to high-end PCVR users and another that can compete with Meta headsets and Pico 4, with the ability to function in standalone mode and as a PCVR headset with wired or wireless connectivity.
Ease Of Use
Pimax has a history of producing enthusiast-focused headsets that generally require some effort to set up and troubleshoot. Thankfully, I think they have learned from prior experience and I can genuinely say that the Pimax Crystal was as easy for me to setup as most other PCVR headsets I have tried.
I have been pretty impressed with the Pimax Play software, which is fairly simple and intuitive to use while providing a reasonable amount of functionality. The process for using the headset each time is quite simple. I just turn on my computer, load the Pimax Play software, turn the headset on, and start Steam VR.
I've played a range of games while testing Pimax Crystal, including Microsoft Flight Simulator, DCS World, Assetto Corsa, Elite Dangerous, No Man's Sky, Euro Truck Simulator, and a wide range of other VR experiences. The only issue I have encountered is that when I first started using the Pimax Crystal, I noticed that performance was very poor, but I quickly realized that the rendered resolution within SteamVR was set excessively high, which was pushing my graphics card beyond its capabilities.
Thankfully, I had already heard about other people who had encountered this issue, so I was easily able to change the rendered resolution and it has remained at the correct setting ever since. It would be well worth Pimax highlighting the importance of this setting in their headset documentation.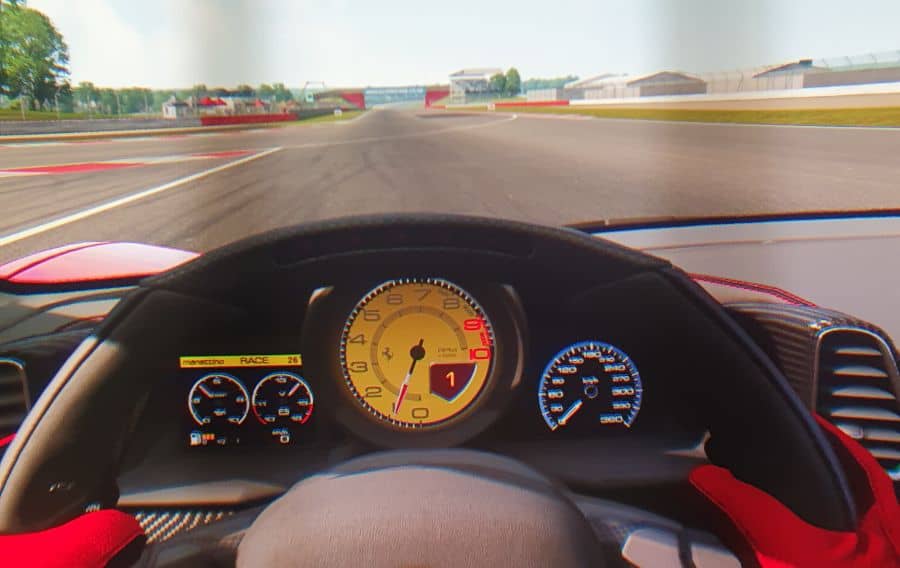 Video Passthrough
Some early reviews of the Pimax Crystal discussed the lack of video passthrough as a negative of the headset, and I would echo these thoughts. However, having used the standalone mode, I know that the headset has the ability to use the passthrough cameras, as this functionality is used in the room setup process for standalone mode.
I would love to see Pimax enable passthrough mode in PCVR mode as this is an incredibly useful feature, regardless of the quality of the video passthrough. Pimax Crystal is not a headset that you can put on and remove easily, as you need to loosen and tighten the headstrap and position the headset carefully each time.
Having the ability to activate the passthrough cameras to see something in the real world would be so helpful, and I really hope this is implemented very soon.
Pimax Crystal For Glasses Wearers
The Pimax Crystal is not suitable to be worn with glasses for most users, as the gap between your eyes and the lenses is too small to accommodate them. When I tested this with my own glasses, they would touch the lenses as I positioned the headset on my face. The risk of scratching either the headset lenses or your glasses lenses would be very high for most people.
Thankfully, there are already a number of companies, including VR-Rock, that are making and supplying custom lens inserts for the Pimax Crystal, so if you are a glasses wearer, and need them for VR, you should definitely get a set.
Who Should Buy Pimax Crystal?
If you are a PCVR user who wants a VR headset with unparalleled visual clarity and exceptional displays, the Pimax Crystal is a terrific headset to buy. It is currently one of the best VR headsets for flight and racing simulation enthusiasts. It competes toe to toe with the Varjo Aero and comes out on top in many areas. It beats most other competitors such as the HP Reverb G2 and HTC Vive Pro 2 with ease.
If you want exceptional visual clarity and you mainly use VR for seated or standing games and applications but don't want the hassle of dealing with an external tracking setup, Pimax Crystal is a great option
With that said, the hardware and software are not as refined as some competitors, and there have been some early hardware and software issues that Pimax has been working hard to resolve. It also isn't a very comfortable headset, particularly in comparison to the HP Reverb G2.
It's also expensive, being pricier than most other competitors, with the exception of the Varjo Aero. For the right user, I believe the price premium is worth it, and is one of the best headsets Pimax has ever made, with the fewest issues in the immediate post-launch period.
If you are someone who enjoys some VR flight or driving simulation but also spends plenty of time playing room-scale VR games and experiences, Pimax Crystal is not the right headset for you. If you are looking for a headset with the versatility to be able to play PCVR and standalone content, the Pimax Crystal is not a good option, and you should consider alternatives.
What Needs To Be Improved
With the Pimax Crystal, Pimax has almost snatched defeat from the jaws of victory by releasing it to users before the early hardware and software issues had been resolved. Multiple early reviewers had a much more negative experience than I have had due to issues with setup, USB connectivity, software bugs, and features such as standalone mode and eye tracking not being fully implemented yet.
Considering the problems that Pimax has had in the past with delivering on their promises, they really need to work twice as hard to ensure that future hardware and software are perfected and fully tested before release.
Pimax Crystal is intentionally front-heavy due to some of the design decisions taken with the headset. Whilst this isn't unreasonable, I think they need to do more to improve the comfort of the headset and functionality of the head strap if this is the approach they plan to take with future headsets. Alternatively, working towards developing a headset with a more balanced weight distribution would be very welcome.
I don't think that a bulky, heavy headset will ever appeal to mainstream VR users, so Pimax's approach of trying to do everything with one headset is unlikely to be successful. As evidenced by the approach that Meta and Pico have taken, general VR consumers want a small, lightweight, comfortable headset, and they are prepared to compromise on visual quality to obtain this.
The PC VR simulation community, on the other hand, wants exceptional visual clarity and a wide FOV, and are prepared to compromise on weight, comfort, price, and ease of use.
As a VR enthusiast who loves all aspects of VR, but spends a lot of time using flight simulators, I love the Pimax Crystal and have hugely enjoyed using it. The visual clarity and immersion are unprecedented, and the pros of the Pimax Crystal far outweigh the negatives for me.
VR Lowdown is a participant in the Amazon Services LLC Associates Program, an affiliate advertising program designed to provide a means for sites to earn advertising fees by advertising and linking to Amazon.com. We also participate in other affiliate programs which compensate us for referring traffic.