Flight simulators are ideally suited to VR, providing wonderfully immersive experiences that make you feel like you are actually sitting in the cockpit of a real aircraft. As soon as I started using VR to experience flight simulators, I knew there was no going back. Having the freedom to look around your aircraft, feeling immersed and present in the experience, and having better spacial awareness makes flying easier and much more enjoyable.
I'm a huge fan of VR flight simulators and have a lot of experience using all of the options on this list. I've been playing flight simulators for over 20 years and have been using VR to improve the experience since about 2017. This article is going to cover 8 of the best VR flight simulators you can play. The best options for you will depend on whether you are looking for ultra-realism or not and whether you have a suitable VR headset and other hardware.
Microsoft Flight Simulator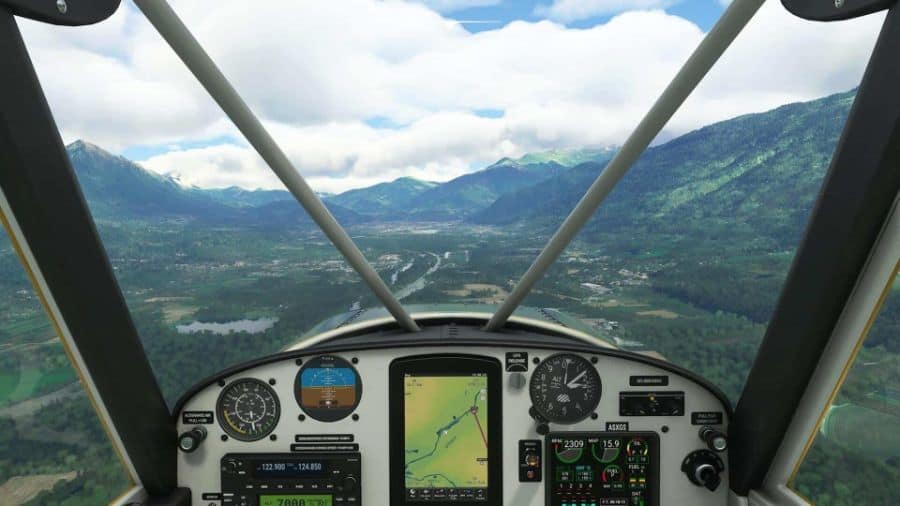 The most recent edition of Microsoft Flight Simulator was released in 2020 by Asobo Studio and is one of the most impressive flight simulators I have ever played. It is visually stunning, and the attention to detail in the planes, flight models, and the scenery is incredible. It uses real-world map data, photogrammetry, and satellite imagery to allow you to fly anywhere in the world, and the number of hand-crafted airports, aircraft, and landmarks continues to increase with every update.
Microsoft Flight Simulator has now implemented full VR support, which works well on every headset I have tried it with, although you are highly likely to need to turn down some graphics settings to keep the framerate at a playable level.
You can completely customize the weather and choose what time of day to fly at, creating conditions that are as challenging as you like. I absolutely love tinkering around with the different weather settings, challenging myself to make difficult landings in adverse weather conditions, or picking a clear, sunny day to enjoy the sights of some incredible landmarks and cities.
The VR implementation isn't without bugs, but I have seen things improve steadily since it was initially released. VR controller support is still average at best, and there is no support for hand tracking, which would be a fantastic addition to have in a future update.
What I particularly love about this version of Microsoft Flight Simulator is that it caters to the entire range of players. If you want to use a gamepad to fly a plane with arcade-style controls, you can do this with ease, but if you are a hardcore flight sim enthusiast, you are also extremely well-catered for.
The range of planes available to fly in the Game Of The Year edition is quite reasonable, so you can try flying an Airbus A320, Boeing 747, F/A-18 Super Hornet, a Cessna 152, or anything in between. There is also a thriving in-game marketplace where you can purchase additional planes, airports, liveries, and more, although the cost of these will soon mount up if you want to make a lot of purchases.
Overall, Microsoft Flight Simulator is an incredible game, raising the bar for VR Flight Simulators in almost every way. You will need a powerful computer to run Microsoft Flight Simulator VR at a decent frame rate, but if your computer is up to the task, this is a fantastic option.
DCS World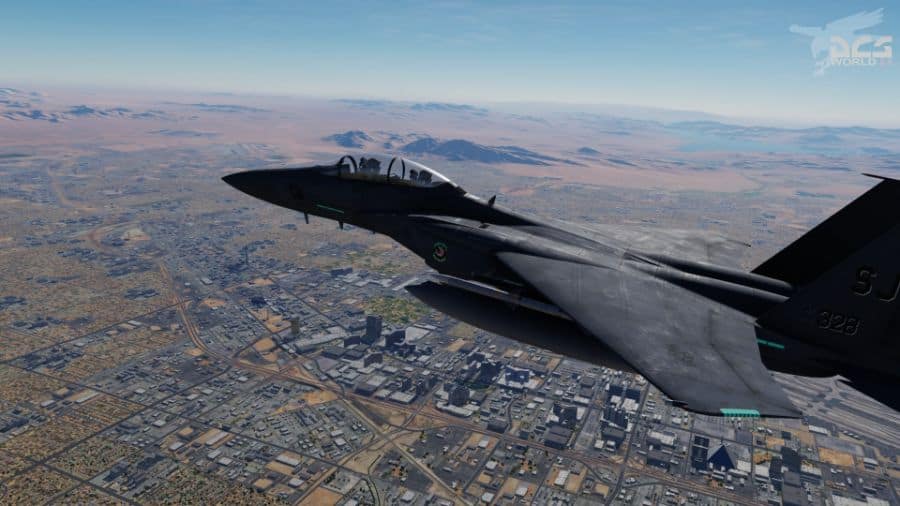 DCS World is a combat flight simulator developed by Eagle Dynamics that allows you to fly a wide range of military planes and helicopters that are meticulously modeled to be as close to their real-life counterparts as possible. The attention to detail in each aircraft and the accuracy of the flight models are astonishing, and the graphics and sound combine to create an ultra-realistic VR flight simulator.
Whilst Microsoft Flight Simulator is my favorite VR flight simulator for civilian planes, DCS World is far superior when it comes to military VR flight simulation and VR helicopter simulation. There are currently 7 large, details maps ranging from Nevada to the Persian Gulf, providing plenty of variety in the scenery, and a large selection of planes and helicopters ranging from WW2-era up to modern aircraft still in service today.
The base game is free to download from the DCS website (recommended), but you can also get it on Steam, and it is compatible with most PC VR headsets. It comes with one map and two planes to try, but additional maps and aircraft must be purchased separately.
DCS World has a significant learning curve, and just mastering one aircraft will take many, many hours of practice. One big negative of DCS World is the lack of proper VR controller support, which can sometimes leave you fumbling for your keyboard to find some of the controls, but don't let this put you off from an otherwise massively impressive VR flight simulator.
I'm a huge VR helicopter simulation enthusiast and have almost all of the helicopter models on offer, as well as a handful of planes. VR support has been in the game for several years now, and it continues to improve with every update. It's hard to convey in words just how impressive and immersive it is to be sitting inside the cockpit of a UH-1H Huey helicopter, going through the full start-up procedure, and taking to the skies.
DCS World is another graphically demanding game that needs a powerful computer to maintain a good frame rate in VR, but if your computer is up to the task, I highly recommend getting DCS World and giving it a go, as it is easily one of the best VR flight simulators you can play today.
VTOL VR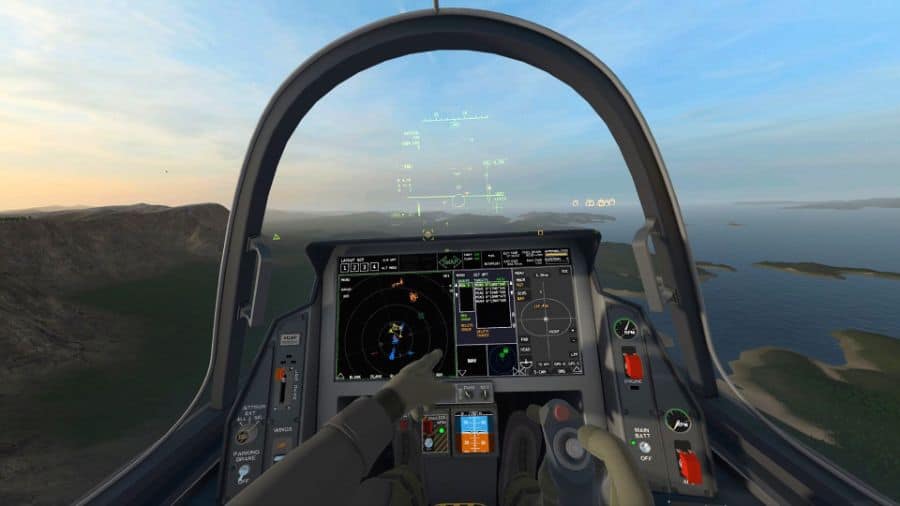 VTOL VR is a combat flight simulator that was built from the ground up for Virtual Reality. You can fly a range of advanced multi-role jets, take part in dogfights, and perform aerial acrobatics in a highly immersive environment. VTOL VR is available on Steam and is compatible with the majority of PC VR headsets.
The graphics are not up to the same standard as DCS and MSFS, but it has full VR support, allowing you to control the entire aircraft with just your controllers. You have virtual hands within the game and you can reach out and press every button and switch in your cockpit in a natural, and highly tactile way.
This makes VTOL one of the most complete VR flight simulators I have ever played, and one that is so satisfying and immersive to play. Although the amount of content available is less than some other VR flight simulators, and the graphics aren't particularly impressive, it is a blast to play, and much easier to pick up and play than other more technically challenging flight simulators.
The hardware requirements are a lot lower than for DCS and MSFS, so you are likely to have good performance with even a mid-range computer. It strikes a perfect balance between realism and fun, but the big win for VTOL VR is just how immersive it feels. Not only is it a terrific VR flight simulator, but it's one of the best VR games I've ever played.
X-Plane 11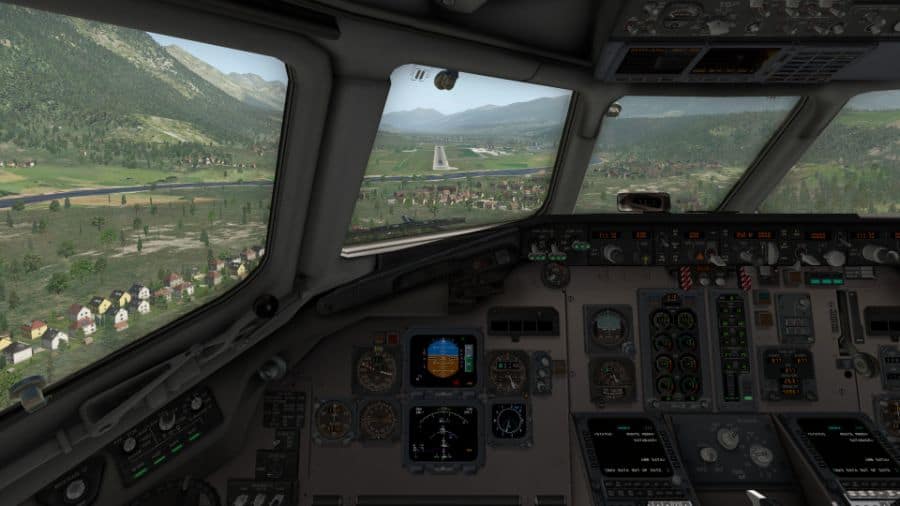 X-Plane 11 is a terrific VR flight simulator and one that you should seriously consider if you have a PC VR headset and a powerful computer. However, it is very much a simulator and not a game. It has a significant learning curve and is very unforgiving, so it's not something to consider if you just want to jump in a plane and virtually fly over your house.
If you really want to learn to fly planes in one of the most advanced flight simulators available, X-Plane 11 is a great option, with excellent VR implementation and good VR controller integration. It has a more significant learning curve than MSFS, but if you are a dedicated flight simulation enthusiast, it may be a better option.
Personally, I have spent many more hours using Microsoft Flight Simulator, and I normally recommend it as being the better option due to being more accessible. However, the choice between Microsoft Flight Simulator or X-Plane should really come down to your level of experience and whether you want the most authentic, unforgiving simulator, or one that is more accessible.
The flight models, graphics, weather simulations, and attention to detail in the aircraft are all exceptional, and there is a wide variety of premium planes and airports to buy to add to your experience. Generally, the VR implementation within X-Plane 11 is rock solid, although you will need a good computer to run it at a smooth frame rate.
Ultrawings 2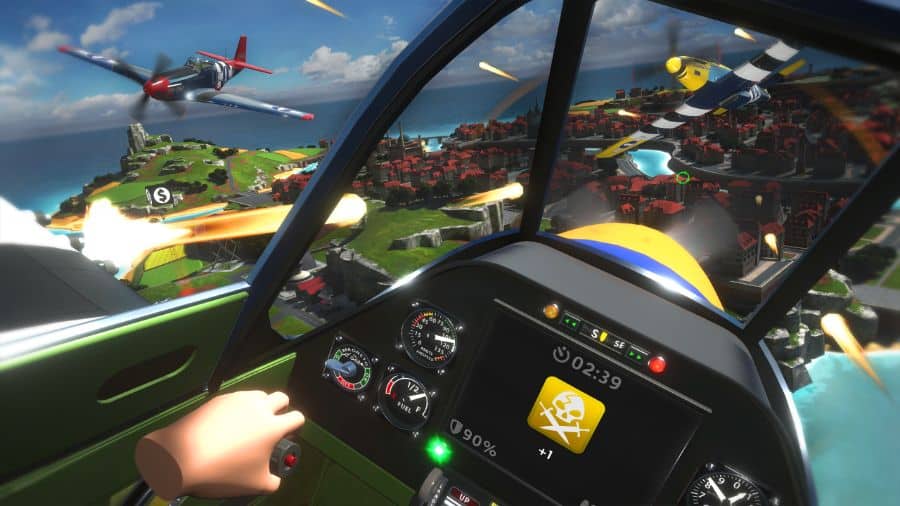 Ultrawings 2 is an arcade-style VR flight simulator where you can fly 5 different aircraft in an open-world setting. It's been built from the ground up for VR and has fully implemented controller support, allowing you to use your virtual hands to interact with and control your aircraft.
You can enjoy flying freely over a series of islands or undertaking a range of missions for each aircraft, including flying through obstacles, popping balloons, and completing landing challenges. Ultrawings 2 also has combat missions where you can dogfight enemies which can be really challenging and fun.
You don't need any equipment other than your VR controllers, as these are used to control your virtual hands and work all of the controls in the game, with haptic feedback helping to improve your fine control.
The aircraft in Ultrawings 2 include an ultralight plane, helicopter, stunt plane, fighter plane, and a rocket-powered glider. All of them provide a significantly different experience and each of them are well worth trying.
The developers have opted to make compromises between realism and fun, so this isn't a great option for anyone that wants a highly realistic flight simulator. The graphics are also fairly basic, but this does mean that you can play it on Quest 2 in standalone mode, making it very accessible for anyone who wants a great VR flight simulator.
Ultrawings 2 is available on Steam and also on the Oculus store. You can play it with a PC VR headset or on Quest 2 or Quest Pro. If you are looking for an authentic VR flight simulator, Ultrawings 2 is not a great option, but if you are looking for a flying game that has great gameplay and is great fun, it is an excellent choice.
War Thunder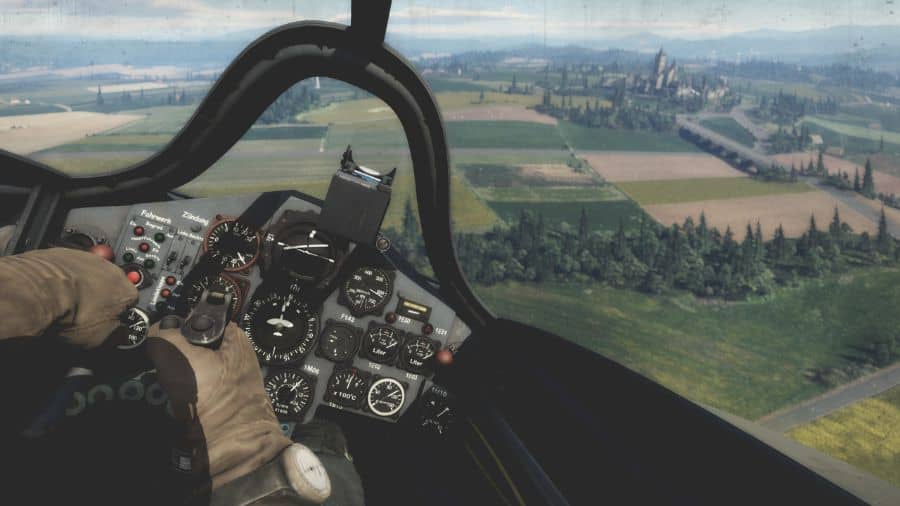 War Thunder is a free-to-play VR flight simulator that has evolved over the years to become a full battlefield experience, with options to fly aircraft, drive tanks, and sail ships. War Thunder is a blast to play, with great visuals, and realistic planes and flight models. It is focused on PVP combat, so you will spend most of your time dogfighting with other players in objective-based matches, to earn experience points to unlock new planes and upgrades. If you enjoy the thrill of going toe to toe with other pilots in aerial combat, War Thunder is loads of fun.
War Thunder generally leans towards fun rather than realism, making it an ideal VR flight simulator for players who want to get into the action quickly without having to spend dozens of hours learning how to fly a real plane. The controls can be adjusted from being quite arcade-like to much more realistic, giving you a reasonable level of control over your experience.
The VR implementation of War Thunder is really well done, and I have had no issues using it with a range of VR headsets. Once again, you will need a fairly powerful computer to play War Thunder in VR, but you can get rid of cables by using Quest 2 or Pico 4 with a wireless connection to a VR-ready PC.
There are extensive technology and upgrade paths to work towards and hundreds of planes to unlock over time across a number of different nations. This leads to one of the major downsides of War Thunder, and that is the grind required to unlock everything. Even trying to unlock all upgrades for one nation is a mammoth task, and you clearly get the feeling the game is limiting your progress to push you toward buying upgrades with real money.
Of course with this being a free-to-play game, it's a tactic most of us are well used to, and I suppose the developer has to make money to support further development. However, the grind, and subtle pressure to spend money are what keep pushing me back to other VR flight simulators on this list. War Thunder is definitely a VR flight simulator that is worthy of your time, but it won't be for everyone. Thankfully, you can get War Thunder from Steam and try it out without having to spend a thing.
IL-2 Sturmovik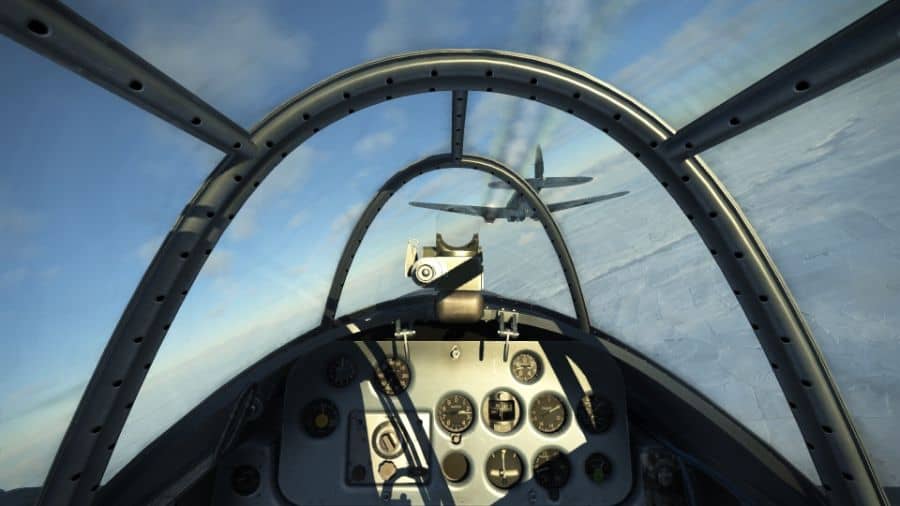 If you've played War Thunder, you may think that IL-2 Sturmovik looks quite similar, but think again. IL-2 Sturmovik: Battle of Stalingrad is a true flight simulator with realistic aerodynamics, weapon physics, engine management, and realistic weather. It will take you a lot longer to learn the basics of how to fly the planes well and understand the flight physics than some of the other less realistic VR flight simulators on this list.
However, this is a VR flight simulator that is well worth the effort to learn, as there is tons of content and hundreds of hours of entertainment to be had. Although IL-2 Sturmovik came out quite a few years ago, it still more than stands up against the competition, and the VR implementation is excellent. The cockpits are beautifully modeled and you will certainly feel like you are flying some of the WW2-era planes.
IL-2 Sturmovik has a number of DLC packs that focus on major WW2 aerial battles, with the base game focused on the Battle of Stalingrad, while the Battle of Moscow and Battle of Normandy modules have additional single-player focused campaigns, new planes, maps, and features.
There is a campaign to play through, which serves as a good introduction to the game, and you can switch between "Normal" and "Expert Mode" depending on how realistic you want your experience to be. Normal Mode allows you to concentrate on flying without having to worry about engine and plane management and helps you to identify targets and allies with red and blue dots.
In expert mode, you are responsible for everything, and you'll need to carefully manage your plane, using the throttle appropriately and managing oil and coolant temperatures to prevent your engine from failing. Everything is a challenge in Expert mode, but it is hugely rewarding whenever you complete a mission successfully without any help.
The flight models of the planes are very accurate, with each plane having its own characteristics and limitations, that you must learn as you gain experience. IL-2 Sturmovik is easily the most realistic WW2-era flight simulator and virtual reality brings it to life in spectacular fashion.
The best part of IL-2 Sturmovik is the multiplayer implementation, as there are few things more exhilarating than going toe to toe with other players in aerial battles. There isn't as large of an online community playing IL-2 Sturmovik, but there is a stable player base so you will always find plenty of opponents.
Warplanes: WW1 Fighters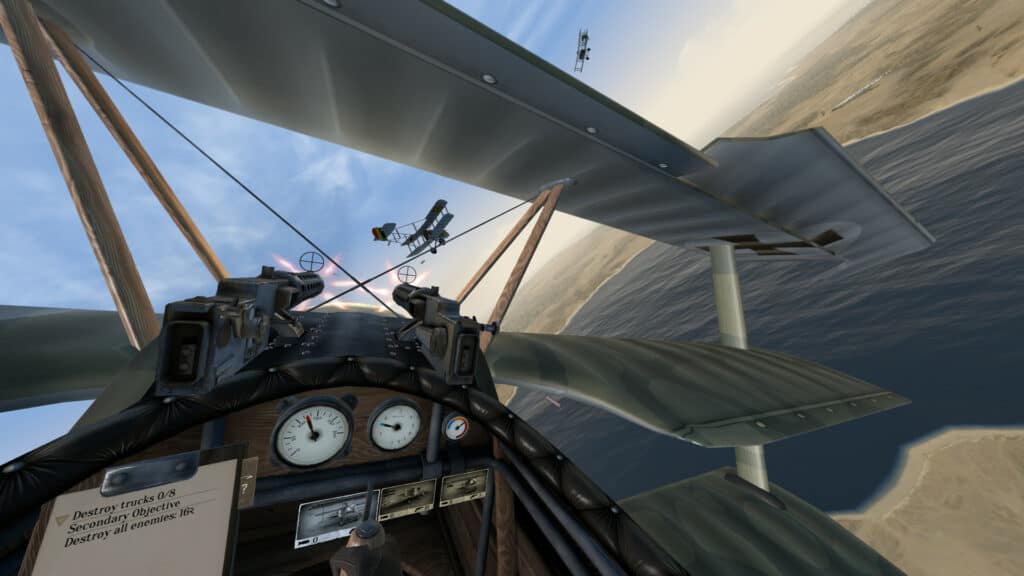 Warplanes: WW1 Fighters is a WW1-era VR flight simulator that was built from the ground up for VR. It's available for PCVR headsets via the Steam store, but is also available on the Oculus store and can be played on Quest 2 and Quest Pro in standalone mode.
The VR implementation here is really well done, with cockpits that you can interact with using your VR controllers, allowing you to have full control of your plane without needing any other controller. The graphics are attractive but basic, meaning it runs smoothly on Quest 2 and on lower-end computers.
This is one of the only WW1-era VR flight simulators I have played, and the rudimentary planes of the time give it a completely different feeling from any of the other flight simulators on this list. You can adjust the controls from being a pure arcade game to one that is semi-realistic, although nowhere near as authentic as some of the more serious flight sims on this list.
There are 20 playable planes, ranging from scout planes to bombers, along with two single-player campaigns and loads of missions. There is also multiplayer support, and you can even play cross-platform between Quest 2 and PC.
The simplified flight controls and flight models in Warplanes: WW1 Fighters mean you should be flying with confidence very quickly, and the game is filled with character and attention to detail. I particularly loved the ability to shoot flares out of the cockpit and drop bombs by hand, which really made this feel like the early days of flight.
Warplanes: WW1 Fighters is a great VR flight simulator at a really reasonable price that is perfect for anyone who wants to prioritize fun over simulation.
VRChat – Test Pilots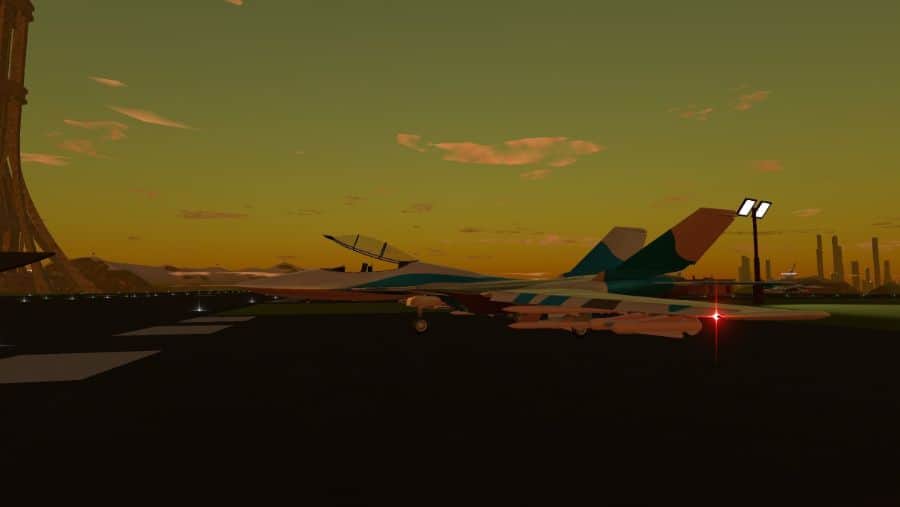 VRChat is the most popular social VR game, and not something you would normally associate with a VR flight simulator. However, VRChat allows people to create unique worlds or maps where you can take part in a huge variety of activities. One VRChat world, Test Pilots is essentially a fully-fledged flight simulator.
Whilst it may not rival X-Plane 11 or Microsoft Flight Simulator on any level, and the flight models are extremely basic, it's a lot of fun to play with. The main appeal is for people who want to test out a VR flight simulator without any commitment. You can download VRChat, search for the Test Pilots world, and be playing the game in a matter of minutes. Test Pilots is available for PC VR and standalone headsets such as Quest 2 and Pico 4 and has a large player base and active ongoing development.
VR Lowdown is a participant in the Amazon Services LLC Associates Program, an affiliate advertising program designed to provide a means for sites to earn advertising fees by advertising and linking to Amazon.com. We also participate in other affiliate programs which compensate us for referring traffic.