There are a growing number of excellent VR helicopter simulators that allow you to take to the skies and have a highly authentic experience that comes pretty close to the real thing. This article will discuss the options for flying helicopters in virtual reality and share my experience of which ones are worth your time.
I've been flying VR helicopter simulators for several years and have spent many hours using all of the options in this article. I've also had the pleasure of flying a real Robinson R22 on a number of occasions, and it's fascinating to compare flying simulators to the real thing.
As many people will appreciate, the physics behind helicopter flight is extremely complex, and the fact that these wonderful machines can fly at all is a marvel of engineering. Modeling the controls and aerodynamics of helicopter flight is considerably more difficult than for planes, but there are now a selection of VR helicopter simulators that do an excellent job.
5 Best VR helicopter Simulators
All of the VR helicopter simulators on this list are excellent choices, providing realistic simulations that even professional helicopter pilots speak highly of. The best choice for you will depend on many factors, including the helicopters that are available for each simulator, the attention to detail of the helicopter modules, the accuracy of the flight model and systems, as well as the other features that are included in each of these VR helicopter simulators.
DCS World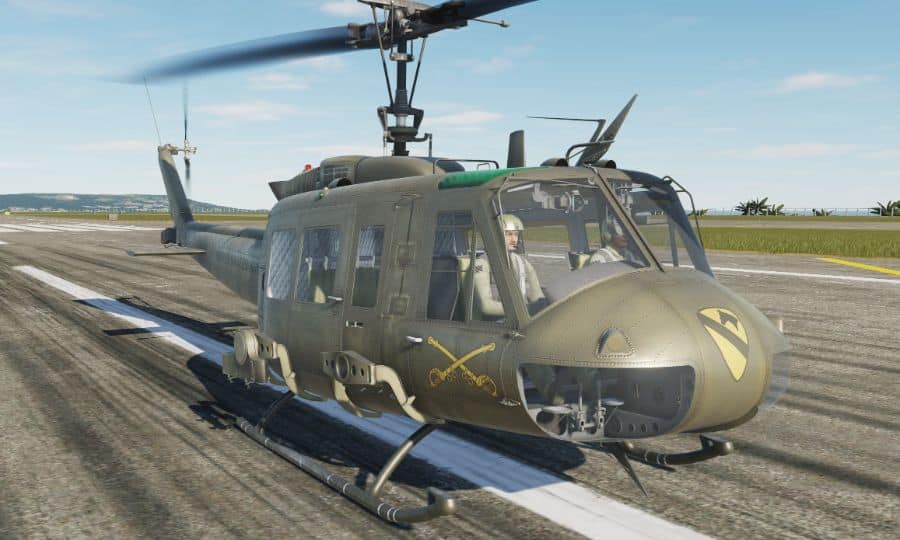 DCS World is a highly detailed and comprehensive battlefield simulator focused on military aircraft simulation. It is the best military VR helicopter simulator I have played, and I have racked up hundreds of hours flying all of the available helicopters in DCS World.
The helicopters available include the AH-64D, SA342 Gazelle, Mi-8MTV2 Magnificent Eight, UH-1H, Mi-24P Hind, and Ka-50 Black Shark. Each one is meticulously modeled, with fully functional cockpits and systems, allowing you to have an experience that is as close as you are going to get to flying the real thing without being in the air.
Whilst DCS World can be downloaded and played for free, you will need to purchase individual helicopters to fly. There are also a number of free helicopter mods for DCS, including the excellent UH-60L Black Hawk Mod, which is every bit as good as some of the premium helicopters.
The flight models and attention to detail of the helicopters in DCS are incredible, with every switch, control, and aircraft system modeled as accurately as possible. Flying helicopters in VR within DCS World is something that never fails to amaze me, as it just feels so immersive like you are actually flying the real thing.
Although VR works very well within DCS, there is limited support for VR controllers currently, so you will probably need to bind commonly used controls to your HOTAS, or use your mouse and keyboard to interact with the instrument panels and controls. This does break immersion to a degree, but the incredible attention to detail and authenticity of the experience more than compensates for this issue.
DCS World is highly demanding on computer hardware, and it will be even more demanding in VR for most people, so you will need a powerful computer and graphics card to achieve smooth performance.
My favorite helicopter in DCS World is the UH-1H Huey, which although fairly challenging to master, is an incredibly well-made module, and a joy to fly. The Ka-50 Black Shark is also very popular, although there is a more significant learning curve to master all of the aircraft systems. The AH-64D Apache is also an incredibly accurate and well-made module worth considering. Of course, you should also definitely download the free UH-60L Black Shark module, as this is a perfect option to try flying an exceptionally accurate VR helicopter without any expense.
DCS World is available on Steam, but I would highly recommend that you download the standalone installer from the Eagle Dynamics website, as the standalone version is updated more frequently and is the primary focus of the developers.
X-Plane 11/12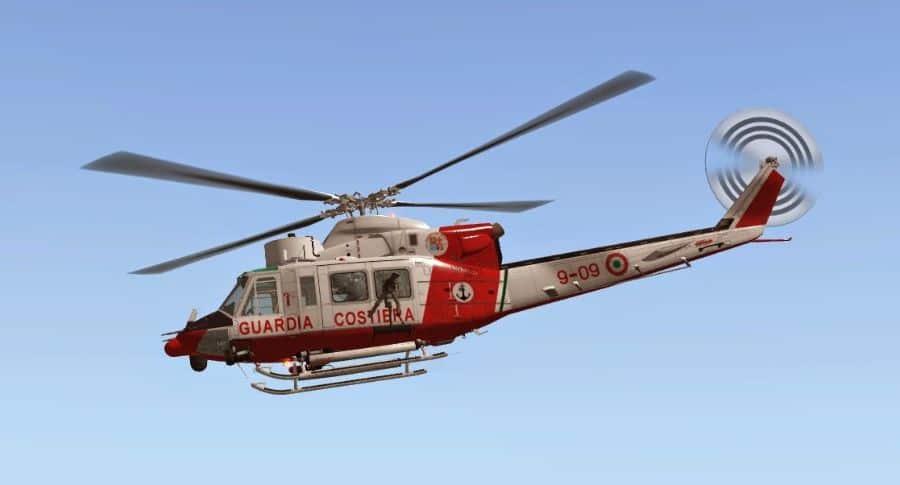 X-Plane has a good selection of helicopters to fly and has full VR support, including VR controller integration. Whilst X-Plane is in the process of moving from version 11 to version 12, it is really more of an evolution, rather than a dramatically different product. Most, if not all of the available helicopters should have versions that are compatible with both X-Plane 11 and X-Plane 12 in the very near future.
X-Plane 11 comes with the Sikorsky S–76, but there are more than 20 other helicopters available for a fee from third-party developers. There is also a freeware version of the OH-58D Kiowa Warrior for X-Plane 11 and X-Plane 12 that you can download for free. A massive thanks to the developer of this helicopter for making this available.
X-Plane is an uncompromising simulator, and there is a significant learning curve to master each aircraft, but for anyone who relishes the challenge, it is highly rewarding. Almost every available helicopter is beautifully modeled, with fully functional cockpits that are as accurate to the real thing as possible.
Once again, X-Plane is a graphically demanding simulator and you will need a powerful computer to run it smoothly in VR. One of the big benefits of X-Plane is the huge amount of content that is available. The options for scenery, airports, and other aircraft, both free and premium, give you as many options as you could ever need. X-Plane also has a long history and plenty of experience in developing flight simulators, so it is safe to assume that both developer and third-party support will remain stable.
X-Plane is an uncompromising, realistic flight simulator, with a huge variety of content, and the option to fly a wide variety of helicopters and planes. It can get pretty expensive if you want to buy lots of aircraft and scenery, but most flight simulator enthusiasts agree that it is a great product. I recommend opting for X-Plane 12 on Steam, in preference to X-Plane 11, as although it has some teething issues due to its recent release, it represents the future of the simulator.
Microsoft Flight Simulator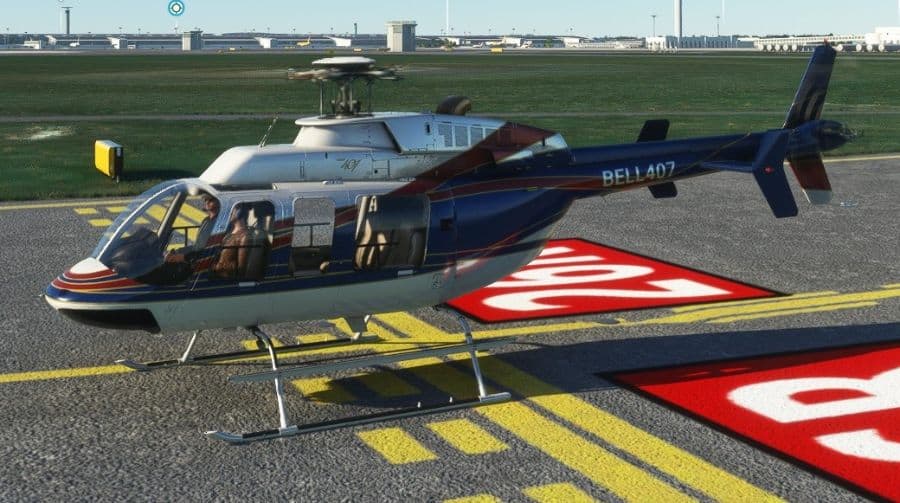 Microsoft Flight Simulator, developed by Asobo Studio, was released in 2020 and marked a massive leap forward for this long-running flight simulator. Whilst it has never previously focused on helicopters or virtual reality, both of these features have now been integrated into Microsoft Flight Simulator.
There are currently two helicopters available for everyone to fly, the Bell 407 and Guimbal Cabri G2, both of which are beautifully modeled, with fully functional cockpits and aircraft systems. There is VR controller support, but it is still a bit rough around the edges, and not as good as X-Plane or Aerofly 4.
The introduction of helicopters came in an update to Microsoft Flight Simulator in November 2022, and the developers are committed to adding further helicopters in due course. There are also a small number of helicopters available from third-party developers on the Microsoft Flight Simulator Marketplace, and I fully expect this number to grow rapidly.
There are a number of minor issues with using Flight Simulator as a VR helicopter simulator, but I anticipate that there will be a steady stream of updates to resolve these. Firstly, there are numerous flight control assistance options that are turned on by default, which makes the helicopter controls overly simplistic, and really only appealing to casual players who want to fly around in a helicopter without going through the process of learning how to fly one properly.
You can, and should turn these off in the control assistance options menu as so much of the joy of flying helicopters is mastering the challenging controls and taming these machines that constantly want to drop out of the sky.
The second issue is that the controls took me some time to calibrate and set up correctly compared to DCS and X-Plane. I use a Thrustmaster Hotas Warthog to fly, and it took me about 20 minutes of adjusting the controls before everything was set up perfectly. I do expect that future updates will improve the default setup for helicopters so that there is more potential to get flying without a laborious setup.
The third issue is that the VR controller support is mediocre at best currently. I just found it required more effort and less intuitive movements to work the various cockpit controls than X-Plane or Aerofly 4.
Despite these issues, I have huge hopes for Microsoft Flight Simulator for flying helicopters in virtual reality. The quality of what is on offer is excellent so far, and the developers have gone to immense lengths to ensure the accuracy of the aircraft and flight models. Microsoft Flight Simulator is available on Steam and is compatible with most PC VR headsets. I have also used it with Quest 2 and Pico 4 with a wireless connection to a VR-ready PC without any significant issues.
Aerofly 4
Aerofly 4 is not as well known in the flight simulation world as the other options on this list, but it is definitely worth considering, due to the excellent VR integration. The big advantage of Aerofly is that it is built from the ground up for VR and supports the use of virtual hands to interact with the controls in the cockpit. You can easily fly any of the aircraft using just your VR controllers if you like, and you can use your virtual fingers to flick switches and turn dials in the cockpit, giving you a fantastic sense of immersion.
The graphics of Aerofly 4 are not up to the very high standards of DCS, X-Plane, or Flight Simulator, but they are still more than satisfactory, and the modeling of the aircraft and simulation of aircraft systems and flight models is very impressive.
Currently, Aerofly 4 has the EC135 and Robinson R22 available to fly, but there is also a version of the Sikorsky UH-60 Black Hawk that is available in the Aircraft DLC Addon. Having flown the Robinson R22 in real life and in Aerofly, I was really impressed by the accuracy of the cockpit and the way it felt in flight.
I see Aerofly as the perfect option for someone who comes from a VR-first, flight simulation-second mindset. The problem with using other VR flight simulators is that you really need a good joystick and rudder pedals as a minimum to facilitate the precise control that flying a helicopter in VR demands. Aerofly 4 is a terrific VR helicopter simulator due to the fact that you can control the helicopter extremely well using just your VR controllers, and there is no need for any additional equipment.
In terms of the helicopter interiors and systems, the developers have done a tremendous job, and the flight models hold up really well to their real-world counterparts. This is certainly a VR flight simulator that I will be watching closely over the next while, as I see excellent potential to improve in a number of areas and be a true competitor to the established players.
Aerofly 4 is available on Steam and supports most PC-VR headsets. It can also be played using standalone headsets that are able to connect to a VR-ready PC such as Quest 2, Quest Pro, and Pico 4.
VTOL VR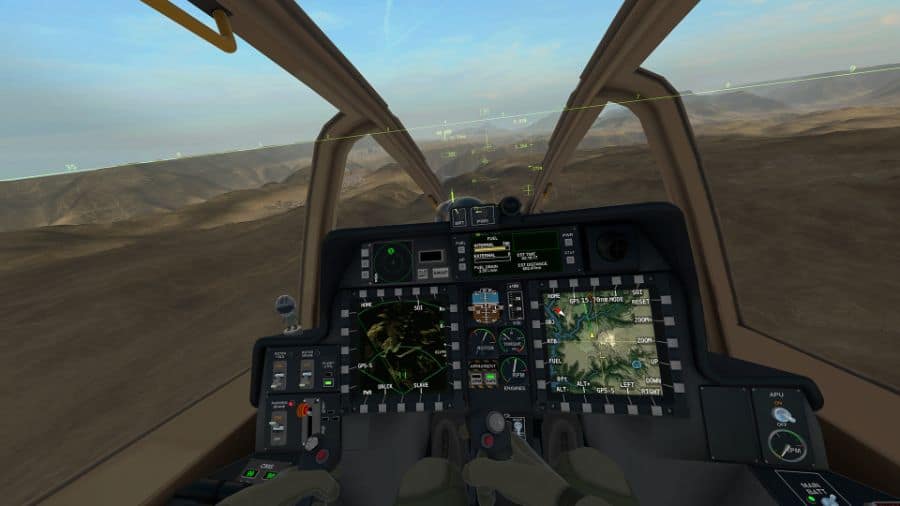 If you have been using VR flight simulators for any length of time, it's likely you have encountered VTOL VR, which is one of the most popular, and highly rated VR games on Steam. Whilst primarily focusing on multi-role jets, there is one helicopter that is available as paid DLC, and it is absolutely fantastic.
Once again, VTOL VR is built from the ground up for VR, and there is excellent VR controller support that lets you control everything without needing dedicated flight simulator controls. The AH-94 Attack Helicopter is a two-seater attack helicopter that is piloted from the rear seat and can be flown solo, or with a friend in the gunner seat.
Whilst the graphics are another step down from Aerofly 4, it really doesn't detract from the experience due to the fantastic VR integration and immersive experience. This is a really challenging helicopter to fly and there is a reasonably long learning curve, particularly for anyone with limited experience in flying other VR helicopters. However, the time spent learning how to fly is well worth it as this is one of the most enjoyable VR helicopter simulators I have used, although not one of the most realistic.
The AH-94 is not a real-world helicopter but is loosely based on a number of military helicopters, and looks like a mix of the Comanche and Apache helicopters. The cockpit design is also loosely based on several real helicopters but is very much simplified.
VTOL VR is generally considered to be an accessible VR flight simulator, but the flight model of the AH-94 is surprisingly good. If you already own VTOL VR, the AH-94 Attack Helicopter DLC is a terrific addon to get. VTOL VR is reasonably priced, but you will also need the paid DLC for the AH-94 Attack Helicopter, so you may want to look at some of the other options on this list if you are only interested in flying VR helicopter simulators.
Other Options
The amazing thing about VR helicopter simulators is just how good they have become over the last few years, and with VR headsets getting better and better, they are now incredibly realistic, although obviously nothing can replace the experience of flying a real helicopter, or can it?
There are now a number of VR helicopter simulators that have been approved by the European Aviation Safety Agency (EASA) for proficiency checks, type ratings, and instrument ratings. VRM Switzerland has developed an Airbus H125 flight training device (FTD) that meets FTD Level 3 requirements, enabling it to be used for pilot training and can provide training credits.
This is undoubtedly something that will become more widespread in the future, allowing trainee pilots to learn to fly in a safer and more cost-effective environment and allowing VR helicopter simulator enthusiasts to have increasingly authentic experiences.
Related Articles
If you are interested in flying helicopters in VR, here are some other articles that may interest you.
VR Lowdown is a participant in the Amazon Services LLC Associates Program, an affiliate advertising program designed to provide a means for sites to earn advertising fees by advertising and linking to Amazon.com. We also participate in other affiliate programs which compensate us for referring traffic.